By Parke Shall
It was an optimistic way to end the week, but we think upcoming earnings will be the only key that can really unlock a breakout, or perhaps a breakdown, for the major market averages in coming weeks.
In what was likely a surge of panic buying and short covering, the market rallied over 1% on Friday to wrap up a week where it seemed as though equities didn't know which direction they were going to go to from the get-go.
Friday's surge helped equities finish the week up between 1% and 1.5%, depending on the index.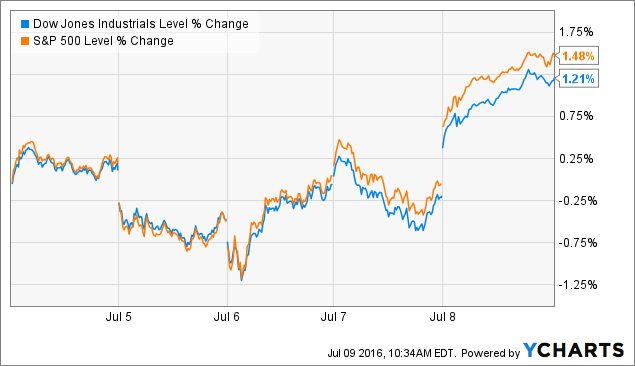 With the fear of the United Kingdom leaving the EU now safely in the rearview mirror, investors seem to think this is a great time to pile back into equities, regardless of what we think to be are some relatively simple consequences that are coming down the pipeline and macro economic data that doesn't support this bullish run.
Yes, the immediate Brexit fears have subsided, but as in any good crisis, there's a lot of underlying administrative work that needs to get done that will consequently shake up commodities and currency markets as a result of Brexit. When this will catch up with the markets again, we don't know. When it does, don't expect days like Friday of last week.
The spark that lit the fire on Friday was the jobs number that crushed expectations coming in at 280,000, versus estimates 180,000. Futures jumped when the data was announced and the market didn't stop running until the very end of the day. It was eight hours of buying only to be stopped by the closing bell.
But this "blowout" number doesn't come without its critics. For instance, Zerohedge, quoting David Rosenberg, said,
Of course, the focus, as always is on the non-farm payroll report but keep in mind that while this is the data series that moves markets, it does not necessarily have the final word on how the labor market is truly faring.
Okay, so let's get the pablum out of the way first. Nonfarm payrolls surprised yet again but this time to the upside - surging 287,000 in the best showing since last October and again making a mockery of the consensus economics community which penned in a 180,000 bounce.... when taking May and June together, they average out to be less than 150,000 versus the twelve-month average of 200,000 so even as the June data pulled a major upside surprise, the overall view that the pace of job creation is moderating remains fully intact.
They continued,
It's not as if the Household sector ratified the seemingly encouraging news contained in the payroll data as this survey showed a tepid 67,000 job gain last month and rather ominously, in fact, has completely stagnated since February.
That may take a little bit of air out of the balloon as to Friday's rally, as investors once again look past the single data point and more towards the overall trend.
Given the jobs number, and depending on how it is interpreted by the Federal Reserve, some are also stating that a rate hike may be back in play for September. While the rate hike may have an initial negative effect on markets if it happens, we actually think interest rates moving higher would be an incremental positive for the market, as returning to some semblance of normalcy is one of the more important things that we believe the market can do for itself at this point. Given the way things have been going, however, there will be some macro economic data out before September that will likely encourage the Federal Reserve to again postpone interest rate hikes. It is the sad truth, but it is reality right now for our markets.
But the discussion going forward has now turned to next week.
If you look at a chart of the S&P 500, it looks as though Friday's action was a technical breakout that may be the key that bullish investors were waiting for to start the next big market move to the upside.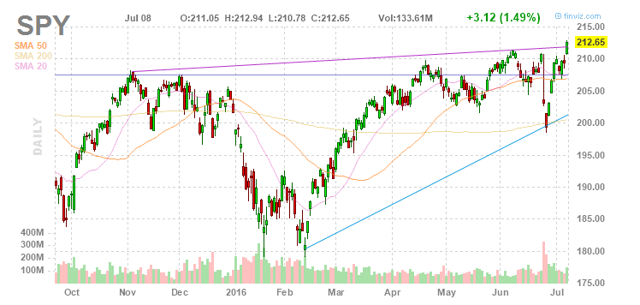 It is only with some follow through next week that we will confirm, from a technical standpoint, that the market is ready to move into its next leg higher.
Skeptics like us who still believe the market will be due for a 10% to 15% correction in coming quarters welcome this run up, as we already believe the market is overvalued and further deviation would make shorting a potentially far more lucrative opportunity going forward.
If there happens to be one key that we believe is going to determine the market's next move, we believe that key is going to be earnings. While we believe there will be a 10% to 15% correction in coming quarters, the fate of the market for the next month is going to lie in upcoming earnings reports.
If we can have a solid upcoming earnings season, where staple companies report solid GAAP results that are not the result of financial engineering, the market may very well get the boost higher that it is looking for.
Again, we'd like to play the skeptic. We don't think that earnings are going to advance far enough to catalyze a sustained move higher to the upside. What we are expecting from earnings season is geared EPS numbers that beat expectations with revenue lines that miss expectations. This, to us, will be indicative of exactly what is going on in the market right now.
We believe companies are literally doing everything they can to keep their earnings numbers looking presentable, while revenue is a number that is less susceptible to being geared and will likely tell a clearer story. We expect quality of earnings to be poor, as well. As all investors should do, special attention should be paid to companies' cash flow statements instead of their reported EPS numbers to determine the quality of earnings.
The market falling 2% to 4% lower from its all time highs again would likely be a confidence breaker for the bulls and an ugly technical indicator. If we cannot follow through with this move to the upside, this will be the fourth time in about six or seven months that the S&P has tested 2100 and hasn't been able to hold it. While it looks as though we have followed through with some momentum on Friday, we don't think the market is out of the water until earnings come through this month. There are a number of staple companies that start reporting in the coming few days, including Alcoa (NYSE:AA), Wells Fargo (NASDAQ:WFM) and Netflix (NASDAQ:NFLX). Almost all major corporations will have reported by the end of July.
It is fairly obvious that earnings could have a profound effect on how the market handles the rest of the summer. There is also the point that volume has dried up a little bit, as it tends to do in the summer, and markets will have to hold their gains through the back end of summer when money managers start to return to the office and get serious about what they want to hold into the end of the year.
For right now, we believe earnings are the key that could unlock the story of the market, at least until the end of summer.
Disclosure: I/we have no positions in any stocks mentioned, and no plans to initiate any positions within the next 72 hours.
I wrote this article myself, and it expresses my own opinions. I am not receiving compensation for it (other than from Seeking Alpha). I have no business relationship with any company whose stock is mentioned in this article.