Aramark (NYSE:ARMK) is a leading service provider for food, facilities, and uniforms around the globe. Aramark can be seen delivering food and even nutritional services in countless settings, from schools to nursing homes. They have shown steady growth in recent years. The Uniform and Career Apparel operating segment had the largest increase in sales at 4% in the most recent second quarter. The progress in this segment comes from the number of services offered to so many different kinds of businesses and/or workers. Custom design, delivery, and maintenance of clothing are offered to professionals such as nurses and butchers among others.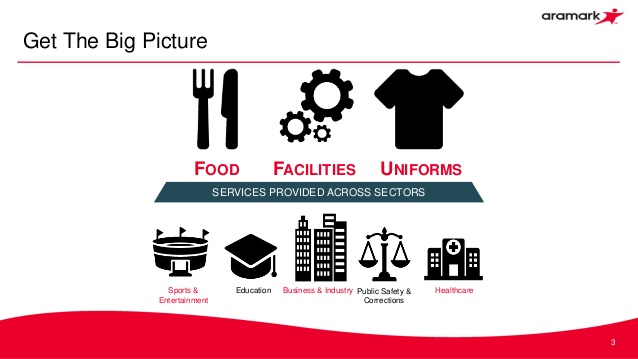 (Source:www.slideshare.net)
A short time ago, three of the four professional sports teams to reach the finals in their respective sports were exclusively partnered with Aramark for food and beverages. Aramark helped provide a one of a kind experience for fans that attended the San Jose Sharks, Pittsburgh Penguins, and Cleveland Cavaliers home games. Each home arena had more than 800 Aramark employees, comprising of various culinary professionals. This kind of exposure for Aramark will only help the company grow from within in the future.
Aramark has been recognized as one of the most ethical and socially responsible companies. They have partnered with the Humane Society to put an effort to end gestation crates for pigs. Many activists are pushing for more humane breeding environments. Additionally, Aramark has worked with numerous colleges to encourage recycling. Accordingly, the firm has helped to recycle 16.6 million pounds of waste. Conversely, the company has grown so much that it is hard to maintain ethicality throughout all lines of business. About a year ago, Michigan cut ties with Aramark at their state prisons due to unethical procedures in terms of food preparation and overall sanitation. This should not overshadow the tremendous work that Aramark has put into being an elite corporate socially responsible firm.
In late 2013, Aramark had their third initial public offering in the company's history. Ever since, their financial ratios have continued to improve. Shareholders have been able to see the company's earnings per share just about double in the span of just over three years. The improvement here is a result of the reduction in the cost of services and other expenses incurred despite the plateau in sales. Aramark's net income for the most recent quarter that ended on April 1st was up 11% from the comparative quarter from last year. Aramark reported a $0.27 EPS for the quarter. This would be extrapolated to $1.08 EPS on an annual basis, which would be another prosperous measurement assuming minimal seasonal business fluctuation. Market analysts agree that Aramark is a good buy. The company has an average forecasted EPS $1.66 for this fiscal year and $1.89 for next year.
| | | | | | |
| --- | --- | --- | --- | --- | --- |
| EPS | Sept. 2012 | Sept. 2013 | Sept. 2014 | Sept. 2015 | TTM |
| Basic | 0.51 | - | 0.66 | 0.99 | 1.04 |
| Diluted | 0.49 | - | 0.63 | 0.96 | 1.01 |
(Source: www.nyse.com)
In spite of the progression in net income and EPS, Aramark's stock price has been relatively stagnant, meandering in the low $30 per share since the beginning of 2015. Aramark is currently viewed as a strong and under the radar stock. The stock price has peaked twice at $34 per share, once in December 2015 and again in May 2016. Aramark's price has finally recovered from the minor stock market collapse that ensued from the recent Brexit, but it seems as though there may be a further correction to this price in the near future. For this reason and to go along with the fact that the price per share is quite reasonable, it would appear to be a good time to invest in their stock.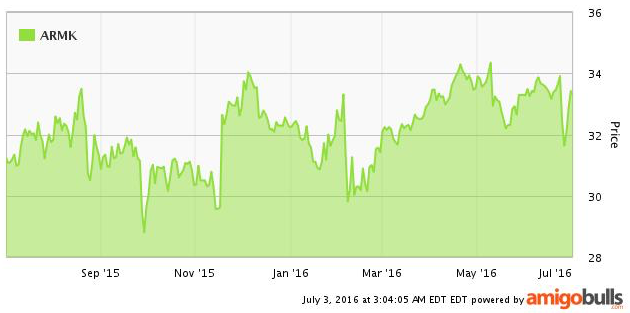 When analyzing the balance sheet for Aramark in the 10-Q filed with the Securities and Exchange Commission, the first thing that jumps out is their current assets and current liabilities have moved in the right direction in the prior six months. On 10/2/15, the current ratio was 1.09 and catapulted to 1.27 on 4/1/16. Operating cash flow is all the way up to $814 million over the last 12 months from $398 million for the fiscal year ending in September of 2014. This drastic increase was in part due to a better cash flow from operations in comparison of year-to-year records.
Overall, investors should have confidence with an investment in Aramark moving forward. Aramark has financial ratios that have been improving each year and the trend does not appear to end soon. The notoriety that the business gets for doing more and more large-scale events will certainly be a benefit as well. If interested in dividend investing, Aramark has consistently paid out cash dividends on a quarterly basis. In addition, the services that Aramark provides are services that will not hit a downfall any time soon. Henceforth, Aramark has a lot to offer as an investment with very little risk. Investors should be optimistic with the direction of the company.
Disclosure: I/we have no positions in any stocks mentioned, and no plans to initiate any positions within the next 72 hours.
I wrote this article myself, and it expresses my own opinions. I am not receiving compensation for it (other than from Seeking Alpha). I have no business relationship with any company whose stock is mentioned in this article.