Kohl's Corporation (NYSE:KSS) has seen its stock fall by over 50% since reaching a peak in early April 2015. The stock has declined by 18% year-to-date against a 3% increase shown by S&P500. Poor comp numbers and a shift in customers' preference towards online shopping are the main reasons behind the negative sentiment. The management is trying to stem the fall in sales by bringing out better customer-facing tech in the stores and by aggressively pushing online sales.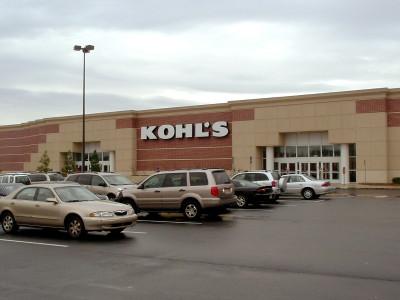 Better in-store shopping experience initiatives
The only way these old school retailers can beat Amazon (NASDAQ:AMZN) is by leveraging their vast store network. Kohl's is trying to bring state-of-the-art features to its stores which can attract the next generation of shoppers and also help to differentiate with other competitors.
These include holograms that can show models walking on the runway instead of using mannequins. It is also testing interactive glass computer screen which can display the latest jeans and also allow customers to look at Youtube, Instagram or other social media platforms to get more information of similar products.
Another product tested by their innovation team includes hangers which are activated when the customer picks the garment up. Product information is displayed on a nearby screen, along with suggestions on how to incorporate the clothes into a complete outfit.
The management hopes to incorporate a number of these features in their stores in the near future. Along with these initiatives the company is also planning to introduce Kohl's Pay in its shopping app by the holiday season. This will help in getting more sales through their loyalty program and also efficiently display new offers in customers' phone. The mobile cash register tested by the company will be an added advantage during peak holiday sales. It allows customers to check out from anywhere in the store without waiting in long lines during Christmas rush.
A better connected store with easier checkout options should certainly be a draw for customers and help deliver sustainable comp growth in the future.
Catching up in the e-commerce segment
Kohl's was a latecomer in the ecommerce segment. The online sales for the company reached $2.5 billion in 2015 which were 13% of the total sales. The management is expecting 15% to 20% growth per year for the next three years in its online sales. It is currently behind Nordstrom (NYSE:JWN) and Macy's (NYSE:M) which see higher percentage of sales coming through the ecommerce segment.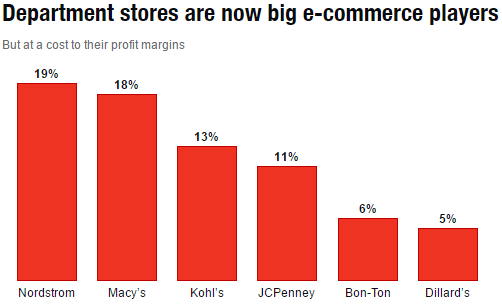 Fig: Percentage of revenue from e-commerce in 2015 shown by major retailers.
However the high cost of shipping and free returns have eroded the profit margins in the ecommerce segment. The e-commerce operating margin for Kohl's was 9% in comparison to 14% operating margin for in-store sales. As the retailers increase the share of online sales the margins can improve with efficient shipping and economies of scale.
But the real defense against Amazon lies in the physical stores and using better customer facing tech which can help liven up the store. Kohl's seems to be moving on this path and as the new in-store features are rolled out we will be able to see the efficacy of the initiatives in the comp numbers.
Conclusion
Kohl's is trying to give a new look to its stores with customer-facing tech. These initiatives help customers in making more informative purchases and also provide easier checkout options. This should allow the retailer to fight the battle on its turf against Amazon and leverage the physical stores to increase customer loyalty. The stock is trading at attractive forward pe multiple of 10.06 and gives a dividend yield of 5.09%. There are few downside risks at this price point and if the new initiatives are successful it can deliver better comp numbers in the next few quarters providing significant boost to the stock.
Disclosure: I/we have no positions in any stocks mentioned, and no plans to initiate any positions within the next 72 hours.
I wrote this article myself, and it expresses my own opinions. I am not receiving compensation for it (other than from Seeking Alpha). I have no business relationship with any company whose stock is mentioned in this article.