By Columbia Threadneedle Investments Global Asset Allocation Team
Many elements of our process reacted to Brexit volatility, and the net result suggests a slightly defensive stance.
Overall, we are slightly defensive with equity beta below neutral. Economic indicators are drifting toward recessionary levels. Our U.S. equity scorecard has moved decisively negative, with an explicit cautious equity signal about to be triggered. Duration models favor extending duration, credit models are neutral, and currency models point to above average hedge ratios. Altogether, the message is one of ongoing caution while post-Brexit vote dynamics play out. Given the sharp rally in risk assets over the past several sessions, we are presented with an opportune moment to reduce risk. With respect to timing, there is no big hurry as end of quarter dynamics may be expected to lift risk assets through the beginning of July.
Global asset allocation outlook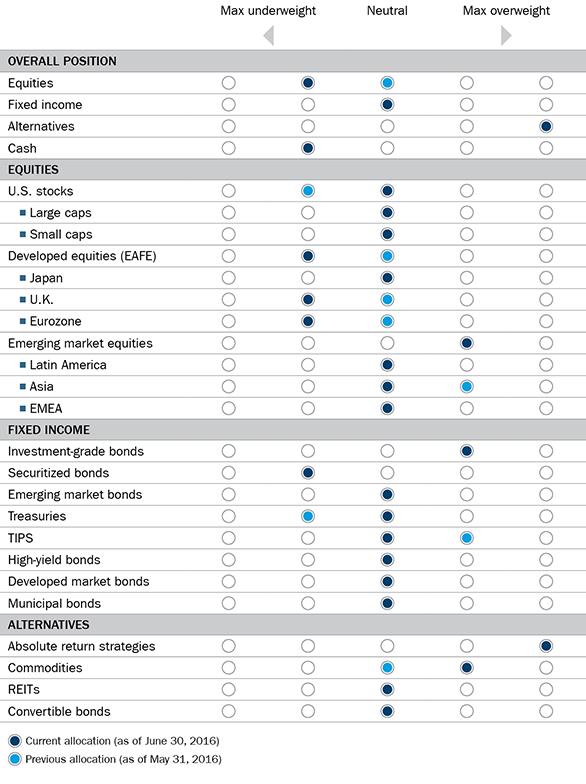 Equity: Overall equity moved to underweight. We reviewed some evidence of oversold conditions within equity markets and extremes in negative sentiment that would suggest a bounce in equities, but no other equity related framework pointed to a pro-risk position. A roughly 5% bounce would be consistent with past exogenous shock events, but these events have almost always relapsed into a retest of lows.
Within equity: We remain moderately overweight in emerging markets (EM), developed equity moved to moderately underweight and U.S. equity moved to neutral. From our research, strong and consistent geographic preferences do not seem to emerge. We see a general preference for EM over developed markets from a valuation standpoint, though the ranking of the U.S. market, both from the frameworks and from a post-Brexit intuitive approach, has risen. From a size perspective, small cap remains neutral following prolonged underperformance, model upgrades and a possibility of an economic and earnings trough.
Fixed income: Overall fixed income remains neutral. The overall duration framework responded strongly to post-Brexit dynamics with a shift to conditions that flatter long duration assets. To what extent these favorable changes have already been priced in is a matter of debate, but with the dynamic of negative correlation still evident, it is sensible to target a neutral duration.
Within fixed income: Investment grade remains modest overweight, Treasuries have moved to neutral, TIPS have moved to neutral, and we remain neutral on non-U.S. government bonds and high yield. The high yield model returns to a widespread state, suggesting a barely more attractive carry. The diminished carry and lack of an expected spread tightening, combined with declining seasonal dynamics, suggests an ongoing neutral for high yield. Other spread sectors are similarly positioned, with investment grade offering better risk adjusted returns.
Alternatives: We remain overweight alternative investments. We see a high need for diversification in light of a weak outlook for stocks, and as a hedge against renewed loss of diversification efficacy from bonds. Overall, the concept of expanding our diversifying components remains irresistible.
Within alternatives: We place commodities at mild overweight. Momentum and carry dynamics have improved and commodities offer a dimension of diversification in our risk asset holdings.
Currency: We moved the euro, yen, and British pound to modest underweight. We feel this is sensible from a post-Brexit intuitive perspective and consistent with new currency tools.
With respect to mutual funds and Tri-Continental Corporation, investors should consider the investment objectives, risks, charges and expenses of a fund carefully before investing. To learn more about this and other important information about each fund, download a free prospectus. The prospectus should be read carefully before investing.
Investors should consider the investment objectives, risks, charges, and expenses of Columbia Seligman Premium Technology Growth Fund carefully before investing. To obtain the Fund's most recent periodic reports and other regulatory filings, contact your financial advisor or download reports here. These reports and other filings can also be found on the Securities and Exchange Commission's EDGAR Database. You should read these reports and other filings carefully before investing.
Columbia Funds and Columbia Acorn Funds are distributed by Columbia Management Investment Distributors, Inc., member FINRA. Columbia Funds are managed by Columbia Management Investment Advisers, LLC and Columbia Acorn Funds are managed by Columbia Wanger Asset Management, LLC, a subsidiary of Columbia Management Investment Advisers, LLC.
Columbia Threadneedle Investments is the global brand name of the Columbia and Threadneedle group of companies.