Although FireEye (NASDAQ:FEYE) has lost a lot of value over the last two years (57% to be precise), shares of the cyber security firm have been in an uptrend over the past few weeks. More specifically, FireEye has shot up almost 23% in the past two months.
The reason behind the recent rally has been a string of acquisition offers. Given the growth of the cyber security industry and FireEye's beaten-down valuation, several companies were looking to buy out FireEye. In my opinion, an acquisition would have been the best outcome for FireEye investors, and I believe the company made a big mistake by turning down the offers.
Don't count on an acquisition
It was recently reported that FireEye rejected two potential suitors in 2016 due to the fact that the offers were below its asking price of $30 per share. Its shares are currently trading at roughly $16 a share, considerably below its IPO price of $20 a share.
One of these potential suitors was Symantec (NASDAQ:SYMC) that turned down the offer as it found the proposal not worth the deal. Symantec then went on to buy web/cloud security hardware and software firm Blue Coat for $4.65 billion, or more than 90% than what PE firm Bain Capital paid for Blue Coat last year.
FireEye has always been an acquisition candidate and many investors buy the stock on the hopes of an acquisition. While an acquisition is the best possible outcome for FireEye investors, I think the chances of the company getting acquired are slim now as it recently announced the departure of its ex-CEO Dave DeWalt. DeWalt had a track record of selling several emerging companies and was spearheading companies like McAfee and Documentum when they were acquired.
The departure of DeWalt has damaged FireEye's acquisition prospects and is one of the reasons why I think the chances of the company getting acquired are really slim. The departure indicates that FireEye's board isn't looking to sell the company, at least not at a reasonable valuation.
The company was holding out for a $30 per share bid, which is highly unlikely. FireEye's fundamentals are terrible, and I don't think any company will be willing to pay a 90%+ premium for it. Weak fundamentals, coupled with the board's unrealistic expectations, have completely damaged FireEye's acquisition prospects.
Why FireEye's asking price is a far-fetched dream
FireEye remains unprofitable and its efforts of lowering its expenses at a rapid rate have resulted in secondary and convertible debt offerings. For instance, its convertible senior notes during the first three months of the year increased 1.5% to $715 million as compared to $706 million in the previous quarter and approximately 4% since the issuance of the convertible debt offerings.
FireEye's debt is too high for it to be considered a viable acquisition target at $30 per share. To put into perspective, FireEye's annual revenue in 2015 stood at $623 million, up over 40% year over year. However, its revenue was still lower than its total debt of $715 million. This trend is expected to continue in the near future as the company is not able to generate positive cash flow from its operation, thereby increasing the total debt to fund its operations.
For instance, its operating cash flow for the last reported quarter came in at a negative $23 million, while in the same quarter last year, the negative cash flow was $3 million. Even if we exclude the acquisition costs of $8 million of Invotas and iSIGHT, its operating cash flow is still deep in the negative. Thus, it is pretty difficult for FireEye to pay its debt in the near term despite the fact that its sales are growing. The following chart reflects the weakness in its operating cash flow.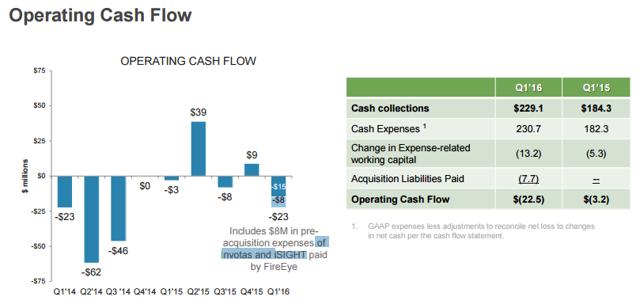 Source: FireEye
Meanwhile, FireEye's operating expenses continue to impact its bottom line negatively. In fact, FireEye's operating expenses are rising at a faster rate than its revenue. For instance, FireEye's operating expenses for the first quarter of 2016, as a percentage of revenue, rose to 114% as compared to 103% of revenue in the fourth quarter of 2015. As a result, its operating margins fell to a negative 44% of revenue for the quarter, down notably from operating margins of a negative 28% of revenue in the previous quarter. The weakness in its operating metrics is illustrated below: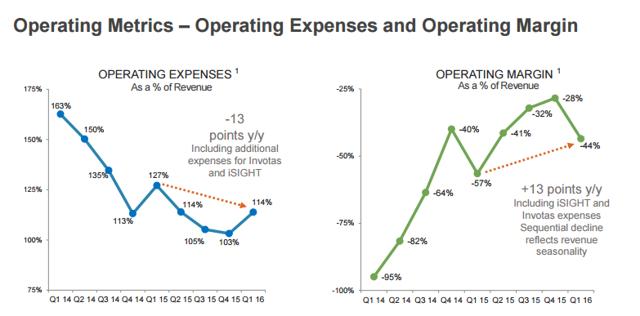 Source: FireEye
Conclusion
With expenses increasing at a faster rate than revenue, FireEye's business model is currently unsustainable. Clearly, the company is bleeding money and will continue to do so as the trend above suggests.
In my opinion, an acquisition would have been the best possible outcome. However, due to the reasons mentioned above, the chances of the company getting acquired at $30 per share are next to zero now. Hence, I think investors should stay away from the stock.
Disclosure: I/we have no positions in any stocks mentioned, and no plans to initiate any positions within the next 72 hours.
I wrote this article myself, and it expresses my own opinions. I am not receiving compensation for it (other than from Seeking Alpha). I have no business relationship with any company whose stock is mentioned in this article.