Recently at a BIO CEO Conference held in NYC, I met ImmunoCellular Therapeutics' (NYSEMKT:IMUC) CEO and President, Manish Singh. Dr. Singh mentioned a couple of things that ImmunoCellular is doing to raise the company's visibility and increase shareholder value.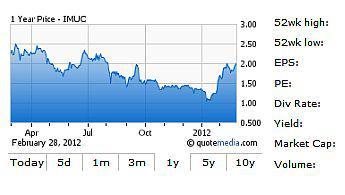 Potential Upgrading to NYSE-AMEX Listing
ImmunoCellular is seeking an AMEX listing. NYSE-Amex has four different listing and public shareholder standards, with a number of differing combinations within. As a result, its listing requirement offers flexibility to companies operating in different market sectors.
According to the following table, ImmunoCellular meets the criteria of standard 3. The company's share price reached $2.0 during the middle of February 2012.
Click to enlarge: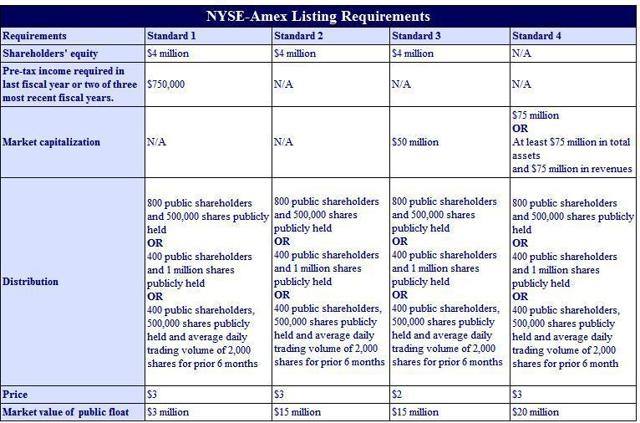 We think the upgrading is important to the company and its shareholders in the following areas:
Trading on a major exchange will raise the Company's visibility and help it gain liquidity at the same time. ImmunoCellular shares have been traded OTC for a long time. Trading OTC is often viewed as higher risk and less liquid to most investors, especially to institutional investors. As a result, many institutional investors are restricted from buying shares traded OTC. If ImmunoCellular is successful in pursuing the AMEX listing, both visibility and liquidity will be raised and many institutional investors can buy its shares after the upgrading.
Another way to attract institutional investors is through the inclusion in an index. After being listed on AMEX, ImmunoCellular could have the potential to be added into a small cap index, especially in a small cap biotech index. Inclusion in an index will further raise ImmunoCellular's visibility. At the same time, ImmunoCellular will be automatically included in some index funds which mirror the index which includes ImmunoCellular. This makes the stock more suitable for a broader group of investors.
Interim Analysis of ICT-107 in 12 Months
On January 23, 2012, ImmunoCellular provided an update on clinical trial site activity and patient enrollment for its Phase II clinical trial of ICT-107 for the treatment of glioblastoma multiforme (GBM).
The company has initiated the trial in 23 centers and has received Institutional Review Board (IRB) approval from a total of 24 trial sites. The trial is expected to enroll approximately 160-200 patients to treat 102 patients with HLA-A1/A2 immunological subtypes. There are 115 patients enrolled in the study as of January 23, 2012, ahead of our expectation and the company's schedule. Enrollment for the trial is expected to be completed by the second quarter of 2012 and an interim analysis is expected when 50% of events (32 deaths) have been observed, which we think will be in 4Q12.
As a reminder, the company initiated the Phase II trial of ICT-107 for the treatment of newly diagnosed GBM following resection and chemoradiation in January 2011. The Phase II trial is a double-blind, placebo-controlled, 2:1 randomized study designed to evaluate the safety and efficacy of ICT-107 in patients with newly diagnosed GBM. The study is enrolling patients at medical institutions in collaboration with leading experts and opinion leaders in neuro-oncology at those sites.
Patients will receive at least four intradermal injections of the ICT-107 vaccine and additional doses of vaccine during a maintenance phase until disease progression. The primary objective is to compare overall survival (OS) and progression free survival (PFS) in patients when treated with ICT-107 versus control.
The Phase I clinical study of ICT-107 in GBM, 16 newly diagnosed patients who received the vaccine in addition to standard of care of surgery, radiation and chemotherapy, demonstrated two year overall survival of 80% and a three year survival of 55%. These figures compare favorably to the 26% two-year and 16% three-year survival, based on the historical standard of care treatment alone. The median overall survival was 38.4 months compared to 14.6 months for the historical standard of care. The study's median progression free survival of 16.9 months compared favorably to the historic median PFS of 6.9 months. Six out of the 16 (37.6%) newly diagnosed patients who received ICT-107 continue to show no tumor recurrence at the last analysis, with three of these patients (18.8%) remaining disease-free for more than 4 years while the other three patients had gone more than 3 years disease-free. There have been no serious adverse treatment related symptoms observed in any of the patients.
Pipeline will be Expanded
ImmunoCellular is working to move two new cancer vaccines into clinic this year: ICT-140 for ovarian cancer and ICT-121 for multiple cancers.
ICT-140 is also dendritic cell based multi‐antigen vaccine targeting cancer stem cells (CSCs). It targets six antigens that are over‐expressed in ovarian cancer. Several antigens are same as ICT‐107 (Her‐2/neu, IL13Rα2 and MAGE‐1). Earlier data with several single antigen clinical trials have demonstrated clinical benefits. ImmunoCellular is currently negotiating rights for additional ovarian antigens from major academic centers. The company plans to file an IND for ICT-140 in 1H12.
ICT-121 is an off-the-shelf, peptide-based vaccine that works by stimulating an immune response to CD-133, a protein that is over-expressed by many CSCs. CD‐133 is expressed on GBM, pancreatic, breast, and most solid tumors. The ICT-121 vaccine comprises dendritic cells loaded with two CD-133 peptides. The initial indication ImmunoCellular plans to target is recurrent GBM. An IND will be filed in Q1/Q2, 2012.
Upon the successful conclusion of the Phase II study, ImmunoCellular anticipates a lucrative partnering contract with a major pharmaceutical or biotech company. The partnership may include a large sum of upfront payment, milestone fees and high royalties. A potential acquisition is also possible. If the partnership deal or acquisition materializes, share price of ImmunoCellular will shoot up and reach double digits with ease.
Disclosure: I have no positions in any stocks mentioned, and no plans to initiate any positions within the next 72 hours.
Disclosure: I/we have no positions in any stocks mentioned, and no plans to initiate any positions within the next 72 hours.
Business relationship disclosure: I work as a Consultant Analyst for Zacks Investment Research. The article is written by me and is 100% my opinion. I receive compensation from Zacks for writing equity research reports and providing valuation analysis on this company's stock and expect to do so in the future. Zacks receives compensation from the company. Please see the Zacks Disclaimer for further information: http://scr.zacks.com/Disclaimer/default.aspx