The Toronto Dominion Bank (NYSE:TD), one of the Big Five Canadian banks, continues to be a solid pick for dividend growth investors. One could argue that the Big Five Canadian banks (Big Five) as a whole are fantastic, and while this may be true, I will present a few points that might distinguish TD from its peers. For the purposes of this article, the biggest five banks in Canada by assets are: Royal Bank of Canada (NYSE:RY), TD, The Bank of Nova Scotia (NYSE:BNS), The Bank of Montreal (NYSE:BMO), and Canadian Imperial Bank of Commerce (NYSE:CM).
You might ask why I didn't include National Bank of Canada (NA) and call them the Big Six. 84% of NA's loan book is concentrated in Quebec and Ontario, and this disproportional book of business is quite different from the other banks, making National incomparable to the other five. This is not to say it's an inferior bank, just incomparable to the other five for the purposes of this article.
Awards and Accolades
For starters, TD has a long list of awards and accolades that would make any investor smile. I was particularly impressed with its customer satisfaction award, as TD was named the best in customer satisfaction among the Big Five by two separate rating firms. It was also rated "the best in investor relations by a CFO" by IR Magazine Canada. The list goes on and on, and I believe most of these awards showcase TD's success in a qualitative manner. Wells Fargo (NYSE:WFC) has also won numerous awards for customer satisfaction, and it is most famous for their cross-sell ratio that current hovers around 6.
Overview of Business Strategy
TD has taken steps to employ a "low-risk, high-reward strategy" by focusing on retail banking and wealth management operations which are less volatile than the capital markets segment. Retail banking is sometimes referred to as boring, since it mainly encompasses the traditional lending and mortgage segment. This strategy has clearly paid off, as TD had one of the highest-risk adjusted returns over the past five years of the Big Five. This strategy also sounds similar to WFC's as the company has taken advantage of its competence with retail banking and has also produced outstanding returns for its shareholders.
Extending the time frame, TD has the highest absolute return over the past 10 years, as the stock has almost doubled outpacing peers: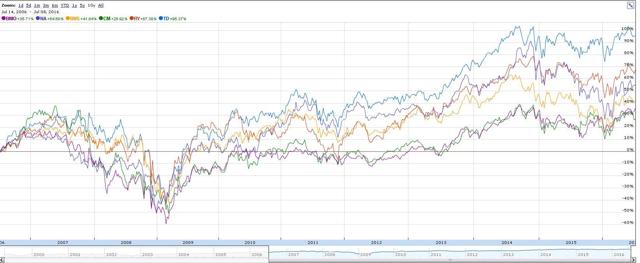 Another effort that has propelled the company to earn superior returns over its peers is its U.S. retail banking presence. Approximately 34% of TD's net income for its most recent quarter came from the U.S. - the highest proportion among the Big Five. No other Canadian bank has a U.S. presence like TD; in fact the company has more stores in the US than it does in Canada - 1300 stores in the U.S. compared with 1165 in Canada - which makes it the most American Canadian Bank. TD's operations in the U.S. also earn the company the number 13 spot on the list of largest U.S. banks by assets. What does this mean for current and prospective investors? Well, for starters, TD Bank definitely is definitely on top of its strategy, and by sticking in its circle of retail banking competence, it's created successful operations in both Canada and the U.S.
Shareholder-Friendly Management
As we saw in the awards and accolades section, TD won an award for shareholder-friendly management, specifically its CFO. One way TD shows its love to investors is through its generous dividend, which has more than doubled over the past 10 years, increasing from $0.88 cents per share annually to $2.10 per share annually (150% growth) - the highest growth among all the Canadian banks. TD's current yield is about 4%. I'll also add that this dividend was not reduced once, not even during the financial crisis. Royal Bank was a close second with 125% growth over the same time period, but TD is number one. WFC also has shareholder-friendly management, as the company has returned the most (dividends + buybacks) to its shareholders of any other U.S. bank since the financial crisis.
A Note on Oil & Gas Exposure
Another bright spot for TD is the company's low exposure to the oil & gas industry.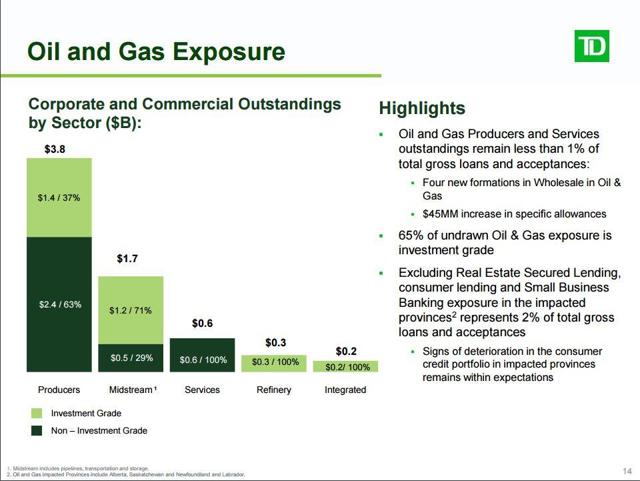 With less than 1% of total loans outstanding in the oil & gas sector, TD has virtually nothing to worry about concerning the price of oil. So far, it has set aside $60 million for bad loans in this sector, which is nothing in comparison to its most recent income of $2 billion in Q2.
Compared to peers, TD is tied for the lowest exposure to the oil patch (ignoring National for now). If we look at the exposure as a percentage of each bank's assets, we see the following:
30-Apr-16
Exposure* ($B)
Assets ($B)
Ratio (%)
RY
22.5
1150
1.96%
TD
15
1120
1.34%
BNS
32
895
3.58%
BMO
15
681
2.20%
CIBC
16
478
3.35%
NA
5
219
2.28%
*Exposure numbers are as of January 31, 2016
Again, TD stands out from the rest with the lowest exposure to the oil patch as a percentage of assets. WFC also has low exposure to the oil patch at less than 2% of total loans.

A Note on Exposure to the Canadian Housing Market
TD currently has $248 billion of Canadian mortgage loans outstanding, including lines of credit - this figure represents ~42% of the bank's total loan portfolio. Approximately half of these mortgages are insured, meaning they are assured by the Canadian government, and TD would not take losses if these mortgages go in default. The other half of mortgages that aren't insured have a loan to value ratio of 58%, meaning the Canadian housing market would have to drop ~40% before TD would be "underwater" on any of these mortgages.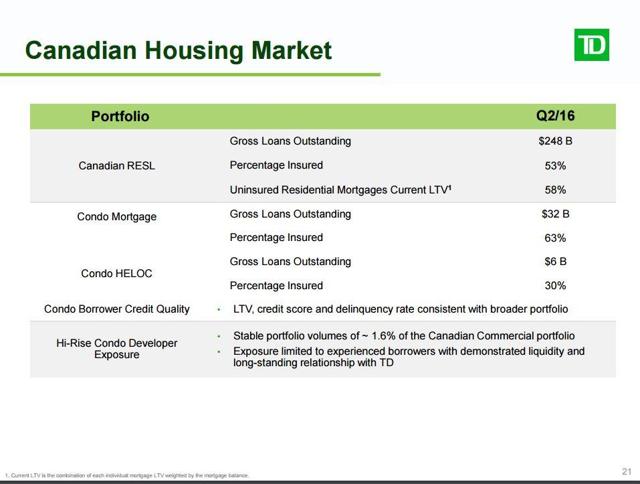 I think by this point, I've made a fair argument that TD is a company worth consideration of investment, so let's a take a look at its valuation.
Valuation
To start, we can see from the Morningstar website that TD's valuation metrics are bit lower than the bank's 5-year average. While I do enjoy ratios, I also like performing a DCF as a check. I will start with the median analyst estimate for the bank's earnings per share for 2016, which is $4.79, according to Morningstar. I then project TD's growth in earnings for the next five years, and then a terminal growth rate to arrive at a fair value estimate, no share repurchases assumed. I present the following growth scenarios with an 8% required rate of return assumption.
| | | | |
| --- | --- | --- | --- |
| Growth for next five years | Terminal Growth | Fair Value Estimate | Current Price/Fair Value Estimate |
| 0% | -1% | 56 | 99% |
| 0% | 0% | 60 | 93% |
| 1% | 1% | 68 | 82% |
| 2% | 1.5% | 75 | 74% |
| 3% | 2% | 82 | 68% |
| 4% | 2% | 85 | 65% |
Note: 100% - The "Current price/fair value estimate" column is also known as the margin of safety.
It seems the market is pricing in 0% to -1% growth rate for TD, based on the current price. Picking the 30% margin of safety mark brings us to the 3% five-year growth and 2% terminal growth assumption. In other words, if you believe TD can grow earnings for that scenario, then you have sufficient margin of safety to take action and buy, assuming an 8% required rate of return. If not, wait for a price drop until the growth scenario you think is most probable presents a 30% margin of safety to the current price.
Summary Remarks
Qualitatively, TD is one of the top Canadian banks by employing a lower-risk strategy by focusing on retail banking. The bank's unrivaled retail presence in the U.S. sets it apart from its Canadian peers, and TD has successfully capitalized on the strong U.S. economy to allow its business to thrive. It is also a shareholder-friendly company, with the dividend more than doubling (150% increase) in the past 10 years, the most of all the Canadian banks. TD's lower-risk profile is also reflected in its small exposure to the oil patch compared to peers.
From a valuation perspective, the bank looks modestly undervalued given the negative growth assumption being priced in at current levels. If you can believe TD can grow earnings by more than 3% for the next five years and 2% forever, then it may be prudent to initiate a small position.
The company has proved thus far that boring can be beautiful, and that low-risk strategies can still provide highest returns. Does TD's strategy ring a bell with a certain U.S. bank by the name of Wells Fargo? All my claims about WFC can be found in my previous article here. TD and WFC's risk profile are clearly similar given the nature of the business. If you like Wells Fargo, TD Bank just might be its Canadian cousin, and the pair looks like a nice one-two punch for Canadian and US banking exposure.
Note: All figures presented in $CAD, unless otherwise noted.
Disclosure: I am/we are long TD, WFC.
I wrote this article myself, and it expresses my own opinions. I am not receiving compensation for it (other than from Seeking Alpha). I have no business relationship with any company whose stock is mentioned in this article.