Presumably in response to Adidas (OTCQX:ADDYY) retaking control of the soccer market, Nike (NYSE:NKE) has made some significant moves to expand its presence in the soccer market. Most notably, NKE extended its deal with La Liga Spanish Football League through 2019. For reference, the deal is of serious magnitude as the league features the world's consensus top two soccer players in Lionel Messi and Christiano Ronaldo. Coincidentally, this is also the first Euro Cup championship in 30 years that will not feature an ADDYY sponsored team and the first Euro Cup championship to feature a NKE sponsored team since 2004. Indeed, both finalists (Portugal and France) are NKE sponsored teams.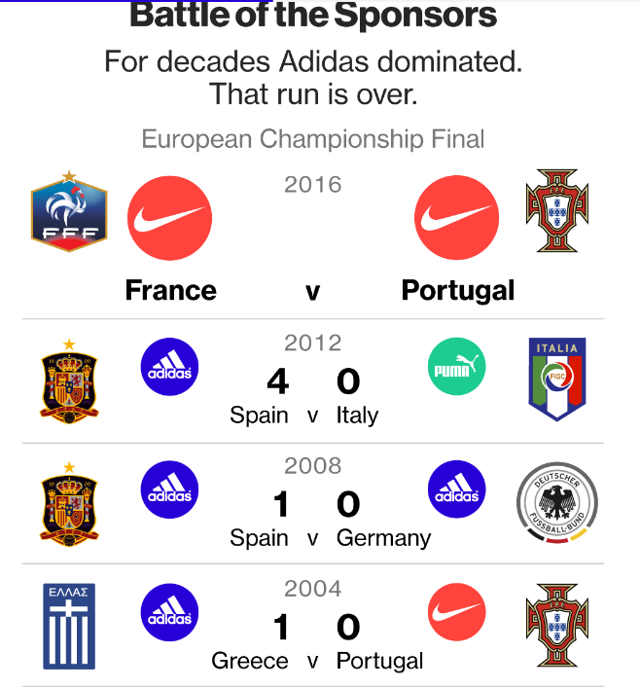 We found La Liga's president Javier Tebas' comments related to the NKE deal very interesting. He comments:
"La Liga is in a process of international expansion, and partnering with Nike contributes to our global prestige. It is a strategic partner, with which we will work to develop our brand and football in general. We are very satisfied with this agreement."
We make the argument here that you could substitute "La Liga" with "Soccer as a whole", and this serves as the basis for our bullishness on NKE's soccer growth potential. Although soccer is already considered to be the most global sport, it continues to rapidly globalize. Whether it be European soccer clubs looking to expand their American fan base or record television ratings and attendance for both the Euro Cup and Copa America, soccer is growing in popularity on a global basis.
This is especially true in the United States, where several data points corroborate one another to provide a compelling argument that soccer is a huge growth market domestically. Fox earned $40 million in ad revenue for the Women's World Cup 2015 series, more Americans watched the 2015 Women's World Cup final than the 2015 NBA Finals or Stanley Cup, more of America's youth are playing soccer now than ever before (participation in youth soccer is 30x higher now than it was 40 years ago), and MLS attendance is growing.
This is all a huge benefit for NKE because it allows the company to leverage its massive North American audience and push NKE soccer sales onto them. ADDYY draws only 16% of its revenue from North America compared to NKE's 46% North American sales mix. In nominal terms, this means ADDYY North American sales were just over $3 billion last year to NKE's North American sales of just under $15 billion.
The story is also true outside of North America. NKE's global sales stand at $32 billion versus ADDYY's global sales of $19 billion (using 1.1 Euro to 1 USD exchange rate on MRFY sales of 16.9 billion Euros). That implies NKE is 70% bigger from a sales standpoint that ADDYY, and this again should allow NKE to leverage its large international audience and global sports leadership position to drive NKE soccer adoption. As La Liga's president pointed out, it made sense for them to make a deal with a company with great global prestige as the league expanded internationally. The argument is the same for soccer as a whole. As soccer becomes a more and more global sport (specifically related to growth in the US), it makes sense for leagues and players to gravitate towards the athletic brand with the most global prestige. With $32 billion in LTM sales, that brand would be NKE.
We think it is also important to note here the synergies NKE could create from an overlap of traditional soccer culture with other sports. Given its leadership position in other sports globally, NKE could leverage that leadership to create "crossover" products. For example, NKE has already combined skating shoes and soccer cleats as well as morphed Air Jordans and soccer cleats into one product. This allows for the potential creation of an entirely new "crossover" market of buyers comprised of those with partial interest in multiple sports (for example, skaters or basketball players who also enjoy soccer).
We think NKE has 20% upside over the next 12 months, and the company's promising soccer growth potential strengthens our bullishness. NKE should be able to leverage its dominance in the United States to capitalize on a growing soccer market domestically. We think shares remain a strong buy at these levels.
Disclosure: I am/we are long NKE.
I wrote this article myself, and it expresses my own opinions. I am not receiving compensation for it (other than from Seeking Alpha). I have no business relationship with any company whose stock is mentioned in this article.
Editor's Note: This article discusses one or more securities that do not trade on a major U.S. exchange. Please be aware of the risks associated with these stocks.