Introduction
In our recent article, "Brexit Could Be The Savior Of The U.S. Consumer", we argued in favor of the future of consumer stocks, at least in the short term. Within the space, one of our preferred names is PayPal (NASDAQ:PYPL). PayPal has grown from being a mere button at the checkout of online retail platforms to a full-service financial provider. Its high levels of consumer recognition breads trust and should increase adoption rates, in our view, while its presence facilitating a variety of consumer payment needs should drive revenue and earnings growth.
Brand Recognition
PayPal has been around since 1999, almost as long as the internet has been in consumer homes. Over that time, consumers have grown used to having and utilizing the service as a standard part of an e-commerce transaction. This was in no small way helped by the company's association with eBay in the formative years of e-commerce during the early 2000s. Having outpaced its parent in terms of earnings growth and split from eBay, we believe PayPal carries with it the brand recognition and first-mover advantage within the space. Shortly after its split from eBay, PayPal was recognized as one of the world's most valuable brands; while during its first Investor Day, management noted that the company had been voted the 3rd most recognizable financial services brand in the UK and the 3rd most recognizable brand OVERALL in Australia. We believe this high level of recognition breeds a sense of trust among consumers, leaving them disposed to increasing usage of the platform as the number of merchants and methods of accessing funds increases. We believe this is reflected in the 11% year-on-year (YoY) increase in customer accounts in Q1/16 and the 26% YoY increase in Total Payment Value processed by the company.
Presence through the value chain
Critical to PayPal successfully reaching its goal of increasing usage from 2-3 times per month to weekly and, ultimately, daily is facilitating the platform's use in a variety of situations, not just on e-commerce checkouts. To this end, the company has made several key acquisitions in recent years, namely Braintree ($800 million in 2013), Venmo ($26.2 million in 2012) and Paydiant ($280 million in 2015). As the graphic below illustrates, PayPal is offering users a great number of ways to deposit and subsequently utilize funds on the platform. Partnering with banks to allow cash withdraws from ATMs, retailers to allow deposits onto a PayPal account, and facilitating mobile point-of-sale transactions greatly improves the functionality of the service. This, in turn, should feed through to high Total Payment Value and, by extension, profitability.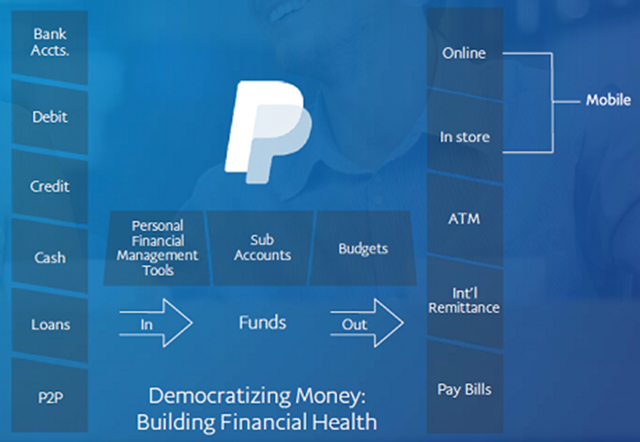 First-Mover Advantage
As outlined above, PayPal benefits from high levels of consumer recognition, inherently breeding a sense of trust (consumers will be reluctant to leave their financial security in the hands of untrustworthy companies or people). Coupled with the extensions the company has made to its distribution network, we believe this should translate to high levels of customer loyalty. Although switching costs to competitors are low, these same rivals do not have the equivalent reach of PayPal, nor the name recognition. As such, we believe a consumer would need to have an exceptionally poor service experience with the company to motivate them to swap exclusively to competitors - for example, of the magnitude of a security breach. Moreover, the regulatory requirements to operate in 203 markets in over 100 currencies, although not insurmountable, pose a significant impediment for competitors, requiring substantial time and investment, but already completed by PayPal.
Attractiveness to Merchants
When a merchant is deciding which payment methods to accept, they will naturally be drawn to those which will appeal to the widest audience. We see PayPal as the obvious choice in this regard, given its wider brand recognition and high trustworthy reputation. PayPal is now accepted in over 200 countries around the world - again, the regulatory hurdles that must be overcome to achieve this should not be underestimated, and add a key barrier to entry for competitors. The substantial issue for merchants trying to sell online can be consumers browsing for products online, but not transacting online. Instead, a consumer may find the item online and then shop in-store. This creates two key issues from the sellers perspective, namely:
A product sold in-store will likely be lower-margin given, the high cost on maintaining staff, store costs, etc.
There are no guarantees that if the user found the item on the website of a particularly store, they actually end up going to that store to buy the item and don't end up giving the business to a competitor instead.
A substantial reason for the low conversion of online shopping to online sale has been the advent of mobiles and touchscreens. Conversion rates tend to be substantially lower for smartphones and tablets versus desktop because of the relative ease of inputting information using a keyboard versus small touchscreens on mobile devices. Inputting delivery address, card data, etc. on a small touchscreen is exceptionally cumbersome and puts shoppers off. In tests, PayPal has discovered that inputting this data on a mobile device takes over 2 minutes, on average, and over 1 minute on a laptop/PC. To address the issue, the company has released "OneTouch", which does exactly what it sounds like and allows users to complete the same transaction in 11 seconds. PayPal executives demonstrated the claim during the recent Investor Day. We believe this convenience should substantially increase conversion rates on mobile devices - an essential progression given the rise of the mobile device versus declines in PC sales.
Conclusion and Valuation
The stock is trading at just 12x 2017 Bloomberg consensus EV/EBITDA, exceptionally cheap, in our view, given that EBITDA is expected to grow 17% in the year, with ample room to outperform given the secular shift to mobile and online commerce. We view PayPal's first-mover, dominant position within the industry, coupled with its high levels of consumer recognition, trust and loyalty, as well as the high regulatory and technological barriers to entry as being key drivers of earnings in the future.
Disclosure: I/we have no positions in any stocks mentioned, and no plans to initiate any positions within the next 72 hours.
I wrote this article myself, and it expresses my own opinions. I am not receiving compensation for it (other than from Seeking Alpha). I have no business relationship with any company whose stock is mentioned in this article.