Orexigen's (NASDAQ:OREX) investors that have been in denial about the challenges of the anti-obesity space are likely still reeling from the news of a 1 for 10 reverse split announced after the market closed on Friday. The next reality is that Q2 sales of Contrave came in lower than what was sold in Q1. The problem with that is that Q2 has traditionally been the strongest quarter of the year in this sector. Seeing Q2 come in with weaker numbers should now be confirmation to any investor that the challenges ahead for Orexigen are very real.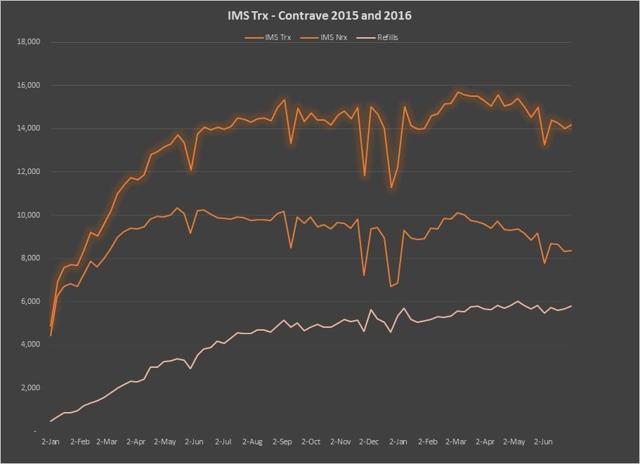 Chart Source - Spencer Osborne
On a quarter-over-quarter basis, we see that sales were down from over 194,000 to just below 191,000. The dip in sales was 1.77%. That may not seem like very much, but when you consider that Q2 is supposed to be the strongest quarter, the gravity of the dip carries more weight. Investors should anticipate another dip in sales in Q3 and for Q4 to be the weakest quarter of the year.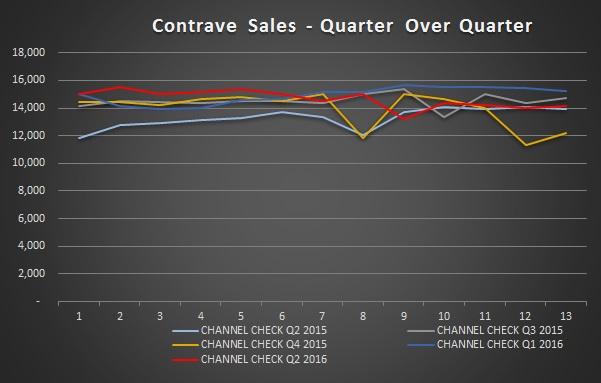 Chart Source - Spencer Osborne
On a year-over-year basis, we see that things are still in positive territory though flattening out greatly. Last year Q2 delivered sales of almost 173,000 scripts. This year the sales came in at just under 191,000. This puts 2016 sales 10.27% higher than what was seen a year ago. The fact is that you look at where sales were a year ago, you will realize that there has essentially been no gain. Up until now, Orexigen has been one of the two companies in the sector delivering year-over-year growth. The last few months have seen the trajectory get more flat as each week passed.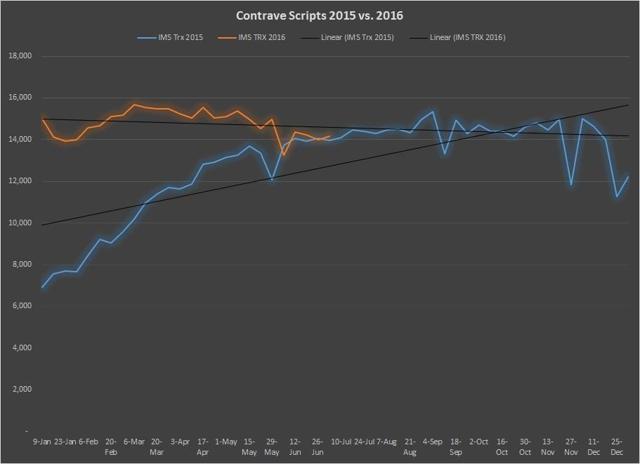 Chart Source - Spencer Osborne
In looking at market share, we see that Orexigen has used Q2 of 2016 to shift from a company that is grabbing chunks of market share each week to one that is treading water with a bias to market share losses. Orexigen started the year with a market share of 40.78%. Contrave peaked at 42.40%, and now carries a market share of 39.90%. The market share reported last week is the lowest market share that the company has had in 2016. With the transition from Takeda (OTCPK:TKPYY) to Orexigen, these market share numbers will likely erode further.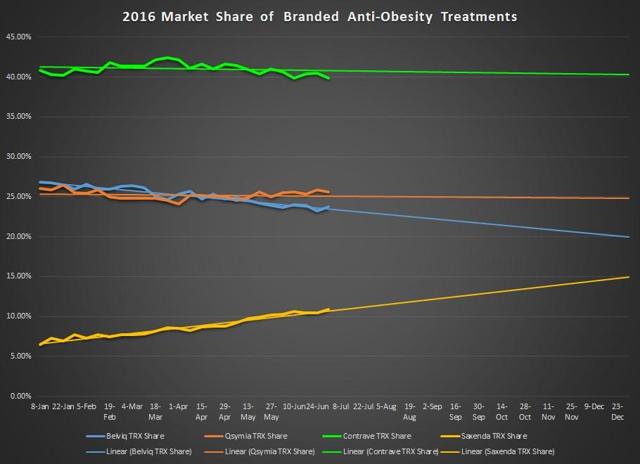 Chart Source - Spencer Osborne
The sector for branded anti-obesity products is not very healthy. As a whole, sales thus far in 2016 are 1.7% lower than what was delivered in the first half of 2015. Orexigen has guided to sector growth in forming its own projections, but at this stage is not even delivering Contrave sales that meet the lowest end of its internal guidance.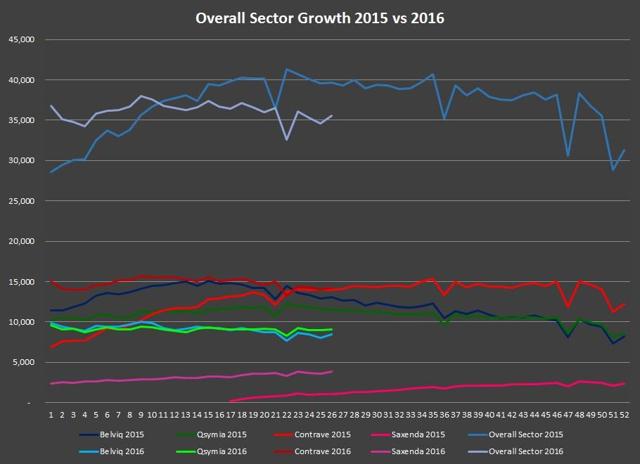 Chart Source- Spencer Osborne
Investors need to watch things closely. Orexigen only has one product on the market and no pipeline to speak of. South Korea is a potential market, but there is not likely enough sales volume to turn around the financials of Orexigen to a point that delivers equity appreciation. Competitor Belviq from Arena (NASDAQ:ARNA) has been on the market in South Korea for over a year and sales have essentially peaked at 2,500 scripts a week for months now. The situation in Europe is, in my opinion, not very good. The countries where Orexigen was able to partner for Mysimba (Contrave's marketing name in Europe) are minor in nature and will not generate massive sales volume.
The bottom line is that Orexigen remains a speculative play. The reverse split will take the float from 145 million shares to 14.5 million. That small float can make the equity more volatile. Investors should consider this as they make their investment decisions. In my opinion, Orexigen is going to be a stock that active traders will pounce on, while those with long-term holdings and horizons will be frustrated with the price swings. Stay Tuned!
Disclosure: I am/we are long ARNA.
I wrote this article myself, and it expresses my own opinions. I am not receiving compensation for it (other than from Seeking Alpha). I have no business relationship with any company whose stock is mentioned in this article.
Additional disclosure: I have no position in Orexigen
Editor's Note: This article covers one or more stocks trading at less than $1 per share and/or with less than a $100 million market cap. Please be aware of the risks associated with these stocks.