Are You Sitting On A Gold Mine?... Or A Powder Keg?
Gold, gold, gold, it's all you hear about nowadays - probably because it's been one of the few outperforming asset classes next to REITs this year to date, notwithstanding the crude oil recovery.
Year-to-Date Asset Class Performance
Asset Class
YTD Total Return*
Gold (spot price)
24.5%
Crude Oil (WTI spot price)
30.0%
U.S. REITs (MSCI REIT)
13.6%
U.S. Stocks (Russell 3000)
3.6%
U.S. Bonds (Barclays US Aggregate Bond)
5.3%
TIPS (Barclays Treasury TIPS)
6.2%
S&P 500
3.8%
*Data through June 30th, 2016; month-end total return prices
Explanations for gold's rise range from the fantastical and apocalyptic to the mundane and technical. But one of the more consistent methods is to view gold as an inverse to the performance of financial institutions, which somewhat explains the proportional relationship with falling interest rates/yields or poor growth projections. In any case, even this assumed correlation is muddy at best; gold rarely correlates to any market or macroeconomic metric to any objectively-definable degree.
What we can observe concretely, however, is that while gold's steady rise has been impressive, it has also been purely one sided and speculative, i.e. based on institutional investment demand, not industrial or retail (jewelry) demand. Regardless, that hasn't stopped investors from jumping on board the hype train and certainly hasn't stopped gold bugs from gloating about their modestly improved portfolios.
Total Return for Gold & Gold Miner ETFs
| Gold & Gold Miner ETFs* | Ticker | YTD Total Return |
| --- | --- | --- |
| VanEck Merk Gold Trust | (NYSEARCA:OUNZ) | 25.8% |
| SPDR Gold Trust | (NYSEARCA:GLD) | 26.6% |
| iShares Gold Trust | (NYSEARCA:IAU) | 26.8% |
| ETFS Physical Swiss Gold Shares | (NYSEARCA:SGOL) | 26.5% |
| VanEck Vectors Gold Miners ETF | (NYSEARCA:GDX) | 111.7% |
| PowerShares Global Gold & Precious Metals Portfolio | (NASDAQ:PSAU) | 101.8% |
| VanEck Vectors Junior Gold Miners ETF | (NYSEARCA:GDXJ) | 136.2% |
| Global X Gold Explorers ETF | (NYSEARCA:GLDX) | 149.5% |
| iShares MSCI Global Gold Miners ETF | (NYSEARCA:RING) | 126.2% |
*Note: Many gold ETF portfolios contain other precious metals including silver.
Investing in physical gold is one thing; in fact, I've recommended it several times in the past... but gold miners are a whole 'nother can of worms.
Gold miners are now all the rage as well. Yet, this was not always the case. Take for example, Barrick Gold: only a few years ago, shareholders were angrily storming the Barrick Gold offices, demanding pay cuts from its top executives and compensation for its failed Chilean mining projects. It seems that with a little rise in the spot price and a little encouragement from some top hedge funders like Soros and Druckenmiller playing their books, suddenly shareholders love Barrick and other similar mining companies again. How easily we forget...
Total Return for Major Gold Miners
| Company | Ticker | YTD Total Return |
| --- | --- | --- |
| Barrick Gold | (NYSE:ABX) | 203.8% |
| Newmont Mining | (NYSE:NEM) | 124.3% |
| Goldcorp | (NYSE:GG) | 72.8% |
| Agnico Eagle Mines | (NYSE:AEM) | 110.5% |
| Randgold Resources | (NASDAQ:GOLD) | 97.7% |
| Kinross Gold | (NYSE:KGC) | 210.2% |
You see, while gold mining companies may appear to enjoy quite large and attractive operating margins or have a relatively simple business model to follow, gold miners have not exactly been a stellar model of public ownership. Major gold miners have been notorious for several key problems that should raise a red alarm to any prospective shareholders, namely:
Executive Compensation (Corporate Governance)
Return on Equity
Financial Leverage
The first two issues deal with management efficiency and corporate governance and thus can be highly subjective between the various companies. Yet, the third perhaps most pressing issue is an issue common to almost all of the major miners - the inability to manage operating cash flows at a level below capital expenditures, thus, of course, forcing the acquisition of debt and/or equity to finance future growth. We shall explore these issues in more detail below.
Executive Compensation
Executive compensation has always been a hot-button issue in the world of gold miners. To be fair, it's a part of the corporate culture endemic to all capitalist corporate structures, and it's something gold miners have worked hard to fix so as to restore shareholder confidence. In fact, in November of 2015, many miners began to openly discuss compensation metrics with Van Eck. Yet, clearly miners have still either been unwilling or unable to create a proper compensation framework as the spreads between executive compensation and actual company performance are still incongruous.
Total Executive Compensation ($ mil)
| Company | 2012 | 2013 | 2014 | 2015 |
| --- | --- | --- | --- | --- |
| Barrick Gold | 56.81 | 28.89 | 39.49 | 18.76 |
| Newmont Mining | 30.25 | 40.18 | 28.63 | 35.97 |
| Goldcorp | 21.80 | 28.51 | 22.04 | - |
| Agnico Eagle Mines | 22.52 | 23.75 | 21.41 | 15.76 |
| Randgold Resources | 9.46 | 8.78 | 10.07 | 10.53 |
| Kinross Gold | 30.25 | 40.72 | 24.53 | 19.44 |
If we compare CEO compensation to return on equity, we can observe which companies are the worst at reining in executive pay when it is required or, alternatively, rewarding executives when times are good. So, as an example, we can observe that in 2015, Newmont Mining's CEO received quite a generous pay raise of ~$4 million or about 42%, despite return on equity falling precipitously to a level, now, of about 0.8%. Now, of course, return on equity is a lagging indicator and there could be special factors as to why Newmont's executives had been rewarded in 2015; however, if you look at the historical, say, five-year charts of compensation vs. performance (of any metric) for any gold miners, there are simply too many inconsistencies.
CEO Compensation Vs. Return on Equity (1-yr % change)
| Company | CEO Compensation | RoE |
| --- | --- | --- |
| Barrick Gold | -57.80% | -33.21% |
| Newmont Mining | +42.54% | -59.48% |
| Goldcorp | -13.89% | -135.64% |
| Agnico Eagle Mines | -20.28% | -75.71% |
| Randgold Resources | +4.96% | -24.68% |
| Kinross Gold | -13.28% | -4.93% |
Any company, regardless of industry, should strive to match executive compensation with actual market performance or return on equity or any other such metric; however, gold miners' executive compensation behavior has been historically erratic at best, which is not exactly encouraging to investors. This is a minor issue which should not deter investment, but it is something shareholders should be aware of.
Return on Equity
What is perhaps more important is management efficiency at unlocking value. This is where the gold miners start to head into trouble. Because far from the non-GAAP profitability metrics from AISC or cash costs would suggest, gold miners have barely managed even bare minimum return on equity standards. Just take a look at the chart and see for yourself: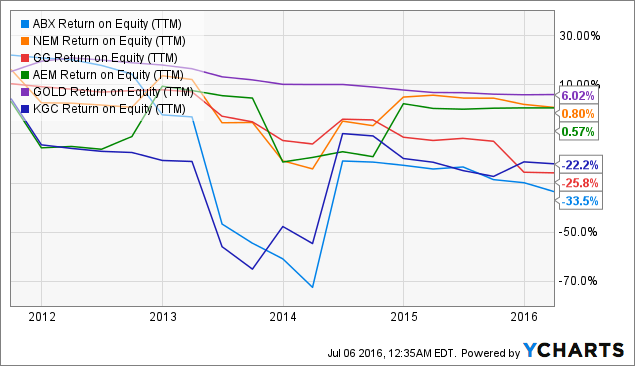 International Shareholder Services targets 5% as the bare minimum level of capital efficiency, e.g. return on equity, that shareholders should hold management accountable for; by this standard, the only company that would meet this rule would be Randgold Resources. Now, of course, return on equity is a complex equation; that's why I think it would be best here if we broke this down into multiple parts, i.e. a traditional DuPont analysis, to locate the problem.
DuPont Analysis of Major Gold Miners
| Company | Operating Efficiency (Profit Margin TTM) | Asset Utilization (Total Asset Turnover TTM) | Financial Leverage (Equity Multiplier MRQ) |
| --- | --- | --- | --- |
| Barrick Gold | -34.2% | 28.9% | 3.54 |
| Newmont Mining | 1.14% | 30.7% | 2.16 |
| Goldcorp | -92.8% | 17.1% | 1.67 |
| Agnico Eagle Mines | 1.19% | 29.5% | 1.58 |
| Randgold Resources | 18.77% | 28.1% | 1.14 |
| Kinross Gold | -32.5% | 36.4% | 1.94 |
Profit Margin
There are different problems for each gold miner, but general similarities that we can observe. Let's start with profit margin. According to the latest NYU Stern Survey, the Metals & Mining sector should hold an average pre-tax unadjusted operating margin of 11.02%; this survey was conducted in January 2016, before the latest gold spot price rally, so that target should occupy an even higher range today.
Unfortunately, most of the major miners, with the exception of Randgold Resources, can't seem to manage a proper operating margin. This would suggest, as noted earlier, that the profitability metrics such as AISC or cash costs that gold miners typically advertise to their shareholders are not representative of the true costs of these operations. Many miners advertise their AISC (all-in sustaining cost) as declining over the past several years with the median AISC now at ~$835/oz; however, this may not be result of true operating cost decline and may be more a result of clever accounting. We will look at this in greater detail further on. Of course, using operating margin is actually quite generous considering if we look at their net margins, the numbers are considerably worse.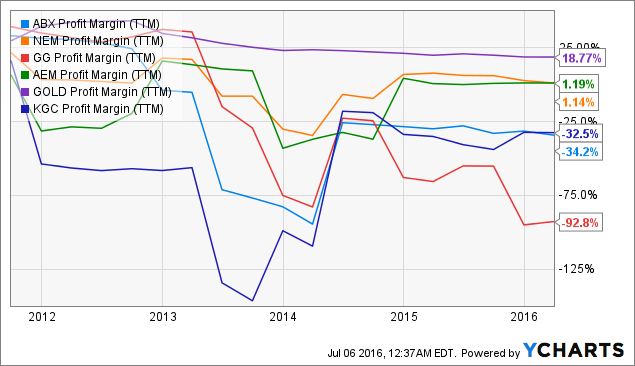 Asset Utilization
Poor asset utilization is also typical of the entire mining industry as naturally there are many difficulties and delays in deploying assets (e.g. mines, land). This is not something that can be easily quantified. There is often intense competition over potential projects, notwithstanding governmental scrutiny, environmentalist pressures, and local landowning groups that make asset turnover a very long and slow process for the gold miners... not to mention the many projects that end up being total busts.
Remember the Pascua Lama project in Chile that saw Barrick Gold pay hefty fines to the Chilean government, shareholders filed class-action lawsuits over the project, and construction halted over environmental protests; now, speculation is abound that Barrick may need a partner to finally unlock the mine's value and recoup some of the tremendous losses. Or how about Newmont's Hope Bay project that resulted in a $1.6 billion write-off in 2013. Busts are a natural occurrence, but again, the problem lies in how management treats them, i.e. using write-offs to hide losses from future balance sheets and using accounting gymnastics to muddy the difference between regular operations and expensive failed acquisitions.
Additionally, over time, the major gold miners have had difficulties in finding and acquiring high-quality, high-grade assets; we will look at this as a business model problem further down below.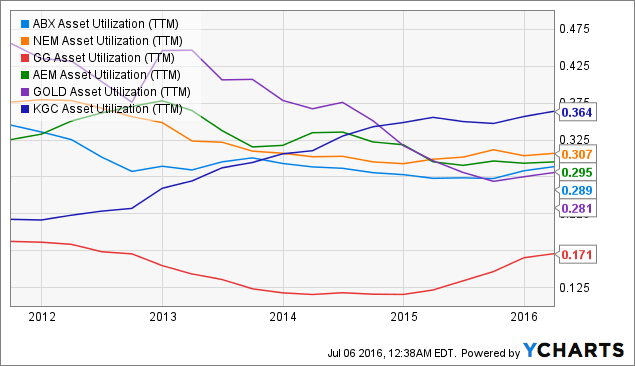 Financial Leverage
Regardless, the most important element that our DuPont analysis can tell us is how the gold miners have failed to properly manage their financial leverage even with rising gold prices and increasing investment flows. Again, with the exception of Randgold, it seems most of the major gold miners have pursued asset acquisition through the financing of new debt as opposed to the use of internally-generated cash or equity.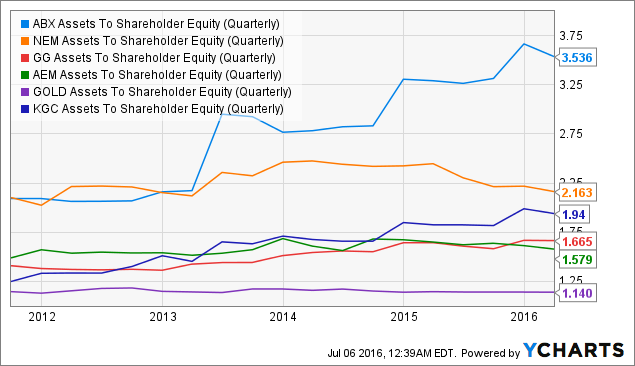 If we take the cumulative cash flow for each of the major gold miners over the past five years, we can see that three of the six could not manage stable free cash flow in order to fund sustainable expansion/investment measures.
Cumulative Cash Flow (2011-2015) ($ mil)
| Company | Operating Cash Flow | Capital Expenditure | Free Cash Flow |
| --- | --- | --- | --- |
| Barrick Gold | 20,083 | (20,988) | (905) |
| Newmont Mining | 11,082 | (10,408) | 674 |
| Goldcorp | 7,862 | (9,355) | (1,493) |
| Agnico Eagle Mines | 3,081 | (2,432) | 651 |
| Randgold Resources | 2,243 | (1,708) | 532 |
| Kinross Gold | 5,128 | (6,081) | (952) |
But even this may be generous. Remember it's been noted that gold miners have been notoriously liberal in reporting the total cost of mining gold. Why? How is this? The gold price has risen substantially since its low of ~$350/oz in 2000, miners have seen huge investment inflows from new ETFs/ETNs, and low global interest rates have given miners generous opportunity to accrue debt wisely - how have they managed not to maintain better free cash flow levels? Is this a natural result of failed projects and major write-offs? Or is it a more serious consequence of a failed business model? We need to delve deeper and take a closer look at how gold mining companies report operating expenses and cash flow.
Cash Flow and Productivity
There are two main ways in which miners report cash flow: (1) Operating expense, or OPEX, and (2) Investment in mining property, or IMP. OPEX is indirectly classified under Operating Cash Flows and represents the direct costs of mining, processing, transporting, and refining gold ore. Naturally, OPEX is a proportional function of the gold spot price, i.e. in boom years, OPEX will comprise a lower proportion of cash flow and vice versa.
Average OPEX as % of Revenues for Major Gold Miners
| | 2005 | 2006 | 2007 | 2008 | 2009 | 2010 | 2011 | 2012 | 2013 | 2014 | 2015 |
| --- | --- | --- | --- | --- | --- | --- | --- | --- | --- | --- | --- |
| Average OPEX as % of Revenues | 57.8% | 43.7% | 42.6% | 47.0% | 41.4% | 35.9% | 36.9% | 40.3% | 51.2% | 58.2% | 57.6% |
| Average Gold Price ($) | 445 | 603 | 695 | 872 | 972 | 1,225 | 1,572 | 1,669 | 1,411 | 1,266 | 1,166 |
IMP is indirectly classified under CapEx under Cash Used for Investing Activities; it is meant to represent the development of long-term assets, but has nothing to do with acquisition of new assets. So, for example, this would include shaft deepening, preproduction stripping, equipment replacement, haul road construction, etc., i.e. activities and processes that increase the life and productivity of a mine. IMP is not a function of gold price.
Average IMP as % of Reserves for Major Gold Miners
| | 2005 | 2006 | 2007 | 2008 | 2009 | 2010 | 2011 | 2012 | 2013 | 2014 | 2015 |
| --- | --- | --- | --- | --- | --- | --- | --- | --- | --- | --- | --- |
| Average IMP as % of Reserves | 33.2% | 26.1% | 28.5% | 27.0% | 33.2% | 26.1% | 29.6% | 40.8% | 39.9% | 30.6% | 23.9% |
| Average Gold Price ($) | 445 | 603 | 695 | 872 | 972 | 1,225 | 1,572 | 1,669 | 1,411 | 1,266 | 1,166 |
Here is where it gets tricky. IMP investment for all of the major gold miners has behaved cyclically over the past decade, with a peak in 2012 and returning to a trough more recently. Naturally, during/after increases in IMP, one would expect a proportional increase in R&R (reserves and resources) and production levels. However, this is not exactly the case.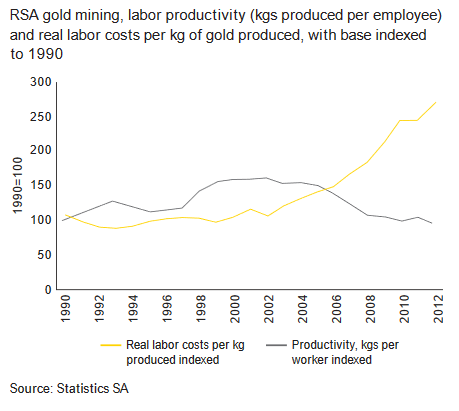 In fact, productivity has actually decreased as investment has risen. Why has productivity of the major gold miners decreased even as total investment has increased? Or, even more seriously, why has productivity decreased even during times of booming gold prices?
The Business Model
"When prices are through the roof, you start building inefficient practices in terms of productivity."

- SNL Financial
If we look at how the major gold miners have attempted to increase production at all costs but have actually ended up destroying productivity, we finally start to understand how earnings and ROE and leverage have all performed so poorly even in boom years. This is perhaps the greatest failing of the major gold miners, the consequences of which are still felt today.
The serious endemic flaw in all of the major gold miners is this: prioritizing production increases at any cost. And perhaps, this is also related back to executive compensation; that is, this problem may be related to management rewarding executives for quantity of production over quality of production. The oil industry has this same exact problem: wherein no matter where the oil price is or how costs are managed, as long as managers increase production, management is rewarded.
In any case, the question now is: how can this problem be solved, and, as investors, what does one look for in a company that is indicative of the company trying to reform its business model?
My personal perspective is this: Miners need to focus on achieving a perfect balance of cost per ounce and gold ore grade over simply increasing production. If we take into account that the average grade of all current producing gold ore deposits is 1.06 grams/ton, we can observe how each individual company matches up on average and see which companies have the highest future potential assuming operational efficiency is prioritized when mining these higher grade ores.
Average Grade of Proven and Probable Gold Reserves (2015)
| Company | Average Grade of Proven and Probable Gold Reserves (g/t) |
| --- | --- |
| Barrick Gold | 1.3 |
| Newmont Mining | 0.9 |
| Goldcorp | 3.6 |
| Agnico Eagle Mines | 2.4 |
| Randgold Resources | 3.6 |
| Kinross Gold | 0.7 |
Grade isn't everything; the solution is not so simple as prioritizing the highest grade projects or the cheapest projects but lies somewhere in between. However, what we can observe from the past ten years or so is that miners have exhausted existing projects, e.g. "sweating assets," and ore grades have significantly decreased so that even with more production, miners cannot supplant supplies. This problem is also an exigent one: gone are the days of discovering the next 20+ g/t basin and most of the world's future potential projects will be in the lower grades.
Miners will also need to embrace "big data" solutions and new automated operational models. McKinsey & Company, creator of the MineLens Productivity Index, has extensively investigated this new reality and their results from trying to remedy the problem are telling. While not trying to act as an endorsement of any kind, here is an example of one of their success stories in helping mines reinvigorate their productivity:
A gold mine was under severe pressure because the gold grade of the ore body it was mining had fallen by around 20 percent. The mine had increased ore-production volumes to try to offset the decline, but it was running into difficulties because this was overloading its leaching plant and incurring higher costs on energy, chemicals, and other major input costs. Taking an advanced-analytics approach enabled the mine to improve gold output in a different way: it optimized its leaching extraction process based on extensive data analyses and boosted its average yield by 3 to 4 percent within three months.

The first step brought together all the mine's extensive but underused production and process data-not just from its operating and resource-planning systems but also from the laptops of operators and management-and deployed mathematical-modeling approaches to reconcile inconsistencies and data gaps. The advanced-analytics approach applied in this case was a neural-network model that simulated the plant performance precisely and indicated where there were opportunities to improve to optimal levels. The process parameters of the extraction plant were then examined in depth, looking at an exhaustive range of variables from ore-particle density to flow rates and chemical use, to model the optimal theoretical conditions. The examination identified the variability in levels of dissolved oxygen in the leaching process as the most important driver of yield, a finding validated by tests. The mine made some small changes to increase the flow of oxygen, which, as predicted, generated a significant yield gain. The increase in yield translated into a sustainable $10 million to $20 million annual profit improvement, with no need for substantial capital outlays or reorganizations.

Across the industry, comparable application of advanced-analytics approaches to drive yield improvements for commodities with similarly complex ore-processing operations, such as copper, nickel, phosphate, and platinum, could translate to roughly $20 billion to $50 billion per year of additional earnings before interest, tax, and depreciation.

- McKinsey & Company
Conclusion
Investors need to be particularly wary in the gold mining sector, especially since virtually all miners have attempted to deceive investors using the AISC or non-GAAP cash cost metrics to inflate their margins. Investing in gold miners is so much more complex than simply looking at the spot price. Know where the company is mining and what operational strategies will be utilised; research labor, capital expenditure, and cash flow trends. Take note of how many projects the company is writing off or selling off. And most importantly, is the company embracing the new reality of operational efficiency or is it simply fighting a losing battle, exhausting its existing assets to extinction? You might not be sitting on a gold mine... but a powder keg.
Disclosure: I/we have no positions in any stocks mentioned, and no plans to initiate any positions within the next 72 hours.
I wrote this article myself, and it expresses my own opinions. I am not receiving compensation for it (other than from Seeking Alpha). I have no business relationship with any company whose stock is mentioned in this article.