I have long stated that I invested into Novo Nordisk (NYSE:NVO) despite its entry into the anti-obesity sector, not because of it. I had long been familiar with the company and long been of the opinion that it was a solid company and a decent investment. It was my coverage of the anti-obesity space that got me to take a closer look at Novo Nordisk, scrub the numbers on the overall business, and make an investment.
In all honesty, I did not expect much from the anti-obesity drug Saxenda. I saw this as essentially the precursor to a label extension for Victoza. Saxenda was the last entrant into the branded anti-obesity space, was an injection, and was priced 5 to 8 times higher than the already established players. I saw opportunity in selling to obese patients with diabetes, but did not picture much of a market beyond that.
Novo Nordisk got Saxenda approval in the United States, Europe, Canada, and even Mexico in record time. Where other companies have failed in expansion at turn after turn, Novo Nordisk delivered within months. In my opinion, the company that actually has the best potential in this branded anti-obesity space is Novo Nordisk, and Saxenda. Novo has the cash to drive sales, the experience to garner approval, and the professional staff to navigate insurance and sales calls.
This past week Saxenda sales came in at a bit under 3,900 scripts. A year ago, if you asked sector watchers if Saxenda would be at this level, I would bet most would have said now. 3,900 scripts may not sound impressive given that Belviq from Arena (NASDAQ:ARNA) sold 8,400, Qsymia from Vivus (NASDAQ:VVUS) sold 9,100, and Contrave from Orexigen (NASDAQ:OREX) sold 14,200, but it is actually quite impressive when you look at the revenue numbers Saxenda is at the top of the mountain in that department.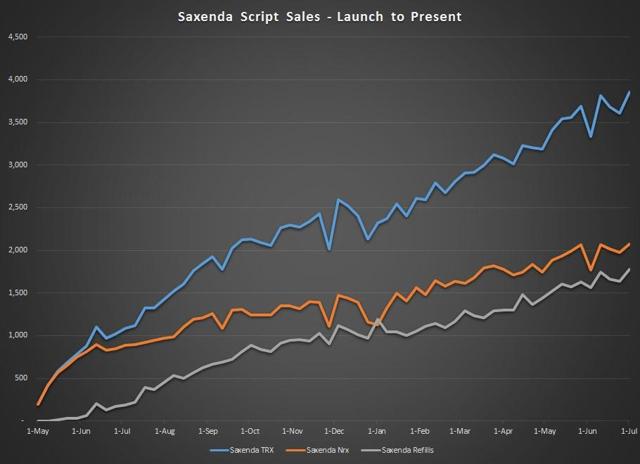 Chart Source - Spencer Osborne
On a quarter over quarter basis, Saxenda is now the only drug in the sector that is still demonstrating growth. All competitors saw a decline from Q1 to Q2. Saxenda delivered 26% growth, going from about 36,000 scripts in Q1 to 45,000 in Q2. In this sector, Q2 is traditionally the strongest quarter. It is possible that we begin to see a flat spell for Saxenda in Q3, but given the current trajectory, there is still a decent shot that Q3 can deliver growth yet again.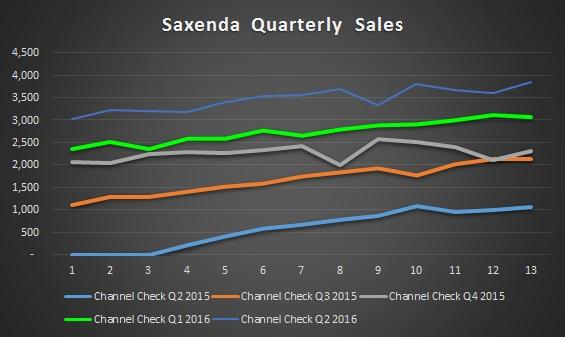 Chart Source - Spencer Osborne
On a year over year basis, Saxenda is very impressive. In fairness, the launch was still very new last year. It is little wonder why, given that newness that the year over year comparison comes in showing growth of 485%. If you look at the trend lines of 2015 vs. those set in 2016, you will see that the company is still carrying forward a very steady upward trajectory.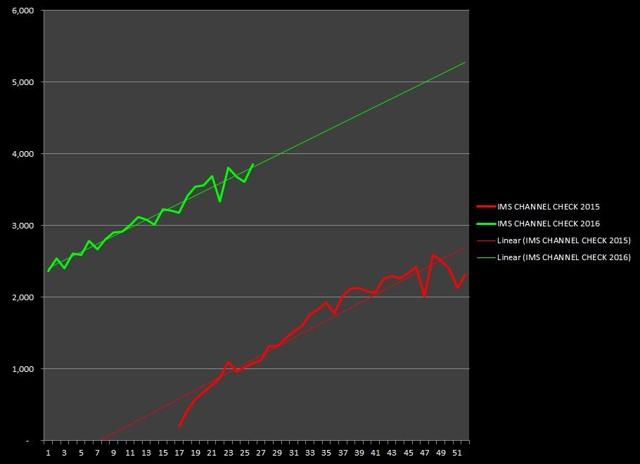 Chart Source - Spencer Osborne
In terms of market share, Saxenda is now approaching 11%. If that number is not impressive, what may be is this. Saxenda is now the only drug in the branded anti-obesity sector that is presenting a positive market share trajectory. It is not on a path to overtake its competition by the end of the year, but it is on a path to be close to accomplishing that. Despite the lowest market share in the sector, the revenue that Novo gains is the highest in the space.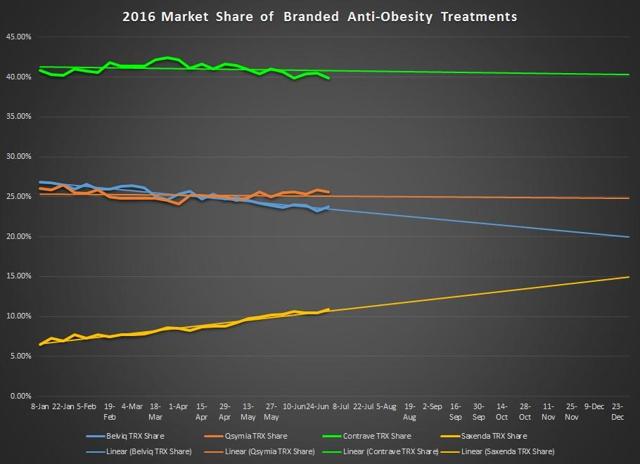 Chart Source - Spencer Osborne
The overall branded anti-obesity sector is actually in decline. Overall sales at the halfway point of 2016 are actually 1.7% lower than they were at the half way point of 2015. The only player that is delivering growth at this stage is Saxenda. That will very likely be the case for the remainder of the year.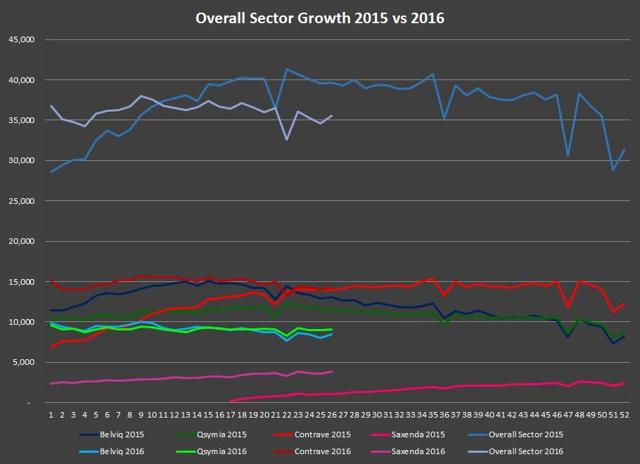 Chart Source - Spencer Osborne
The bottom line is this. Most people invested in Novo Nordisk do not even give a second thought to Saxenda or the anti-obesity space. What these people will soon see is that Saxenda is actually making a meaningful contribution to the revenue story of Novo Nordisk. No, Saxenda is not going to be the flagship product of the company, but it can be the drug that delivered the biggest surprise of the year. Stay Tuned!
Disclosure: I am/we are long NVO, ARNA.
I wrote this article myself, and it expresses my own opinions. I am not receiving compensation for it (other than from Seeking Alpha). I have no business relationship with any company whose stock is mentioned in this article.
Additional disclosure: I have no position in Orexigen or Vivus