Procter & Gamble (NYSE:PG) has not seen much in the way of growth for the best part of a decade. Indeed, between 2006 and 2015, based upon figures provided by Morningstar, the average growth rate for the company was -2.31%.
A decade of negative average growth would be seen as a worrying sign for many stocks, but in the case of Procter & Gamble, this trend has been the by-product of a long transition period that the company has undergone in order to make itself a more productive force in the marketplace.
Overview
Procter & Gamble is a vintage blue-chip that can trace its origins back to 1837 in Cincinnati, Ohio, where William Procter and James Gamble set up a family-run candle and soap business (the two men were married to sisters, and it was the father of these sisters who suggested the partnership).
From these humble origins, Proctor & Gamble has grown to become the dominant consumer goods company in the world, with a market capitalization of $228.31 billion and a workforce of 110,000 employees. They are still headquartered in Cincinnati, sell their products in over 180 countries, and divide their operations into four segments: Baby, Feminine and Family Care; Beauty, Hair and Personal Care; Fabric and Home Care; Health and Grooming.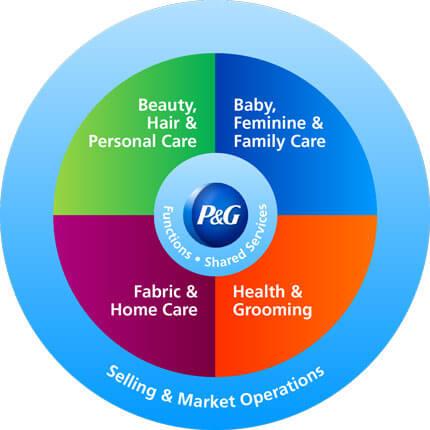 Competitive Advantage
Procter & Gamble's competitive advantage stems from its huge portfolio of disposable consumer products that people will always need. The picture below shows the diverse range of products Procter & Gamble offers divided by brand category. Twenty-one of these brands are each worth $1 billion+.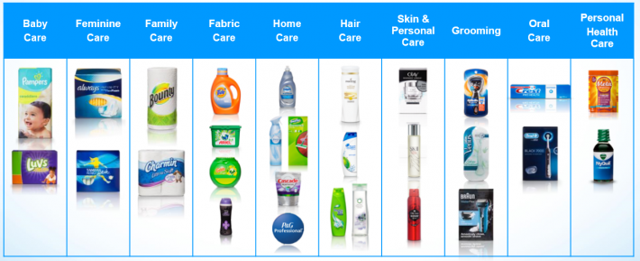 Procter & Gamble ensures the dominance of these products through advertising. The advertising budget ensures that brands such as Bounty, Charmin, Crest, Dawn, Gilette, Ivory, Olay, Pampers, Pantene, SK-II, Tampax, and Tide are household names that consumers are all too aware of. For 2015, Procter and Gamble declared advertising expenditure to be $8.29 billion, a figure which demonstrates its commitment to promoting its brands - and a figure which few of its competitors can match.
Valuation
Procter & Gamble is currently trading in the mid $80 range, sporting a price-to-earnings ratio of 28.67, and a forward price-to-earnings ratio of 21.64. The stock offers a dividend yield of 3.12%, with a higher than desirable payout ratio of 74.0%. Given that the S&P 500's current P/E ratio is 19.3, and Procter & Gamble's own 5 year P/E average is 20.4, it is clear that the stock is considerably overvalued at this time.
Taking into account that earnings-per-share over the last twelve months was $2.99, that the EPS growth rate over the next five years is estimated to be 6.13% annually, leveling off to 5% annually thereafter, and using a discount rate of 11% (the stock market average), I find Procter & Gamble's fair value at $54.90. The stock is therefore overvalued by 56% at this time.
The Reason For Negative Growth
The rise in Procter & Gamble's valuation is simply due to conservative investors looking to put their money into a defensive blue-chip with a long history of providing safe returns. After all, Procter & Gamble is not just a Dividend Aristocrat, but also a Dividend King, with a fifty-nine year track record of paying out consecutively rising dividends. The fact that it can sustain such a record of rewarding shareholders testifies to its excellence.
Even the -2.31% negative growth over the last decade has not been a major deterrent. And, in fairness, the steps that Procter & Gamble has taken of late are part of the reason why this is the case. The company has seen negative growth because their portfolio became far too large for them to manage effectively and to allocate capital effectively.
In recent years, they have sought to trim down the portfolio to make it more focused. In 2008, Procter & Gamble sold Folger's Coffee to J.M. Smucker Co. (NYSE:SJM) for $3 billion. Between 2014 and 2015, they sold their Iams petfood division in two parts to the privately held Mars Inc. and to Spectrum Brand Holdings Inc. (NYSE:SPB) respectively. And in 2015, Procter & Gamble made a deal with Warren Buffett's Berkshire Hathaway (NYSE:BRK.A) (NYSE:BRK.B) to sell their Duracell battery business to Berkshire in exchange for $4.7 billion of Berkshire's Procter & Gamble shares.
These divestments will allow Procter & Gamble to allocate capital more effectively to their core brands, making them a more focused and effective company for their shareholders going forward and (hopefully) reversing their recent growth trend.
Final Thoughts
Procter & Gamble's growth issue has been a long-standing problem for the firm, but they are unquestionably taking steps to correct this problem, and remain a profitable, dominant firm in the consumer goods sphere that will continue to reward their existing shareholders for years to come. I believe that Procter & Gamble will overcome the problems that have plagued them regarding growth eventually.
Prospective investors should certainly consider Procter & Gamble as an investment for their long-term portfolio, but not at its current price. In relation to its own five-year P/E average and to the broader market, the stock is considerably overvalued. It would be wise to wait for a correction before making an investment here.
DISCLAIMER: I am not a financial professional and accept no responsibility for any investment decisions a reader makes. This article is presented for informational purposes only. Furthermore, the figures presented are the product of the author's own research and may differ from those of other analysts. Always due your own due diligence when researching prospective investments.
Disclosure: I/we have no positions in any stocks mentioned, and no plans to initiate any positions within the next 72 hours.
I wrote this article myself, and it expresses my own opinions. I am not receiving compensation for it (other than from Seeking Alpha). I have no business relationship with any company whose stock is mentioned in this article.