Late last year I wrote a post about what our proposed portfolio should look like. Historically, I have built and managed a portfolio of individual stocks.....while utilizing index ETFs only for exposure to REITs and Emerging Market equities. I had come to a new conclusion by the time last December rolled around, there just aren't that many amazing companies. You know the type. The companies that you only check in on periodically, while they continue to grow and prosper and your investment capital compounds. The asset allocation percentages have evolved a little, but my premise has remained the same.
About the same time, I wrote an article discussing the 4 ETFs That Will Replace My Portfolio's Core. In addition to those four, I also discussed a couple of specialty ETFs that could provide a few more options. One of the things I like best about writing (both on Seeking Alpha and on my site), is exchanging ideas with fellow investors. One of my readers contacted me, noted an overlap in two of the ETFs I was looking at, and suggested an alternative ETF. I am grateful, and if you are reading this article......thanks again. After thinking about it, I decided to use Vanguard's FTSE Europe ETF (NYSEARCA:VGK) to gain exposure to the developed economies of Europe while avoiding exposure to Japan. Next came the hard part. Waiting. Over the past 18 months I have been able to invest a fair amount of capital in Vanguard's REIT ETF (NYSEARCA:VNQ). Over the past year I have been able to invest a great deal of capital in Vanguard's FTSE Emerging Markets ETF (NYSEARCA:VWO), as emerging market equities have been generally out of favor with investors.
I hate waiting, but I have found patience to be a critical component of investing. Believing that trouble was brewing under the Euro Zone's polished facade, I wasn't interested in adding this ETF to my portfolio until recently. The price just seemed too expensive given all the issues under the surface. While it is likely that European stocks will fall much further, and that the European economies will enter recession, I think the time has come to initiate a position in Vanguard's FTSE Europe ETF . Regular readers of my portfolio transactions know two things. I like to average down with ever larger purchases, and I tend to let my cash position build until I see an opportunity. As you can see from the Yahoo Finance chart below, VGK is down about 25% from its high in the spring of 2014. Earnings haven't declined nearly so much since then, and I think it is time for me to wade in. Below is a profile of Vanguard's FTSE Europe ETF, and what my invested capital buys.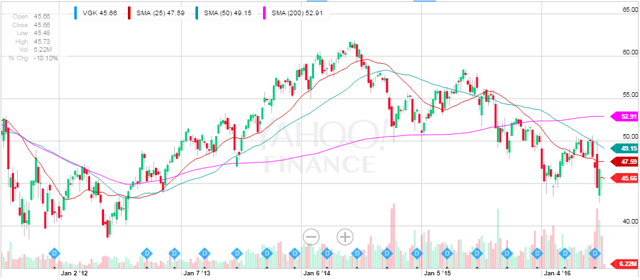 As the name suggests, Vanguard's FTSE Europe ETF provides exposure to the vast majority of the largest companies in Europe. In total, about 1240 companies are represented in this $19 billion ETF. Many of the companies are European blue chips, with names you recognize. Think Nestle (OTCPK:NSRGY), Royal Dutch Shell (RDSB), Novartis (NYSE:NVS), Unilever (NYSE:UL), and GlaxoSmithKline (NYSE:GSK). Below is a list of the 10 largest holdings in the fund, from Vanguard's website. Those largest 10 companies represent 16.6% of the ETF. Europe has some problems for sure, but business will not just cease on the continent. These multinationals will likely continue to record profits and pay dividends. Click HERE if you would like to view all of the ETFs holdings.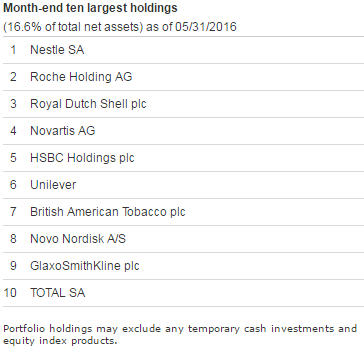 The ETF's geographic distribution is about as you would expect, with the largest and most developed economies being the most represented. Below is a geographic breakdown from Vanguard's website. Notice that more than 31% of the ETF is invested in British companies. This speaks much more to London being the financial hub of Europe, than an overweight exposure to Britain's economy. Many multinationals are listed in London, but conduct business globally. Even if the British follow through with their recent referendum to leave the European Union, I believe those companies will continue to conduct business. Depending how treaty negotiations shake out however, some of those companies may move their headquarters to Ireland or Germany.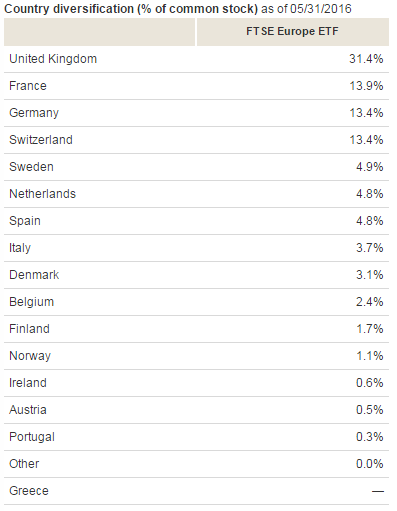 This investment will give me exposure to many of Europe's developed stock markets, but it will also give me exposure to a large group of equities which have underperformed the S&P 500 and Nikkei 225 over the past 5 years. While I never want to invest in something solely because I anticipate mean reversion, there are comforting elements to the concept. I have written several times about the benefits of owning uncorrelated assets and while this modern world is increasingly interconnected, global stock markets aren't as correlated as you might think. I have a couple charts below that illustrate this point, but first see the Yahoo Finance chart below that illustrates the divergent performance of US, European, and Japanese stocks over the past five years. (Please also note that currency fluctuations are not taken into account in this chart.)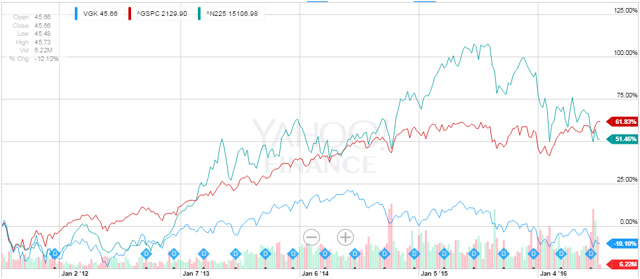 The phenomenon of under and overperformance is not a new one, nor is it entirely predictable. There will be times when bouts of turmoil will make a country (or group of countries) less advantageous than other groups. Still, the rational investor can see certain patterns (whether real or imagined) to these cycles. The chart below, courtesy of Fidelity.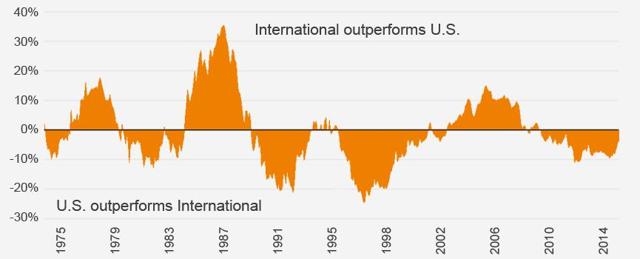 Predicting the outperformance of one group of economies, over another is not an easy task. It makes sense to me however, to begin increasing my exposure to the European markets at this time. (Please note that I currently have almost no exposure to European domiciled businesses, although my exposure to US based multinationals does provides some exposure to the continent.) Europe faces headwinds, most obviously political and banking related, but I feel that at least some of these headwinds are reflected in the current stock prices. While prices and earnings bounce around a fair bit year to year, an investor can use the 10 year average earnings to help smooth out some of that choppiness. Below is a chart (courtesy of awealthofcommonsense.com) which I believe illustrates that the relative valuation of European equities is below that of US equities.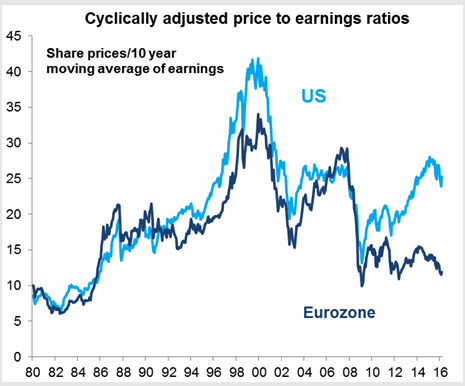 In recent years that US dollar has also increased in value, relative to most other currencies. In my mind, that is another good reason for me to begin buying assets overseas......as my US dollar tends to purchase more than it otherwise would have. The stronger US dollar will also likely serve as a headwind for most US multinationals, which have been struggling to grow earnings for the past 4 or 5 quarters.
I recently wrote about how many of the US based companies I invested in back in 2008 and 2009 have been bid up to levels where I feel I need to take profits. It looks like the time is right to put a small amount of those profits back to work in Vanguard's FTSE Europe ETF. What I am not doing, is "backing up the truck" and purchasing a large amount of European equities. It is likely that the prices of European equities will continue lower until Europe's political and banking uncertainty is resolved. Great investors have taught us, however, that investors typically pay a great premium for investments with a clear outlook. I will instead break my desired investment in Vanguard's FTSE Europe ETF into four tranches, and purchase the first tranche in the coming days. As an added benefit for dividend investors, the Vanguard FTSE Europe ETF has quarterly payouts that totally approximately 3.5% annually. That's not amazing, but it's nothing to sneeze at in this low (or even negative) interest rate world.
Disclosure: I will be long VGK in the next couple days. Long VWO and VNQ. This article is for informational purposes only and should not be considered a recommendation for anyone to buy, sell, or hold any equities. I am not a financial professional. The information above is provided by Yahoo Finance, Vanguard.com, awealthofcommonsense.com, and fidelity.com
Disclosure: I am/we are long VWO, VNQ, VGK.
I wrote this article myself, and it expresses my own opinions. I am not receiving compensation for it (other than from Seeking Alpha). I have no business relationship with any company whose stock is mentioned in this article.
Editor's Note: This article discusses one or more securities that do not trade on a major U.S. exchange. Please be aware of the risks associated with these stocks.