Dow Jones (NYSEARCA:DIA) component and aluminum giant Alcoa (NYSE:AA) kicks off earnings season after the close Monday July 11. At 17:00 ET, the company will conduct a conference call. A replay of the call will be available from July 11 at 8:15 p.m. ET until July 25 at 11:59 p.m. ET. Analysts are expecting second-quarter 2016 EPS (earnings per share) of $0.10 on $5.20 billion in revenue, compared to EPS of $0.19 on $5.90 billion in revenue a year ago. For full-year fiscal 2015, the company had EPS of $0.92 on $23.91 billion in revenue, compared to EPS of $0.56 on $22.53 billion in revenue in 2014. For full-year fiscal 2016, analysts are expecting EPS of $0.35 on $20.56 billion in revenue. Below are the revenue and earnings graphs for the past three-and-a-half years with analysts' estimates for the next two quarters. The estimates in the revenue and expense graph are surrounded by an orange box.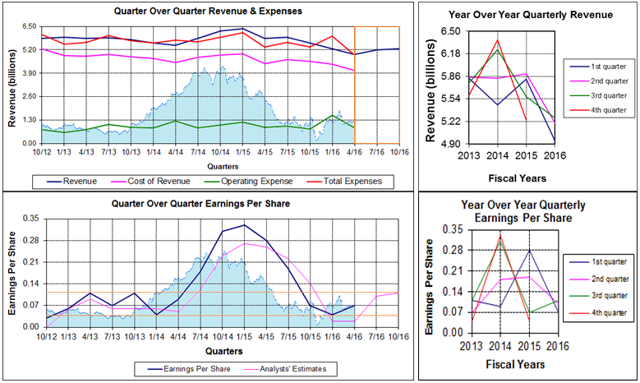 Source: SEC filings
As can be seen in the revenue and expenses graphs, revenue reached a trough in the first quarter of 2014 (4/14), reached a short-lived trough in the first quarter of 2015 (4/15), and is expected to hit a trough in the first quarter of 2016 (4/16). Thus, this estimate could very likely happen. Also notice that the total expenses fell between the fourth-quarter 2015 and first-quarter 2016, and almost matched revenue in the first quarter. Thus, the company could see increased profitability in the near future (the EPS graph excludes one-time costs). From the year-over-year graph, revenue has plunged from the first quarter of 2015 to 2016. That plunge is expected to continue in the second and third quarters, but at a slower pace.
From the EPS graphs, EPS reached a trough in the fourth quarter of 2013 (1/14), and is expected to hit a trough in the fourth quarter of 2015 (1/16), assuming EPS rises in the next three quarters. Thus, this estimate could also likely happen. Also, notice that the EPS for (1/14) and (1/16) bounced off of the support (orange) line. Analysts' estimates for the next two quarters rise to the resistance (orange) line. Lastly, notice how the stock price has nearly matched EPS movement. It seems that a rise or fall in the stock price happened about 1.5 quarters before a rise or fall in expected EPS. Thus, the EPS forecast will likely drive the stock price. From the year-over-year graph, EPS has plunged from the first quarter of 2015 to 2016. That plunge is expected to continue in the second quarter at a slower pace, but it is expected to increase in the third quarter.
Below is the stock's data from Finviz. The average analysts' price target was $11.04, a 12.4% upside from Friday's close. The computer-drawn technical graph shows the price had a very bullish buying pressure Friday and is at previous support, meaning the price could break out or head lower. Forward PE ratio is 18.05. Price/book ratio is 1.06, where a price/book of 1.00 means that the company's market cap is equal to its book value and theoretically shares are fairly valued. But price/sales is 0.60, meaning sales are greater than the company's market cap. Probably, the most important statistics are that the estimated EPS growth for next year is 52.81% and the estimated EPS growth for the next five years is 14.37%. Compared to current -248.40% EPS growth rate, this is very bullish.

Source: Finviz
Drawing my own (black) lines on top of the computer-generated technical graph, I see two technical patterns: an ascending broadening right angle and a mini rounded bottom. The ascending broadening right angle is often bearish (70% of the time), but looks like the stock could move up to $10.40 soon. The rounded bottom is a reversal signal, and if the price breaks the $10 resistance line, the target price is $11, which is also very close to the average analysts' target price.
Ratios do not mean much without comparing them to competitors. Top competitors are Aluminum Corporation of China (NYSE:ACH), Alcan division of Rio Tinto plc (NYSE:RIO), Norsk Hydro ASA (OTCQX:NHYDY), and Kaiser Aluminum Corporation (NASDAQ:KALU).

Source: Numbers calculated from Yahoo Finance and Finviz.com
Price/book, price/sales, and EPS growth for next year (%) are the best among competitors, while forward PE, profit margin (%), and return on equity (%) are the worst among competitors. The forward PE is slightly less than Norsk Hydro, but is higher than the other competitors. Thus, based on comparison with competitors, the stock seems fairly valued.
Checking if the stock is overbought (bearish) or oversold (bullish), it is hard to tell. The Stochastic %K is about 30 and near oversold territory. But the W%R is -28.69 and is near overbought territory. Both the MFI (Money Flow Index) and the RSI (Relative Strength Index) are about halfway between overbought and oversold. However, all three times when the MFI, RSI, Stochastic %K, and W%R were at similar levels, the price rose as indicated by the orange lines. And the MACD (Moving Average Convergence/Divergence Oscillator) has formed a bullish upward cross buy signal. In the MACD, a crossover of the red line below the black line indicates a buy signal, while a crossover of the red line above the black line indicates a sell signal.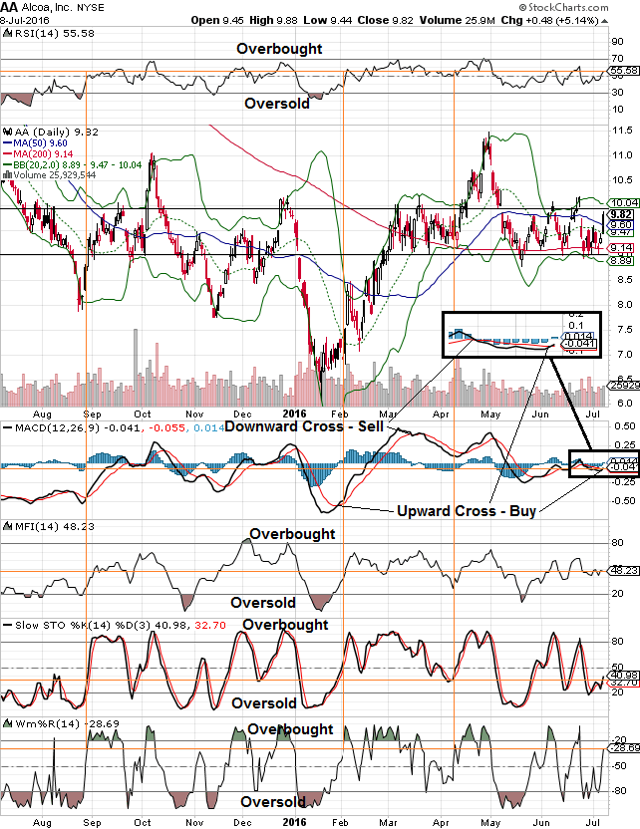 Source: Stockcharts
From the long-term graph, the stock is not too far from its $7.34 low in the credit crisis. Also, notice that the company has paid a dividend since 1988, has raised its dividend from 1988 to 2008 for the most part, but has kept its quarterly dividend flat at $0.03/share (1.22%) from 2008 to present. The sudden change in dividend policy reflects the struggles in the aluminum business, also shown in the stock price.

Source: Google Finance
Based in New York, the $12.91 billion aluminum producer was the fifth largest producer in the world in 2014, but has struggled competing with number two aluminum producer Aluminum Corporation of China and other Chinese producers as they flooded the market with the metal. One red flag is that Chinese smelters, which provide more than half the world's supply, are coming back online after a price rally. This could put pressure on aluminum prices.
But fellow Seeking Alpha contributor Alpha Investor notes that the World Bank sees aluminum prices rising from $1,600/metric ton to $2,100/metric ton over the next nine years. He also notes that aluminum demand is increasing in the automotive and aerospace sectors. He states that "the average usage of aluminum in a vehicle is expected to increase by over 66% in the next decade." To add to this, the average age of planes among U.S. carriers are about 14 years, with Virgin America (NASDAQ:VA) having the youngest fleet. Checking Air France (OTCPK:AFLYY), Swiss Air, British Airlines, and Lufthansa (OTCQX:DLAKY), the average fleet age seems slightly younger than U.S. carriers. Airlines around the world are updating their fleets, partly to increase fuel efficiency and partly to increase passenger capacity. Boeing (NYSE:BA) has taken orders for over 1,100 787s but has delivered only 431 planes. Further, Boeing just recently won an order for 20 737s. Combine that with Airbus's orders and the contract Alcoa signed with Embraer (NYSE:ERJ), demand for aluminum in aircraft manufacturing should grow, providing support for prices. To take advantage of aircraft demand, Alcoa purchased titanium supplier RTI International Metals for $1.5 billion in 2015. Titanium and aluminum magnesium alloy are used to make aircraft bodies, with the lighter titanium being used more in the fuel-efficient 787s.
Preparing for slowing Chinese demand and pricing pressure from China while providing the best shareholder value, Alcoa plans to split itself into two companies later this year. For easy explanation, I will refer Alcoa as the parent company. One company will be named Arconic and will hold the parent company's engineering parts for aerospace and automotive businesses. The other company will be named Alcoa Corp. and will hold the parent company's traditional mining, smelting, and refining divisions. Some analysts say that the new split companies could become acquisition targets. Note that Rio Tinto bought Canadian aluminum giant Alcan for $38.1 billion in 2007.
Conclusion: For all the reasons above, Alcoa looks a good buy.
Disclosure: I/we have no positions in any stocks mentioned, but may initiate a long position in AA over the next 72 hours.
I wrote this article myself, and it expresses my own opinions. I am not receiving compensation for it (other than from Seeking Alpha). I have no business relationship with any company whose stock is mentioned in this article.