Oil prices took a beating on July 7th, falling nearly 5% after news broke that crude inventories fell but that the drop was smaller than anticipated a day earlier. Prices continued to be depressed throughout the rest of the week as well. In this piece, I will explore exactly what went down and discuss what it should mean for investors in companies like Memorial Production Partners (NASDAQ:MEMP), Approach Resources (NASDAQ:AREX), and Legacy Reserves (NASDAQ:LGCY), as well as for those in the United States Oil ETF (NYSEARCA:USO) and other oil-related ETFs.
Crude stocks fell but other categories rose
According to the EIA (Energy Information Administration), crude oil inventories for the prior week (period ending July 1st), came in at 524.4 million barrels. This represents a decrease of 2.2 million barrels compared to the 526.6 million seen a week earlier and is the ninth week in a row during which crude stocks managed to fall. All-in-all, this is pretty good and was only slightly worse than the 2.3 million barrel decline forecasted by analysts. However, markets reacted severely because the drop was far removed from the 6.7 million barrel drop that the API (American Petroleum Institute) had estimated just a day earlier. In the graph below, you can see what the trend has been like for the EIA's data over the past 52 weeks.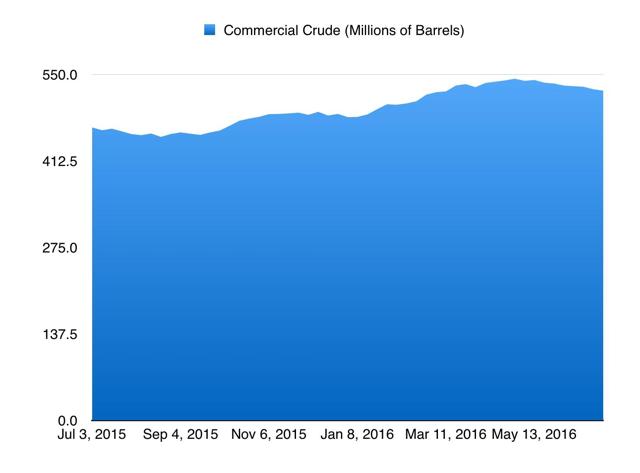 In addition to seeing crude stocks fall, we also saw some modest improvements elsewhere. According to the EIA's data, motor gasoline stocks dipped about 0.1 million barrels from 239 million to 238.9 million, while residual fuel stocks dropped 0.2 million barrrels from 40.2 million to 40 million. The only meaningful drop though, in my opinion, came from distillate fuel stocks, which managed to fall by 1.6 million barrels from 150.5 million to 148.9 million during the week. On a side note, kerosene-type jet fuel stayed flat for the week at 40.2 million barrels.
This is all positive in my mind, but we did see some rather bearish numbers. During the week, fuel ethanol stocks rose by 0.4 million barrels from 21.2 million to 21.6 million and propane/propylene stocks grew by a heft 2.7 million barrels from 82.1 million to 84.8 million. The real big kicker, though, came from the "other" category of petroleum stocks, which saw storage levels grow by 4.4 million barrels from 272.1 million to 276.5 million.
As a result of these rather large increases, total crude plus petroleum stocks grew by 3.4 million barrels from 1.3718 billion barrels to 1.3752 billion. Although the decrease in crude and distillate fuels were positive, the overall data as a whole was, in my mind, negative when it comes to storage and can be chalked up to the fact that net imports came in at 7.765 million barrles per day, an increase of 808 thousand barrels per day (or 5.656 million barrels for the week) compared to the 6.957 million barrels per day seen just a week earlier.
Some good but confusing news
From the inventory side, the situation was certainly bearish but production data was incredibly bullish. According to the EIA, crude production in the U.S. came in at 8.428 million barrels per day, a decrease of 194 thousand barrels per day (or 1.358 million barrels per week) compared to a week earlier. What's confusing about this, however, is the fact that 156 thousand barrels per day of this drop (or 1.092 million for the week) came from Alaska. After conducting research in this area, I could not find a reasonable cause for the decline.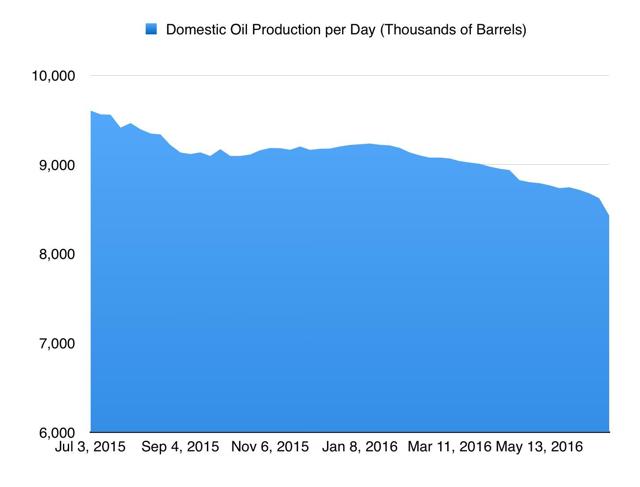 Last week, I argued that a similar (though smaller) drop from Alaska would likely prove temporary since projections call for output to continue falling there year-over-year, but at a modest pace, not something monumental like this. I pray I'm wrong but I would anticipate a rebound from there eventually. Even so, the decline seen in the Lower 48 states in terms of production is bullish. In the graph above, you can see the trend that output has taken in the U.S. over the past 52 weeks.
In addition to seeing encouraging (but probably unrealistic in the long run) production declines, we also saw demand data come in pretty strong. According to the data provided, motor gasoline demand averaged 9.755 million barrels per day, an increase over the prior week's 9.709 million barrels per day and up 2.3% from the 9.532 million barrels per day seen the same period a year earlier. Using the four-week average, demand is up 2.5% at 9.760 million barrels per day compared to the 9.524 million barrels per day seen the same period last year. Although distillate fuel demand was weaker in its most recent week compared to last year, its four-week average number is up 1.5% year-over-year.
The rig count continues rising
Besides the mixed but mostly bearish inventory data, the only meaningful negative news that I saw during the week came from Baker Hughes (BHI). According to the company, the number of oil rigs operating in the U.S. rose by 10 units to 351. This is certainly bad news for long-term oil investors but given the fact that the rig count is still down 45.6% from the 645 units seen in operation the same time a year ago, the picture is still positive as a whole (though with a negative trend in this regard). Meanwhile, the oil rig count in Canada increased by 2 units to 37, but the overall oil rig count is still down 59.3% from the 91 units seen this time last year.
Takeaway
At this moment, the bag is certainly mixed for oil. I don't like what I'm seeing with some categories of supplies but the fact that this is due to imports rising is somewhat encouraging as opposed to demand coming in weak or production numbers rising. Moving forward, it will be interesting to see what transpires, especially with the 4th of July data included in the next report, but the continued drop in output, combined with the strong demand, makes me feel more bullish than bearish.
Disclosure: I am/we are long AREX, MEMP, LGCY.
I wrote this article myself, and it expresses my own opinions. I am not receiving compensation for it (other than from Seeking Alpha). I have no business relationship with any company whose stock is mentioned in this article.
Additional disclosure: I own LGCYO, not LGCY
Editor's Note: This article covers one or more stocks trading at less than $1 per share and/or with less than a $100 million market cap. Please be aware of the risks associated with these stocks.