This is going to be the first article where I am positive about Union Pacific UNP. I wrote a few articles during the last few months were I warned that the downside might get ugly. At this point, fundamentals have improved significantly. In this article I show you a few important leading indicators and the reaction of coincident indicators.
Note that the bull case in this article is also affecting the following companies:
The first three graphs are going to be the basis of this article. Everything that is going to happen is based upon at least one of the three.
The first one shows the shipments sentiment of the Philadelphia FED.
Growth has been slow since 2015. The recent growth rally has completely vanished and shipments are currently contracting.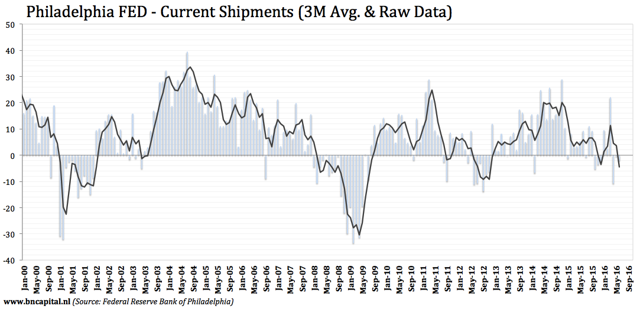 The New York FED district is way more positive. Growth is currently at 10 which indicated that there is modest growth like in the strong years 2013-2014.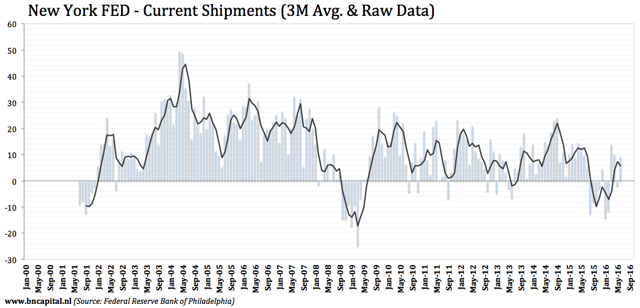 The official ISM Manufacturing index got published a few days after the regional PMIs and is way more important since it covers all states and FED districts.
The ISM index hit 53.2 in June and is continuing to growth rapidly. This indicates that there is plenty of room to grow for Union Pacific's stock and its peers.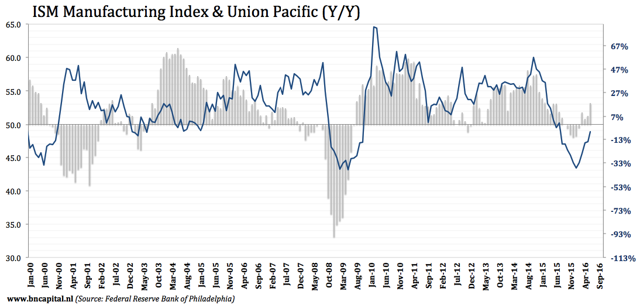 Leading indicators show: there is more growth ahead. The good news is that coincident indicators are confirming the recent sentiment rally. The graph below shows the amount of total carloads and intermodal transportation.
Growth started lower than previous years and worsened after 10 weeks. At this point, growth is almost faster than the second half of 2013 which is extremely good news.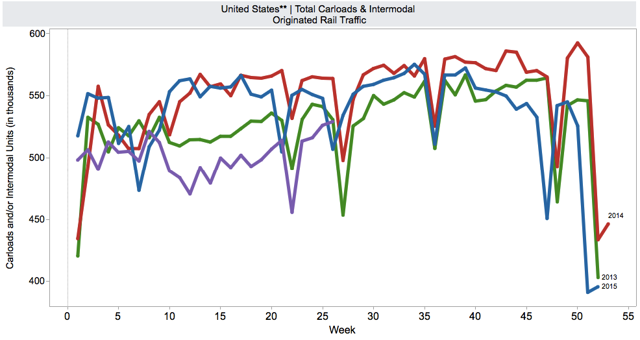 Source: AAR.ORG
I showed this chart a few months ago to show the effects of growth slowing. Sales are declining since the third quarter of 2014 and have not improved since then.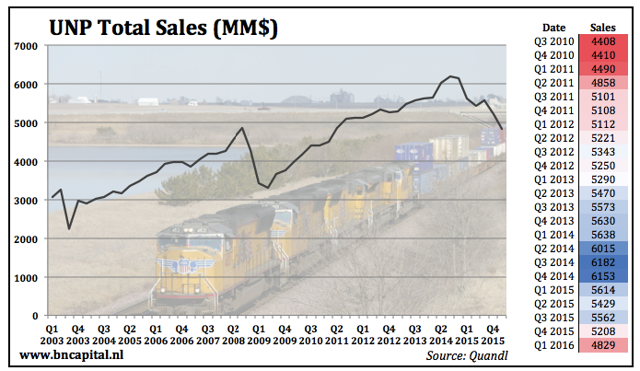 The second quarter of 2016 will be different. Growth is accelerating since a few months and will push railroad revenues higher.
Wall Street estimates confirm my views. They go even one step further and predict a further increase in the third quarter of this year.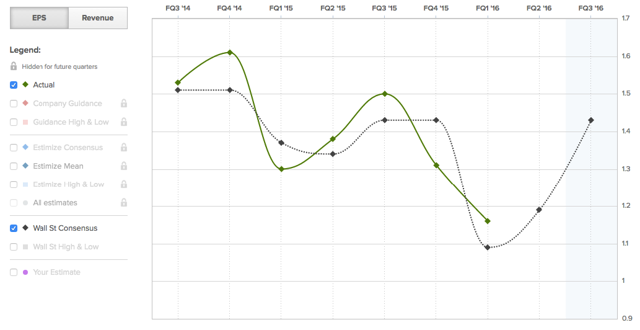 Source: Estimize
The only thing that I find to be contradicting is the fact that many analysts have lowered their earnings forecast. This could mean two things. They were either not aware of stronger leading indicators back when they revised or didn't trust the strong numbers.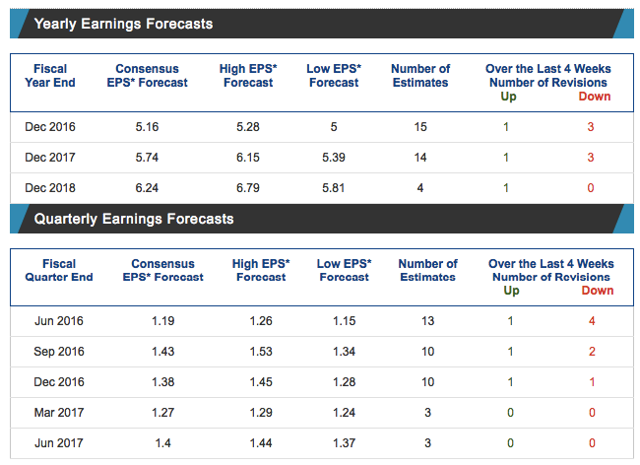 Source: NASDAQ
In my opinion, we will see more up-revisions during the next few weeks and higher railroad stock prices. I am putting the stock on my watchlist to trade it against weaker companies. I will not go net long railroad stocks. Mainly because it is not part of my strategy.
I hope you enjoyed this article. Feel free to write a comment if you have questions or remarks.
Disclosure: I/we have no positions in any stocks mentioned, and no plans to initiate any positions within the next 72 hours.
I wrote this article myself, and it expresses my own opinions. I am not receiving compensation for it (other than from Seeking Alpha). I have no business relationship with any company whose stock is mentioned in this article.