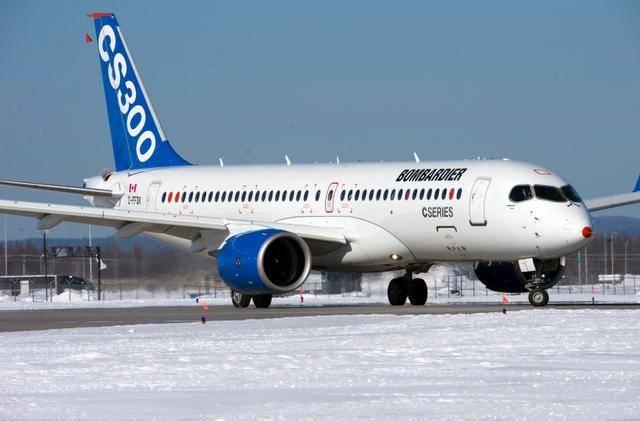 Bombardier (OTCQX:BDRBF) has enjoyed a nice rally, as the CSeries jets finally start to get orders from all over the place. It look like the days of long delays and going over the budget are over and it may finally be the time where Bombardier rises to the top. There's still a mountain of debt to climb, but I believe the worst is over for Bombardier and its CSeries sales increases will drive the stock much higher, as most of the bad news is already behind it.
The CSeries plane project was very close to bringing Bombardier under, as it was plagued with delays, budget concerns and a horrific engine failure during a test flight. I believe these days are behind it and the CSeries may finally be delivered to its customers three years later than it was expected to. Bombardier still has a horrific balance sheet though, it is losing money hand over fist, but fortunately for them the Quebec government has stepped in to bail them out. The Quebec government showed their confidence by funding Bombardier with $1 billion in cash. There's no question that the government will not let Bombardier fail since the company provides a huge number of people with jobs, and this should me shareholders comfortable owning shares for the long run, as bankruptcy will be out of the equation.
Last year, Bombardier's cash on hand went from $5.3 billion to $3.8 billion. A massive $1.5 billion of cash wiped out thanks to budgeting over the CSeries project. Bombardier will continue to bleed cash for the next few quarters, but after that I believe the CSeries orders will start coming in, which will provide a huge boost to both the top and bottom lines, as the stock soars out of penny stock territory. It will take a lot of time to pay back the $9.5 billion in debt, but Bombardier is well poised to pay back this debt once its CSeries orders start gaining momentum. I suspect a further rally could be straight ahead fueled by news of new CSeries orders coming in. I suspect both Air Canada (OTCQX:ACDVF) and Delta Airlines (NYSE:DAL) may bump up their orders in the long run if things go well with their first rounds of orders. There's no question that the CSeries plane command a premium over alternative aircrafts produced by Boeing (NYSE:BA) or Airbus thanks to the new and innovative technology built into the craft. The improved performance is also another reason why both Air Canada and Delta may both increase their orders down the road.
Larger orders may also start coming in from airlines which placed smaller orders on CSeries planes. KoreanAir, Gulf Air and Braathens Leasing have placed much smaller orders of just 10 CS300 planes, but given their budgets, we may see these orders increase if the planes show to be better investments over their Boeing or Airbus counterparts. There are many other airlines like these, which have ordered a small amount of aircrafts to sample what the CSeries planes can do for their airline. I believe the samples will show to be successful and these airlines will start placing bulk orders going into next year. As a result, the stock will soar and cash flow will start flowing back into the pockets of shareholders.
Bombardier is no longer under huge pressure to get deals for its CSeries jets, as the company has surpassed its goal of obtaining 300 orders. The company now has 370 orders total and Bombardier manager Fred Cromer stated "The pressure is off" and that is a fantastic sign for the rate at which orders are coming in.
Bombardier won two gigantic deals with Air Canada and Delta Air Lines. Air Canada has plans to purchase 45 CSeries planes and Delta has locked in a deal to acquire 125 CSeries planes just to start. There's a lot of interest out there in the CSeries line of planes right now and I expect orders will start gaining momentum, as more promising news comes in about the CSeries planes. Bombardier delivered its first CSeries plane to the Swiss International Airlines on June 28 and this was a huge milestone for Bombardier and the CSeries project, which was over $2 billion over its initial budget. More plane deliveries should be going out to its airlines as we head into the latter part of 2016, as Bombardier uses the cash to chip away at its massive debt.
Bombardier has massive upside and the worst may be over for the company. However, Bombardier is an extremely volatile stock and it shouldn't be a core holding to anyone's portfolio, but if you're an investor looking for huge growth potential, then Bombardier may provide you with huge returns over the next few years, as most of the pain is already behind them. Moody's downgraded Bombardier's debt rating this June from B2 to B3, meaning the company still poses a high credit risk, but I suspect that this will just be temporary, at least until the debt goes down and the cash flow starts flowing in from sales that were supposed to be happening over two years ago. I believe the CSeries orders will continue to rise and this will be a tailwind for the stock for the next few years. Keep in mind that Bombardier is a very poorly run company, considering they were late by over two years and way over budget by $2 billion on its CSeries project, so once Bombardier soars, be sure to take profits off the table once CSeries orders start slowing down.
Disclosure: I/we have no positions in any stocks mentioned, and no plans to initiate any positions within the next 72 hours.
I wrote this article myself, and it expresses my own opinions. I am not receiving compensation for it (other than from Seeking Alpha). I have no business relationship with any company whose stock is mentioned in this article.
Editor's Note: This article discusses one or more securities that do not trade on a major U.S. exchange. Please be aware of the risks associated with these stocks.