In my most recent coverage dedicated to the SPDR S&P Retail ETF (NYSEARCA:XRT), I presciently pointed out the directional course for shares of XRT. Additionally, I offered investors/traders an opportunity that was and is still developing for shorting the ETF. To revisit the reasons I believe the ETF will make a good short candidate, please see my bullet points from the article "XRT Bounced: A Short Opportunity May Be At Hand".
On Friday the 15 th Monthly Retail Sales will be expected to grow MoM by .5%. I don't see anything in the retail market indicating a MoM increase, but even more importantly I believe the major retail names associated with department store retail sales will exhibit another YOY and MoM decline for the month of June.
Auto sales are slowing and during the month of June auto sales failed to meet forecasted estimates. "The seasonally adjusted annual sales pace for June was 16.66 million, according to Autodata Corp, down from 17 million vehicles a year earlier. Sales fell for General Motors Co, Toyota Motor Corp and Volkswagen." We may very well have witnessed peak-auto during the first half of 2016.
June witnessed gasoline prices take a minor dip at the pump when compared to May 2016 and an even greater dive since June 2015.
Back-to-School shopping season, which begins in mid July, will likely be subdued. "Although spending intentions are up, the overall back-to-school market, which spans elementary school through college, remains stagnant, Mintell noted. In fact, planned spending, which hovered between $73 billion to $76 billion annually from 2010 to 2014, actually dropped to an estimated $68 billion in 2015, Mintel said."
The reason for waiting is due to the understanding that Amazon's (NASDAQ: AMZN) Prime Day will garner a great deal of media publicity. On July 12 th, Amazon will hold its 2 nd annual Prime Day selling event. The event will likely draw coverage from many media outlets and analysts. I'm expecting positive YOY results from the event and as such this may prove to carry shares of XRT even higher than where they currently rest. For such a reason I will patiently wait for reactions from both Prime Day and next week's Retail Sales report before shorting shares of the XRT.
In assigning these reasons for desiring to short the XRT, I also articulated the reasons for waiting to witness the ETF exhibit a $44 trading price. XRT managed to close higher last week and closed out the week with a whopping 2.6% rise on Friday. The XRT now rests at $43.39 and to begin the upcoming trading week. It remains to be seen how the trading week will unfold with Alcoa (NYSE:AA) officially kicking off earnings season on July 11 th. Once again, all eyes will focus on Amazon's Prime Day early reads and Friday's Retail Sales Report. Shares of Amazon, which are heavily weighted within the Retail Sector ETF, hit an all-time high last week helping to boost the ETF's performance for the week.
Next week's economic data calendar is somewhat light, but back-end loaded with June's Monthly Retail Sales Report. Below is a table from MarketWatch that identifies the daily economic data calendar and expectations from the data points.
NEXT WEEK'S U.S. ECONOMIC REPORTS

TIME (ET)

REPORT

PERIOD

ACTUAL

FORECAST

PREVIOUS

MONDAY, JULY 11

None scheduled

TUESDAY, JULY 12

6 am

NFIB small business index

June

--

93.8

10 am

Job openings

May

--

5.8 mln

10 am

Wholesale inventories

May

--

0.6%

WEDNESDAY, JULY 13

8:30 am

Import price index

June

--

1.4%

2 pm

Beige Book

2 pm

Federal budget

June

--

$50 bln

THURSDAY, JULY 14

8:30 am

Weekly jobless claims

7/9

N/A

N/A

8:30 am

Producer price index

June

0.2%

0.4%

FRIDAY, JULY 15

8:30 am

Consumer price index

June

0.2%

0.2%

8:30 am

Core CPI

June

0.2%

0.2%

8:30 am

Retail sales

June

0.1%

0.5%

8:30 am

Retail sales ex-autos

June

0.6%

0.4%

8:30 am

Empire state index

July

--

6.0

9:15 am

Industrial production

June

--

-0.4%

9:15 am

Capacity utilization

June

--

74.9%

10 am

Consumer sentiment

July

92.0

93.5

10 am

Business inventories

May

--

0.1%
As it stands, the table shows that retail sales for the month of June are expected to slow month-to-month. This is typical for this time of the year. Having said that it remains to be seen how the greater retail department stores react in the wake of continuous department retail sales declines as a component of the overall report. The May monthly retail sales report proved quite negative for department retail store stocks.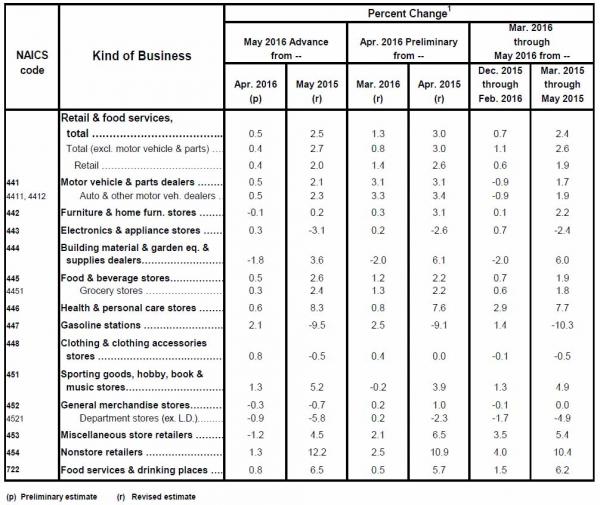 As exhibited from the May retail sales report segment breakdown, department store retail sales fell .9% from April to May 2016 and by 5.8% from the year ago period. It's a pretty dismal tale that is being told for traditional brick & mortar retailers. We'll have to wait and see if the trend shows any signs of abating. Having said that, it is unlikely as e-commerce sales continue to grow by double digits YOY, also shown in the breakdown above via Nonstore retailer sales growing 12.2% YOY to date.
A prime example of the impact from e-commerce sales can be garnered through the impact or toll on The Sports Authority. Prosper Insights & Analytics serve to examine and display just how much of an impact Amazon.com (NASDAQ:AMZN) had on the retailer over the years in the following chart they delivered: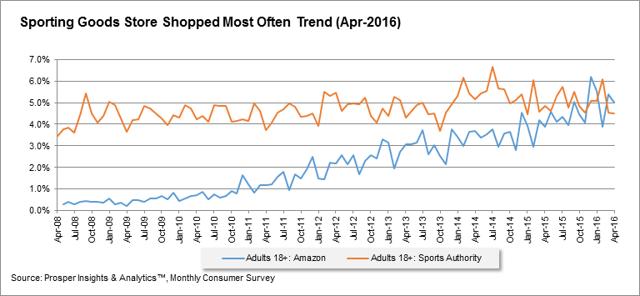 The biggest threat to the now bankrupt and defunct Sports Authority was never really Dick's Sporting Goods (NYSE:DKS) expansion, but rather the continued market share gains over the last decade by Amazon. In conclusion, I will continue to monitor what I believe to be a short XRT opportunity and update market participants with relative data and analysis concerning the instrument.
Disclosure: I/we have no positions in any stocks mentioned, but may initiate a short position in XRT over the next 72 hours.
I wrote this article myself, and it expresses my own opinions. I am not receiving compensation for it (other than from Seeking Alpha). I have no business relationship with any company whose stock is mentioned in this article.