This article was first published on criticalinvestor.eu, a platform for junior mining investors.
All pictures are company material, unless stated otherwise.
All currencies are in US Dollars, unless stated otherwise.
Lithium X: The Story Is Getting Really Serious Now
At the start of Lithium X Energy Corp.'s (ROCEF) last year, I had serious doubts about the quality of its flagship asset at the time, the Clayton Valley claims in Nevada, as I indicated in this Q & A with Executive Chairman Paul Matysek. The company experienced its fair share of luck when lithium prices went through the roof soon after in Q4 2015, and it could raise lots of cash quite easily. Supported by this, state of the art investor relations, and the large network of Matysek and co-founder and mining titan Frank Giustra, Lithium X (Canadian ticker LIX.V) managed to strike a gamechanging deal when it acquired the world class Sal de los Angeles lithium brine project in Argentina, in a majority joint venture (up to 80%) with Aberdeen International.
The Sal de los Angeles project is definitely a substantial project with excellent economics, when looking at the deemed historic 2011 PEA, although it was completed by renowned firm SRK, and fully NI43-101 compliant. The numbers are impressive, although historic, but I believe they are as solid an indicator as historic studies can be. I would actually argue that capex/opex numbers have come down in general over the years, the new Macri government has initiated lots of business-friendly measures, fuel has become cheaper, and there are considerable currency effects. In my view, there are substantial margins present for Lithium X in order to be able to meet the 2011 PEA economics.
These economics are indeed impressive. At a lithium carbonate equivalent (LCE) price of $5500/t, the pre-tax NPV8 is no less than $964M, the pre-tax IRR is 36% on a 25,000tpa scenario. The pre-tax sensitivity indicates a pre-tax NPV8 of $1157M at a LCE price of $6500/t. As LCE trades at $11,000-12000/t at the moment, the upside is staggering. Even if LCE prices fall back to long-term levels of $8,000-10,000/t, the corresponding pre-tax NPV8 would range between $1450M and $1850M. A clear positive of this project to me is the low capex of just $220M. The current market cap of Lithium X is about C$100M, so it's obvious to me that there is a lot of upside to be expected, as long as lithium prices remain above $5000/t. With current EV/gigafactory developments going on, there is no doubt in my mind that this will be the case for the next 4-5 years at least.
As management is aiming at creating the go-to lithium pure play, and consolidator in the sector, it is in line with expectations that more assets will be acquired soon. Notwithstanding this, Sal de los Angeles is the undisputed flagship project, and it will be hard to surpass it as such. Therefore, the company is focusing its attention on advancing this project.
When talking to Paul Matysek earlier this year, he explained that he has a preference to develop projects until the stage that the most value is added in the shortest amount of time. In practice, this often means bringing projects to Feasibility Study (FS), with advanced or completed permitting, and sell it. In order to prepare Sal de los Angeles in such a way that it is ready for a sale asap, Paul and his team have developed a strategy of several parallel initiatives. These consist of updating the resource, developing a ponding facility and pilot plant for customer product testing and near-term cash flow, and completing a FS, all this before Q4 2017. To make sure all this preparation is optimal for future production, therefore maximizing project quality, economics and attractiveness for major lithium producers, Lithium X decided to bring in some of the best possible brine project builders on the planet.
On June 29, 2016, the company announced the appointment of Eduardo Morales as Chief Operating Officer. Mr. Morales is the former President of lithium juggernaut Rockwood Lithium Latin America, which was sold under his tenure for $6.2B to Albemarle (NYSE:ALB) in 2014. He successfully led the development, commissioning and operation of Rockwood's Salar de Atacama project, the Chilean giant that produces about 20% of world LCE production and is widely regarded as one of the best, if not the best, brine operations in existence. Mr. Morales previously served as General Manager overseeing construction and operations of both the ponding facilities at Salar de Atacama, so this fits neatly within the plans of Lithium X of constructing a ponding facility. In my view, management couldn't find a better person to advance Sal de los Angeles towards production as fast and as good as possible.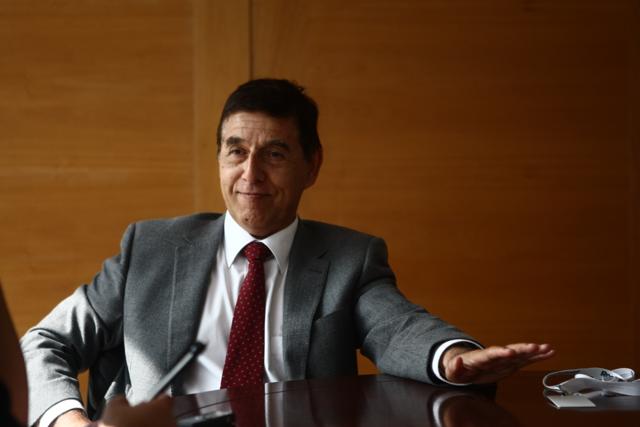 Eduardo Morales when President of Rockwood Lithium Latin America
Besides Mr. Morales, Lithium X attracted another heavyweight in the LatAm lithium business, and this is Andres Barrientos, to fulfill the role of Project General Manager of South American operations. Mr. Barrientos was the Engineering & Research Superintendent of Rockwood Lithium in Chile for many years until 2012 when he moved to BHP's Escondida, the world's largest copper mine. When being with Rockwood, he also helped in developing expansion and improvement projects including operational plants for LCE, which provides the best know-how for completing the FS and the ponding facility, and designing ponds and processing of Sal de los Angeles in the best way possible.
Management of Lithium X was very excited when these two world class lithium mine builders signed up. Founder and CEO Brian Paes-Braga, who is still very young but already did a remarkable job with Lithium X by timely spotting the lithium needs of the growing EV movement, bought the Clayton Valley claims, brought in Matysek and others, and hired Skanderbeg which is a top notch IR firm, told me that Eduardo Morales did 2 months of due diligence on Lithium X before he finally agreed on the position of COO. Lithium X passed the test fortunately, usually it's the other way around, and speaks volumes about the calibre of people Lithium X is able to hire. Paes-Braga also told me what it means to have a COO like Morales with you when speaking to large institutional investors. It adds a tremendous amount of credibility regarding development capabilities, as all of a sudden decades of big lithium company/project experience is sitting next to you, actually able to bring Sal de los Angeles into production according to the best industry practices possible. The presence of Morales was instrumental in the last private placement being oversubscribed and increased to C$10M.
Where does Lithium X go from here? The company has planned an updated resource estimate on Sal de los Angeles by the end of August, and plans to initiate construction of a ponding facility and a pilot plant, after permits are granted which is expected soon. The company will be fully cashed up after the last private placement. When this placement closes, Lithium X will have about $19M in the treasury, which is enough to bring Sal de los Angeles past FS stage and well into permitting. I do hope the company would consider an updated PEA somewhere at the end of Q4 2016, as it would provide a solid indicator of economic potential after declaring the 2011 PEA historic, and a good interim catalyst after the updated resource estimate in Q3 2016 and the FS in Q3 2017. Time will tell, but in my view the story of Lithium X is just starting to become very substantial now.
I hope you will find this article interesting and useful, and will have further interest in my upcoming articles on mining. To never miss a thing, please subscribe to my free newsletter on my website criticalinvestor.eu, and follow me on Seekingalpha.com, in order to get an email notice of my new articles soon after they are published.
Disclaimer:
The author is not a registered investment advisor, and currently has a long position in this stock. All facts are to be checked by the reader. For more information go to lithium-x.com and read the company's profile and official documents on sedar.com, also for important risk disclosures. This article is provided for information purposes only, and is not intended to be investment advice of any kind, and all readers are encouraged to do their own due diligence, and talk to their own licensed investment advisors prior to making any investment decisions.
Disclosure: I am/we are long ROCEF.
I wrote this article myself, and it expresses my own opinions. I am not receiving compensation for it. I have no business relationship with any company whose stock is mentioned in this article.