Another week goes by, and more excuses from the bear camp as to why this rally cannot continue. The difference this time is the bears' big resistance line they've been so adamant about at 2100 on the S&P 500 (NYSEARCA:SPY) has been bulldozed through without hesitation. The S&P 500 closed the week at 2129 this week, just 5 points shy of a new all-time high. One would expect the bear's honey orgy would have come to a close by now, but it seems they're still in aggressive hunting season. According to AAII Investor Sentiment Data, 27% of investors are still bearish, while over 40% of investors are neutral on the market. The disbelief and skepticism about this rally still refuses to wane, even though the bulls have the bears right where they want them.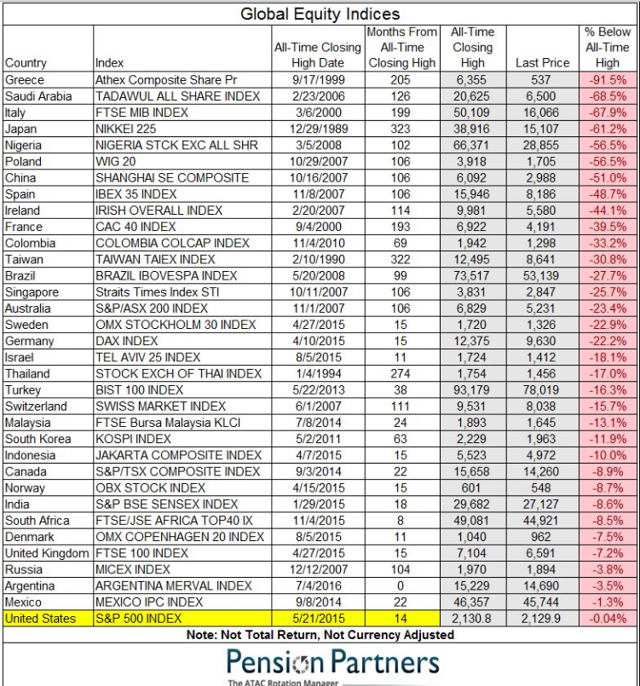 This week the bears entertained us with some new bearish arguments that are so weak in logic, they sound downright desperate. The first argument is that while world markets collapse, the S&P 500 is being forced up as there are no other markets left to hide in. I don't know how the bears managed to put a negative spin on this statistic and try and use it in their favor, but they did. If all of the other markets are so weak, and the S&P 500 is up for the year, this is bullish, not bearish. The fact that the S&P 500 can withstand all of the weakness globally and still be green for the year is an extremely positive sign and shows resilience to any outside factors. In addition to this, even if the bears are right and money is being forced into the S&P 500 as there is nowhere to hide, that could not be more positive. When no other markets are providing a safe place to camp out and many countries are moving to negative interest rate policies, investors need somewhere to get a yield on their assets. If the S&P 500 is the only game in town that provides a strong yield with a stable market, this could not be more bullish for SPY going forward. There are billions of dollars on the sidelines and there are no safe markets to invest in according to the bears, except the S&P 500. When these billions of dollars realize they want to do better than negative interest rates, where is the only place they'll be able to go? You guessed it, the S&P 500.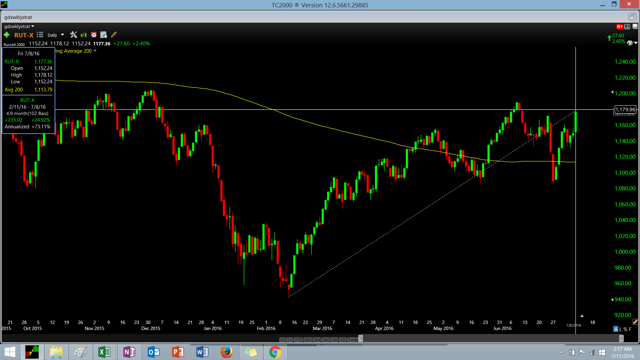 The second argument the bears touted was that while the S&P 500 sits just below all-time highs, the Russell 2000 Index (NYSEARCA:IWM) is still in a bear market. This is a very interesting claim made by the bears and I am more than willing to refute it. If the bears are labeling the Russell 2000 in a bear market due to dropping 20% from its all-time highs, then would the market not in fact be in a bull market after rising 24% from its February lows? You can't use your 20% bear market threshold one way but not the other. The Russell 2000 index bottomed at 943.10 on February 11th of this year, and currently sits at 1177.36. This rise represents a 24% rally off the lows and signifies we are now back in a bull market, not a bear. If the bears disagree with the statement that a 24% bounce off the lows does not constitute a shift from a bear into a bull market, then I'm curious where they got long in 2009. Did they wait for a 30 or 40% rise in 2009 when we were trading at 900 on the SPX?
Comical arguments aside, there are several reasons to be bullish this market despite the bears decision to look the other way. We are currently heading into the strongest month for equities over the past 100 years, while sitting just below an all-time high breakout. Despite this fact, sentiment has made a new record as it remains submerged below the 38% long-term average level for AAII Sentiment Survey bulls. Semiconductors have made a new 1-year high, the Russell 2000 Index has shifted from bear market into bull market, and small caps, technology and healthcare led last week. These are the most aggressive areas of the market and their leadership squashes yet another one of the bears' arguments.
2016: The New 1995
The S&P 500 has been trading in a 17.9% range the past 24 months, which is the second narrowest trading range of the past 50 years. While many bears cite this statistic as gloomy and believe we are rolling over, I could not disagree more with that analysis. There is absolutely nothing bearish about going sideways, and the downtrends that existed at the beginning of this year have now completely vanished, turning into powerful breakouts. I have attempted to find a time when the S&P 500 looked similar to the current market in the past 80 years, and I have found one period to be eerily similar. The only other time that shared a range this narrow was the time period between 1994 and 1995. After breaking out of this range in 1995, the market exploded higher moving from 450 on the S&P 500 to 750 in only a two-year span. This massive ascent represented a 70% rally in the market and it did so without recording any correction of 15% along the way. We are still yet to determine if we will break to new all-time highs on the market and complete this 2-year range breakout but both bull markets show many similarities.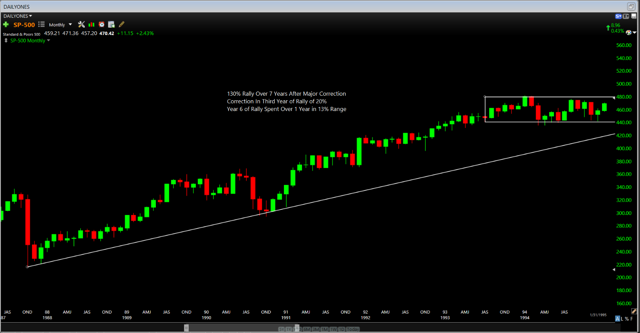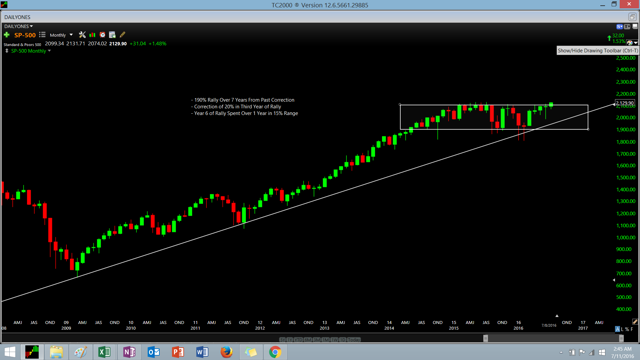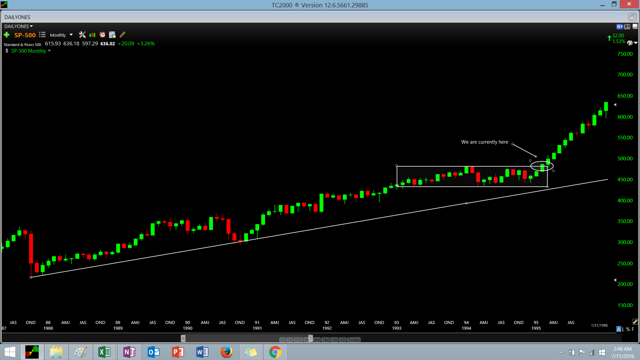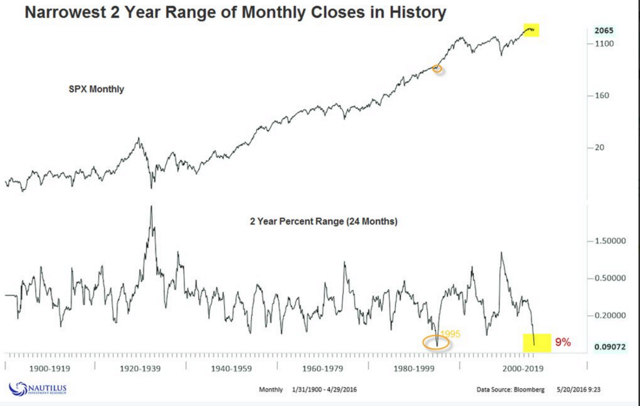 One-Year High Breakout in Semiconductors Extremely Bullish For Equities
Many people will chalk the above charts up to pure coincidence and believe the S&P 500 today holds no similarities to 1995. Fortunately for the bulls, a similar signal occurred today that also occurred just as the bull market began in 1995. The semiconductors made a new 1-year-high breakout this month and positive returns after these signals bode very well for equities. Looking at the below chart, the first signal ever was in 1995 and preceded an 11% rally over the next 6 months. Interestingly enough, the 1-year-high breakout in semiconductors also coincided within 1 month of the all-time high breakout in the S&P 500. If the S&P 500 breaks out this month, we will have the exact same setup, as the semiconductors recording a 1-year breakout within 2 months of the S&P 500 making a new all-time high. While not all signals were as glamorous as the 1995 signal, the performance of the S&P 500 still remains very impressive over the 11 signals. In over 90% of the signals, the S&P 500 sees positive returns over the next 12 months showing an average gain of 8%. If the market were to simply follow the average gain of the past 11 signals, the current S&P 500 would sit right at my target of 2300 by January of 2017. This is another reason bears should consider packing their bags and hibernating a little early this year.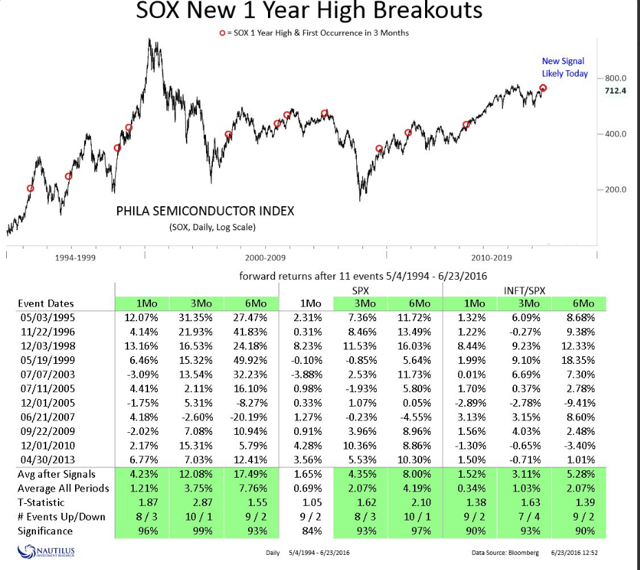 Non-Farm Payroll Estimate Beats of over 100,000
If you're short for mainly fundamental reasons, then I want to warn you before letting you read any further. Warning: the below content may not be suitable for some audiences. If you are a bear shrugging off Friday's non-farm payroll beat and thinking the market's rally was phony, the below image may shock you.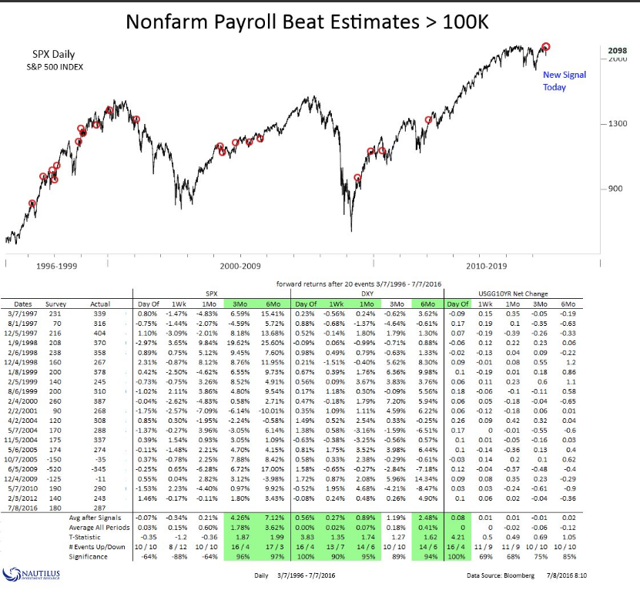 Non-farm payroll beats are not a rare occurrence, but beats of over 100,000 are something to take notice of. In the past 20 years, we have seen 20 occurrences of massive non-farm payroll beats, and over 80% of them have shown astounding returns going forward for the S&P 500. The average gain 6 months after these signals is 7.12%, with 10% of those six-month periods gaining over 15% in 6 months. While many bears are busy focused on inflated price to earnings ratios, they may be better served to branch out and take a look at this short before adding more short positions.
For Bears anxious to short at new highs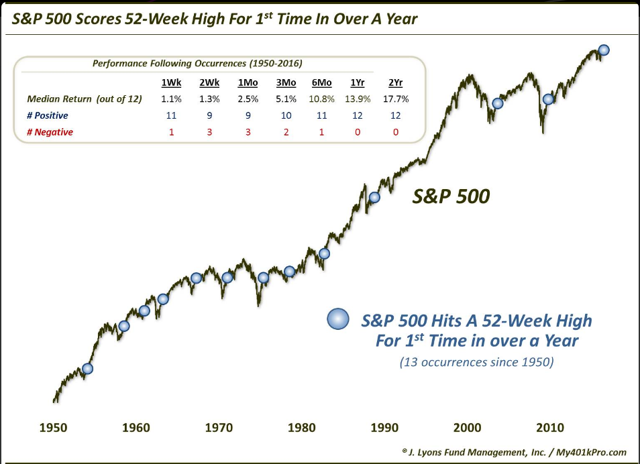 I have read the same statement countless times this weekend that bears despite being bearish the past 5 weeks we're not short this week. In fact, most of them covered into the lows of Brexit under 2000, and are now waiting for new highs to short the market. To avoid conflict, I will give them the benefit of the doubt and believe that they covered into the Brexit lows after shorting the pre-Brexit highs. My only warning to them is that after such a masterful trade, they may want to think twice about shorting these highs. It's one thing to short 2100 as it was resistance the past 18 months, it's another to short when the market has made a new all-time high. For some reason, it seems there is a lineup of bears who believe all-time highs are the perfect bull trap and the perfect place to put on short positions.
The above chart is a wake-up call to them that is may not be the wisest of ideas to be shorting into all-time highs. As the above diagram shows when the S&P 500 makes a new all-time high after going a year without one, the forward returns can be very powerful. In every single occasion that the market made a new all-time high (after going one year without one), the market was higher both 1 year and 2 years after the new high was made. For those still interested in shorting over 2135 on the S&P 500, be aware that these forward gains were anything but modest. The median 1-year return for the S&P 500 following these signals was 13.9%, while the 2-year return was 17.7%. Based on these metrics, the S&P 500 would be at 2422 by next July if it performed in accordance with the median return over the past 12 signals.
Technical Outlook And Summary
The market continues to roar higher, posting a weekly gain of 1.28% this week. Despite the 2-day Brexit swoon, absolutely no technical damage was done and the SPY continues to remain bullish on every single timeframe. Starting with the monthly chart, the S&P 500 remains in a monthly bull flag after experiencing several 10% or more declines to shake the weak longs out of the market.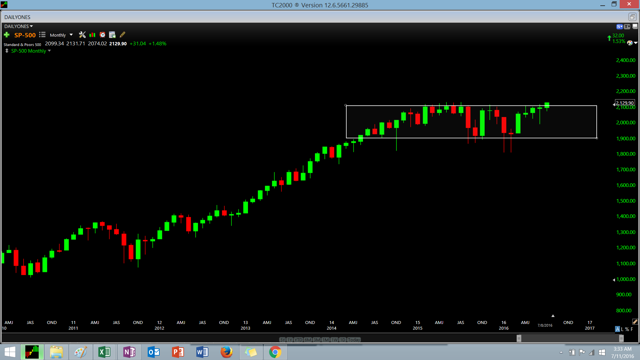 The weekly chart has broken all of the bear camp's fancy and constantly amended downtrend lines and sits at a new all-time weekly closing high. Support continues to show up with a vengeance at any dips and looking at the chart, you wouldn't even know Brexit happened 2 weeks ago.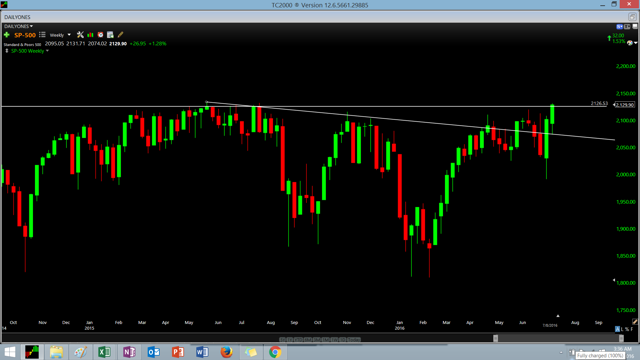 The daily chart for the S&P 500 looks to be gearing up for a major move higher and the NYMO is nowhere near overbought levels. We can thank the Brexit scare for washing out the NYMO levels, yet inflicting zero damage to the chart whatsoever. Due to the fact the decline was so sharp but regained nearly instantaneously, the slope of all the key moving averages remained completely intact. The 200-day moving average continues to slope positively, giving investors support at the 2025 level. The higher low put in at 1990 now gives us a trendline to work with and we can see support near the 2040 level going forward if we do happen to see any dips. I personally believe 2075 is the new floor and do not expect to see the market fall below its 50-day moving average at 2075 until we have at least tested the 2170 level. Both the 20-day and 50-day moving averages are pointing higher and in closing proximity to each other which should provide bulls with support whether we trade sideways or up over the coming couple weeks. The time has finally come that we are sitting right under all-time highs, that I stated we would break out to in my article written just 2 months ago. I do not believe this move will be as forgiving to bears as they had their last chance to get out of shorts during the Brexit scare. Unfortunately for them, I think most of them got caught up in the hype and judging by the pervasive bearishness, most did not cover. My year-end target remains at 2300 for this year and 2450 for next year, assuming we hold the 1990 level on the S&P 500. As I have stated several times, 1990 is my line in the sand and a close below this level quickly puts the ball back in the bears court and I will exit my longs. As long as we stay above 1990, the 200-day moving average should begin sloping positively very soon while all other key moving averages trend higher giving us strong support beneath us. There are now no downtrend lines left for bears to hope we smack up against as resistance and there is no weekly closing high to keep supply above us and giving the edge to the sellers. As we sit 5 points from all-time highs, nearly everyone is up that owns SPY and I believe the next 80 points will come quick and to the upside.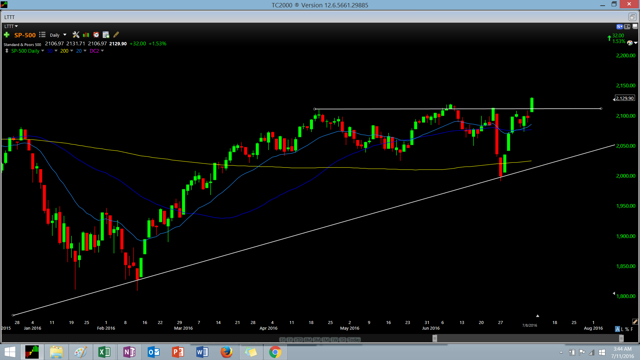 I cannot remember any time the past 6 years while we have made several new all-time highs, a point where there was such little celebration of the market. The market sits just shy of all-time highs and continues to reward investors yet no one is talking about the market or excited about its prospects. This is the most hated bull market of all time and I believe it is because of a lack of participation by most investors, due to their need to understand why it is going up. You don't need to trust the market or understand why it is going higher, the market is not a best friend you need to confide in, it's a vehicle for wealth. You can choose to be short and hope that the market conforms to your logic at the risk of peril to your trading accounts, or you can hop along for the ride and follow price and not worry about if you agree with the market. Personally I would much rather make money regardless of whether I agree with the market, as I know for a fact the market could care less how I am positioned, nor about agreeing with me.
Disclosure: I am/we are long UPRO, GDXJ, SPY.
I wrote this article myself, and it expresses my own opinions. I am not receiving compensation for it (other than from Seeking Alpha). I have no business relationship with any company whose stock is mentioned in this article.
Additional disclosure: If you liked this article and found it useful, please feel free to follow me by clicking on my name next to my name at the top of this article. I also invite you to check my performance at TipRanks.com, where my average return on equities this year is 69% on new long positions. My current performance ranking on TipRanks is in the top 2% of financial bloggers writing from all finance websites currently.