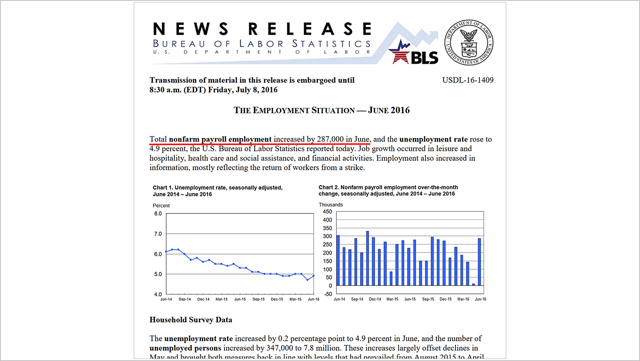 Job growth exploded in June and gleeful investors sent stock prices soaring on Friday. The value of America's blue chip companies in the Standard & Poor's 500 stock index rose 1.5% on Friday.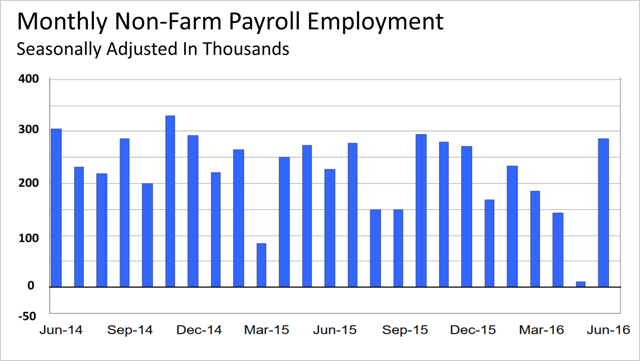 The much stronger than expected job-formation figure reported Friday morning - 287,000 new jobs were created in June - followed disappointing numbers announced just a month ago, which indicated the economy had created just 32,000 new jobs in May. That disappointing figure roiled stock prices because "hot-money" traders began to fear the long economic expansion could be in jeopardy.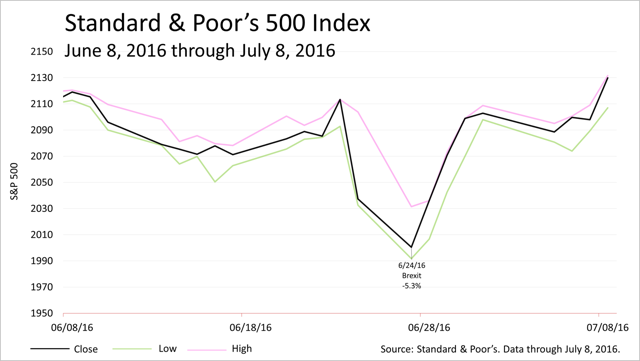 While our weekly email updates consistently have reported on positive economic news, volatility that initially followed Great Britain's vote to leave the European Union took U.S. stock investors on quite a wild ride.
Stocks declined 5.3% in the two-day Brexit selloff of June 24 and June 29. Then the S&P 500 snapped back to its pre-Brexit level. European and U.K. stock markets have also substantially recovered.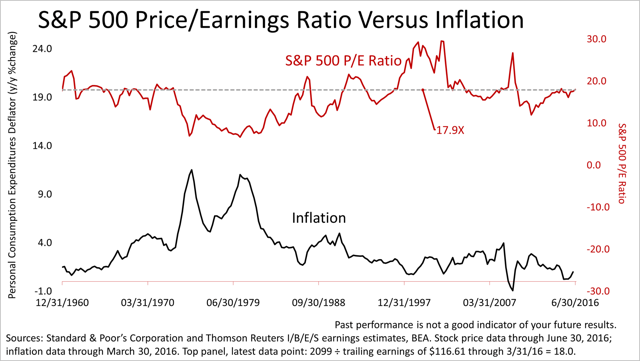 By historical standards, stock prices are reasonably valued. Historically, when inflation is low, investors are willing to pay $17.90 for every dollar of earnings in the S&P 500.
The 17.9 price-to-earnings ratio on trailing 12-month earnings on the S&P 500 indicates stocks are not wildly overpriced. But they no longer are underpriced. They are right in line with the average P/E ratio on the S&P 500 over the past 55 years. As of June 30, the S&P 500's latest P/E ratio on trailing 12-month operating earnings is 18.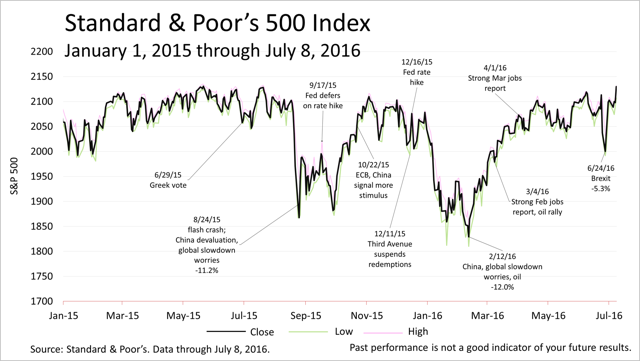 In 2015 and 2016-to-date, stocks have been taking a breather following the extraordinary 77%, three-year re-valuation run that ended at the end of 2014.
Economic fundamentals remain solid. Consumer income and spending are growing. For the rest of 2016, the rate of 2.4% growth for the U.S. economy is expected to be 2.4%. May's index of leading economic indicators suggests continued GDP growth ahead, and forecasts of a sharp earnings upturn are supported by the blockbuster job growth number reported on Friday.
Expect volatility even amid a strong economy with stocks fully priced.