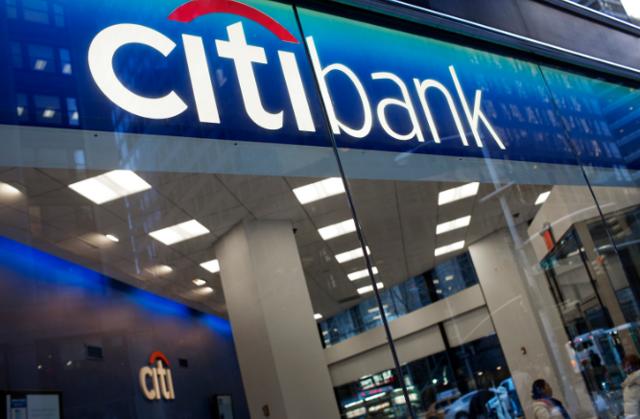 Citigroup (NYSE:C) has certainly been among the weakest of the banks in terms of its price action over the past, well, you pick the time frame. Such has been the plight of poor old Citi, a bank that went as close to the brink of extinction as one can go and still be pulled from the depths. It still has some scars from those days including an absurdly high share count and a battered reputation among investors. But today's Citi is not the same company that traded for under a dollar and I firmly believe that at some point, the market will catch on. Citi has another chance to convince us later this week as it reports Q2 earnings and with shares still trading just over $40, the stage is set for a relief rally.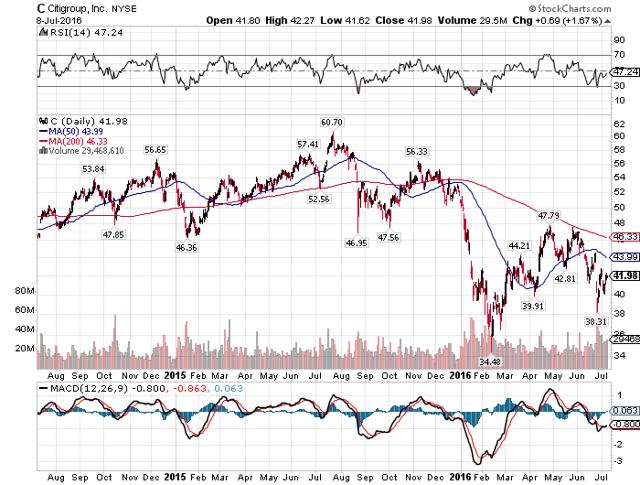 Citi has a few things I'll be watching when it reports later this week. We shouldn't see any sizable negatives from Brexit and in terms of the commodity downturn that dominated headlines in Q1, Citi should be well reserved. That means those two things should be non-events and if they are mentioned, are likely to be of no significant consequence.
What will be of significant consequence is the bank's trading revenues. Citi has a significant markets business and what comes of Q2 as well as guidance will be closely watches. Q2 was quite the opposite of Q1 in terms of financial market behavior despite Brexit so I expect Citi (and others) performed well in that space in Q2. Anything short of a sizable increase is going to be disappointing so look out for that.
An area I've been keenly watching is Citi's efficiency ratio, which of course was jacked into the stratosphere in recent years as it grappled with a bloated head count and terrible revenue. But this, as I said, is a new Citi, a leaner, more focused Citi that produced an efficiency ratio of 60% in Q1. That's still a little high by today's big bank standards but the fact that Citi is in the same conversation is absolutely terrific. Bank of America cannot say the same thing as its efficiency ratio still begins with a seven; such is the progress Citi has made. Look for Citi's current headcount, its forecast for the rest of the year and what its efficiency ratio in Q2 was because this is key to the bull case. If Citi can get its costs back in line with its competitors, it could be very, very profitable in the coming years. We've seen a great deal of progress but there is much to be done and I want to see some positive signs in Q2.
A point that I made after Citi's Q1 report is that its perceived reliance upon higher rates is unfounded. I shared this slide from its earnings presentation and I'll reproduce it here because it shows a very important point in light of Citi's recent price action.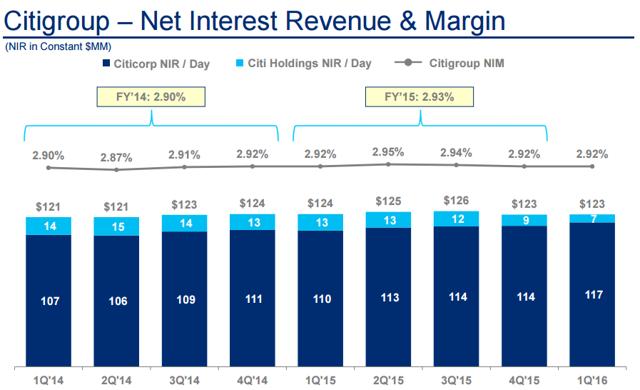 During this two year period, interest rates moved all over the place but Citi's NIM never deviated more than 8bps from top to bottom. That's what I mean when I say Citi has been unfairly punished of late; lower rates may remove a fractional amount of earnings from its income statement but its assets are such that it will make money in virtually any environment. Yes, the rate landscape is about as bad as it has ever been for US banks but the proof is in the numbers; it really isn't that important for Citi. However, as rates have tanked, Citi has tanked and that makes no sense. In the Q2 report, I'll look not only for the quarter's NIM but what management has to say with respect to rates for the rest of the year. If Q2 and the rest of this year are like the past two years, we'll see nearly 3% NIM from Citi and that's good for the bottom line.
Citi's recent CCAR result was absolutely tremendous and indeed, I think it is a big upside catalyst for Citi. With shares so very cheap, authorizing a massive buyback is exactly what I wanted to see and Citi delivered. As it continues to build capital and buy back stock, it will continue to reduce the float and make future EPS growth easier to attain. In addition, recall that Citi was the only big bank not to receive a rejection from the Fed regarding its living will. The exercise itself is a waste of time and no one cares about the results other than the Fed but what it did was set the stage with the regulator in terms of Citi's reputation. Citi used this good will to ask for and receive its massive capital returns this year and now that Citi has the spigot turned on, we should see huge returns as a normal part of its CCAR process each year. This is yet another area where Citi has made huge strides of late and it is very positive for the stock.
Finally, the big question for Citi will be how its credit portfolio performed in Q2. Citi is perceived as being riskier with the dollars it invests and it is, but that is how it achieves those outsized returns. The entire industry has seen terrific metrics in past few quarters but some - including Jamie Dimon himself - see a bubble forming in consumer credit. If that's the case, Citi is heavily exposed. Any commentary here will be closely watched, specifically as it relates to consumer credit like Citi's vast credit card portfolio. I personally don't see any indications that Citi or others are at risk right now but any note of caution will not be taken well by investors.
Citi has very low expectations heading into Q2 as estimates have come way off of last year's level and analysts continue to ratchet them down. That could set the stage for Citi to surprise to the upside - as it has done in the past - as it seems no one is bullish on Citi right now. And with the share price under 70% of tangible book value, Citi could certainly use a strong quarter to inject a bit of positive sentiment into its share price. Citi's major components of earnings should be strong for Q2 but commentary around credit has the chance to cut the party short. All will be revealed later this week but given Citi's beaten down share price heading into the report, the risk is to the upside.
Disclosure: I am/we are long C.
I wrote this article myself, and it expresses my own opinions. I am not receiving compensation for it (other than from Seeking Alpha). I have no business relationship with any company whose stock is mentioned in this article.