Utilities illustrate the relationship between interest rates and equity valuations
By Nick Kalivas, Senior Equity Product Strategist. Posted on Expert Investment Views: Invesco US Blog.
The past few months have been good for utility stocks. Year-to-date through June 27, the S&P 500 Utilities Sector Index has risen nearly 20%, compared with a loss of 1.06% for the S&P 500 Index.1 Because utility companies are regulated and provide essential services, utilities are often considered defensive holdings and are staples of low volatility portfolios. Utility stocks are also known for potentially paying regular dividends. That can make them appealing to investors looking for yield opportunities in a low interest rate environment.
Given their strong performance, some investors have questioned whether utility shares might be overvalued and whether this might have repercussions for factor-based low volatility performance. Indeed, the trailing price-to-earnings (P/E) ratio for the S&P 500 Utilities Sector Index has risen from 15.5 in September 2015 to a recent high of 18.5.1
Interest rates can affect equity valuations
But investors considering valuations without regard to interest rates are making a mistake, in my view. The decline in yields cannot be ignored for two reasons:
First, low yields are driving investment decisions and creating flows into fixed income securities and fixed income substitutes - namely, dividend-paying stocks like utilities.2 Those investors who see utilities as a fixed income substitute may want to consider valuing them against alternative income-paying vehicles like Treasuries or corporate debt by comparing yield spreads.
Second, and perhaps more importantly, analyzing P/E ratios is just one component of valuing stocks. Equity prices are also determined by discounting earnings at a particular rate of interest. The lower the discount rate, the higher the present value. Thus, low interest rates can equate to high valuations. It's all in the math.
Declining interest rates are typically a function of slow economic growth and relatively low rates of global inflation. Primarily meant to prime the economic pump, lower interest rates have also had the unintended result of increasing flows into the utility sector as investors have sought new sources of yield - boosting P/E ratios in the process.
This relationship between interest rates and utility valuations is not unprecedented. The following scatter plot displays the relationship between the 10-year Treasury yield and the P/E ratio of the S&P 500 Utilities Sector Index since 1990.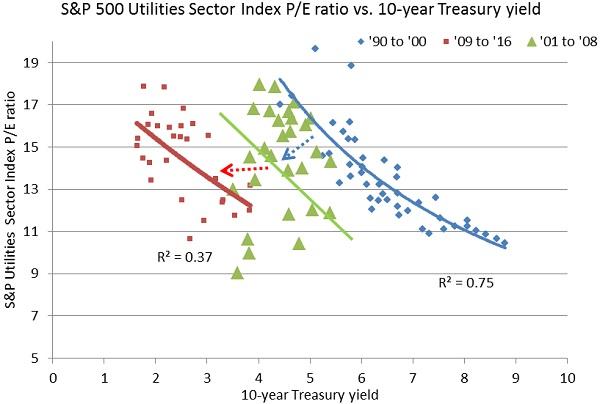 Source: Bloomberg L.P., June 21, 2016. Date ranges are measured from Jan. 1 of the beginning year through Dec. 31 of the ending year. R2 represents the percentage of the variation in the P/E ratio that is explained by the 10-year Treasury yield.
Note the strong relationship between Treasury yields and the P/E ratios for the S&P 500 Utilities Sector Index between 1990 and 2000 - depicted by the blue dotted lines and the solid blue trend line. During this time, the 10-year Treasury yield also explained 75% of the variation in the utility sector's P/E ratio.1
The same relationship after the 2008 financial crisis is illustrated by the red boxes and red trend line. Here the relationship is more linear and not as robust. Nonetheless, all three scatter plots support the idea that investors typically pay more for a stock when interest rates are low.
The relationship between equity valuations and interest rates is supported by theory
The empirical evidence of a relationship between P/E ratios and interest rates is also supported by theory. The value of a stock is based in part on the discounted value of an issuer's earnings. As a result, the interest (discount) rate can influence the valuation. For example, an investor would pay more for $1 of earnings when interest rates are 2.5% than when interest rates are 10%.
To illustrate this point, the table below displays the future value of $1 calculated using various interest rates. Future values are figured in perpetuity in the third line of the table and over a 10-year period in the fourth line of the table. Note that the future value of $1 is worth $100 calculated in perpetuity at 1% and only $7 at 15%. The takeaway here is that interest rates can and do affect stock valuations. Clearly, the time value of money matters to investors.

Source: Invesco PowerShares, June 21, 2016. Value to perpetuity was calculated by dividing $1 by the interest rate listed. Figures listed are hypothetical and do not represent a specific investment.
On a yield-spread basis, utilities appear reasonably priced
It is also worth considering utilities on a yield-spread basis and comparing their yields with alternatives like Treasuries and corporate debt. Considered in this light, utilities are reasonably priced, in my view.
The graphic highlights the relationship between the dividend yield for the S&P 500 Utilities Sector Index and the 10-year Treasury yield (this relationship is illustrated by the blue line). The dividend yield on utilities versus the 10-year Treasury has changed from a discount to a premium since 2001. The current spread of 164 basis points compares with an average of -32 basis points since 1990 and is near the upper end of the historical range. The dividend yield on the utility sector is also high compared with the Moody's Baa corporate bond.
The average spread is -274 basis points, and the current value is -120 basis points.1
The wide dividend yield on the S&P 500 Utilities Sector Index relative to Treasuries and corporates on a historical basis implies reasonable valuation, in my view.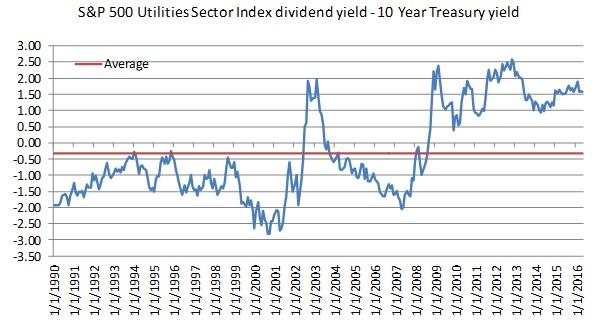 Source: Invesco PowerShares, June 21, 2016
M&A activity also affecting utility valuations
In addition, merger and acquisition (M&A) activity in the utility sector is up 358% on a year-over-year basis, with most of the activity in the electric utility space.1 I believe this is a sign that investors see opportunity in the sector. Surging investor interest may, in turn, be partially driving a rise in valuations and could be tightening the supply/demand balance to the benefit of price.
Concerns about utility valuations require proper perspective
Both empirical evidence and theory support the idea that long-term interest rates can influence equity valuations. In my opinion, low interest rates have bolstered demand for income-oriented stocks and have supported the valuation of utility stocks. High valuations may be further supported by strong M&A activity in the utility sector. Investors concerned about high valuations and overexposure to utilities should understand these valuation angles, as well as the effect that surging utility sector M&A activity is having.
Investors seeking opportunities in utilities may wish to consider the PowerShares DWA Utilities Momentum Portfolio (NASDAQ:PUI) or the PowerShares S&P SmallCap Utilities Portfolio (NASDAQ:PSCU).
Sources
Bloomberg L.P., June 21, 2016
Bloomberg L.P., based on year-to-date flow data as of July 1, 2016
Important information
A basis point is one hundredth of a percentage point.
Price-to-earnings (P/E) ratio, also called multiple, measures a stock's valuation by dividing its share price by its earnings per share.
The Moody's Baa corporate bond is an investment bond composed of all companies that are rated Baa by Moody's. Baa is the lowest rating within the Moody's investment grade category.
The S&P 500® Utilities Sector Index is an unmanaged index considered representative of the utilities market.
Valuation is how the market measures the worth of a company or investment.
Yield spread is the difference between yields on differing debt instruments, calculated by deducting the yield of one instrument from another.
Investments focused in particular sectors, such as utilities and energy, are subject to greater risk and are more greatly impacted by market volatility than more diversified investments.
Fixed income investments are subject to credit risk of the issuer and the effects of changing interest rates. Interest rate risk refers to the risk that bond prices generally fall as interest rates rise and vice versa. An issuer may be unable to meet interest and/or principal payments, thereby causing its instruments to decrease in value and lowering the issuer's credit rating. Junk bonds involve a greater risk of default or price changes due to changes in the issuer's credit quality. The values of junk bonds fluctuate more than those of high quality bonds and can decline significantly over short time periods. Due to anticipated Federal Reserve Board policy changes, there is risk that interest rates will rise in the near future.
There are risks involved with investing in ETFs, including possible loss of money. Shares are not actively managed and are subject to risks similar to those of stocks, including those regarding short selling and margin maintenance requirements. Ordinary brokerage commissions apply. The funds' returns may not match the returns of their underlying indexes. The funds are subject to certain other risks. Please see the current prospectuses for more information regarding the risk associated with an investment in the funds.
PSCU is nondiversified and may experience greater volatility than a more diversified investment.
Stocks of small-capitalization companies tend to be more vulnerable to adverse developments, may be more volatile, and may be more illiquid or restricted as to resale than large companies.
S&P® is a registered trademark of Standard & Poor's Financial Services LLC (S&P), and Dow Jones® is a registered trademark of Dow Jones Trademark Holdings LLC (Dow Jones). These trademarks have been licensed for use by S&P Dow Jones Indices LLC. S&P® and Standard & Poor's® are trademarks of S&P, and Dow Jones® is a trademark of Dow Jones. These trademarks have been sublicensed for certain purposes by Invesco PowerShares Capital Management LLC (Invesco PowerShares). The Index is a product of S&P Dow Jones Indices LLC and/or its affiliates and has been licensed for use by Invesco PowerShares. The fund is not sponsored, endorsed, sold or promoted by S&P Dow Jones Indices LLC, Dow Jones, S&P or their respective affiliates, and neither S&P Dow Jones Indices LLC, Dow Jones, S&P or their respective affiliates make any representation regarding the advisability of investing in such product(s).
A momentum style of investing is subject to the risk that the securities may be more volatile than the market as a whole or returns on securities that have previously exhibited price momentum are less than returns on other styles of investing.
There is no relationship between Dorsey, Wright & Associates, LLC ("Dorsey Wright") and Invesco PowerShares ("PowerShares") other than a license by Dorsey Wright to PowerShares of certain Dorsey Wright trademarks, tradenames, investment models and indexes (the "DWA IP"). DWA IP has been created and developed by Dorsey Wright without regard to and independently of PowerShares, and/or any prospective investor. The licensing of any DWA IP is not an offer to purchase or sell, or a solicitation of an offer to buy any securities. A determination that any portion of an investor's portfolio should be devoted to any ETF product developed by PowerShares or investment model developed by Dorsey Wright is a determination made solely by the investment advisor serving the investor or the investor himself, not Dorsey Wright.
Before investing, investors should carefully read the prospectus/summary prospectus and carefully consider the investment objectives, risks, charges and expenses. For this and more complete information about the funds visit invescopowershares.com for prospectus/summary prospectus.
The information provided is for educational purposes only and does not constitute a recommendation of the suitability of any investment strategy for a particular investor. Invesco does not provide tax advice. The tax information contained herein is general and is not exhaustive by nature. Federal and state tax laws are complex and constantly changing. Investors should always consult their own legal or tax professional for information concerning their individual situation. The opinions expressed are those of the authors, are based on current market conditions and are subject to change without notice. These opinions may differ from those of other Invesco investment professionals.
| | | |
| --- | --- | --- |
| NOT FDIC INSURED | MAY LOSE VALUE | NO BANK GUARANTEE |
All data provided by Invesco unless otherwise noted.
Invesco Distributors, Inc. is the US distributor for Invesco Ltd.'s retail products and collective trust funds. Invesco Advisers, Inc. and other affiliated investment advisers mentioned provide investment advisory services and do not sell securities. Invesco Unit Investment Trusts are distributed by the sponsor, Invesco Capital Markets, Inc., and broker-dealers including Invesco Distributors, Inc. Each entity is an indirect, wholly owned subsidiary of Invesco Ltd. PowerShares® is a registered trademark of Invesco PowerShares Capital Management LLC, investment adviser. Invesco PowerShares Capital Management LLC (Invesco PowerShares) and Invesco Distributors, Inc., ETF distributor, are indirect, wholly owned subsidiaries of Invesco Ltd.
©2016 Invesco Ltd. All rights reserved.
How much is a stock worth? There's more to valuation than simple P/E ratios by Invesco US