Vivus (NASDAQ:VVUS) investors have tried to find just about anything to be a positive development with the company. It has gotten to the point where the search for "silver linings" has become an art form. With the Qsymia sales numbers announced last week, the company has seen its worst sales performance in two years. What is more troubling is that in the past, Q2 has traditionally been the strongest sales quarter.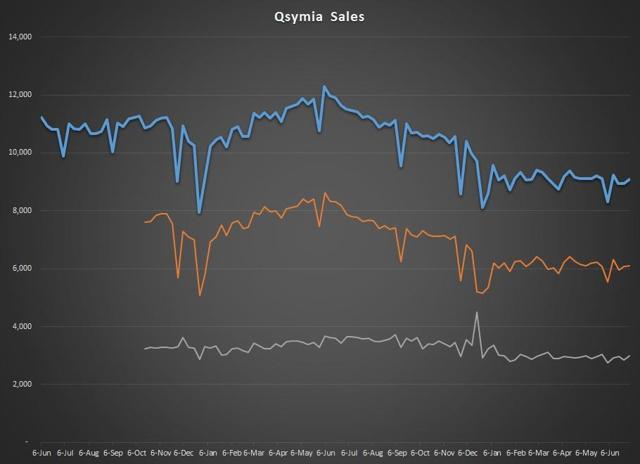 Chart Source - Spencer Osborne
On a quarter over quarter basis the sales figures do not look as bad. The company sold a bit over 118,000 scripts in Q1, and a bit under 118,000 scripts in Q2. The sequential sales drop was only down 0.61%. While some may see this as a "silver lining", the reality is that the sales trajectory of Qsymia is not a trajectory that brings about equity appreciation.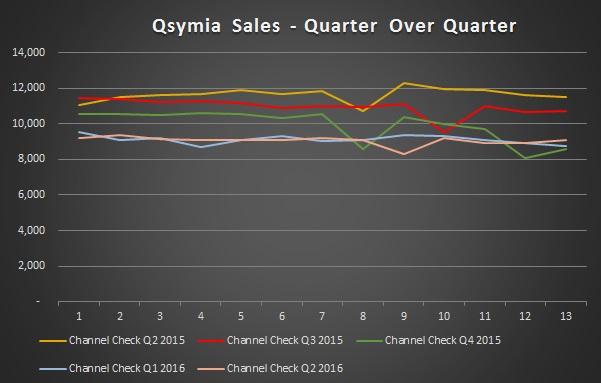 Chart Source - Spencer Osborne
Looking at the year over year numbers presents a picture that is more difficult to find a silver lining in. Of course, if you look hard enough you can find one. That silver lining would be that despite the sales being down from last year, the costs are down because Vivus cut back on marketing efforts. In Q2 of 2015 Qsymia saw sales of over 151,000 scripts. Sales in Q2 of 2016 are below 118,000. That represents a drop of 22% in sales. Investors should expect net revenue from the sale of Qsymia to be about $12.3 o $12. million. Last year the net revenue number was $14 million. The drop in net revenue will be about 11%. The gap in year over year net revenue is expanding. The same comparison in Q1 was about a 2% drop.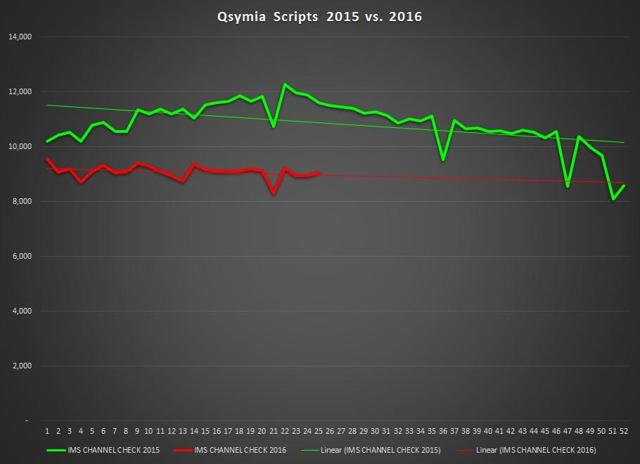 Char Source - Spencer Osborne
From a market share perspective, Qsymia is pretty much treading water with a slight bias to losing share gradually. The silver lining is that the market share is not dropping like competitor Belviq from Arena (NASDAQ:ARNA). The problem with that silver lining is that treading water on bad sales is not the type of thing that excites the street. This past week Qsymia market share was 25.56%. It started off the year at about 26%. The biggest contributor to the Qsymia stability in share has actually been the poor market share performance of Belviq and the more recent erosion of Contrave from Orexigen (NASDAQ:OREX) as it transfers from Takeda back to Orexigen control. The only company gaining market share these days is Novo Nordisk (NYSE:NVO) with its anti-obesity injection called Saxenda.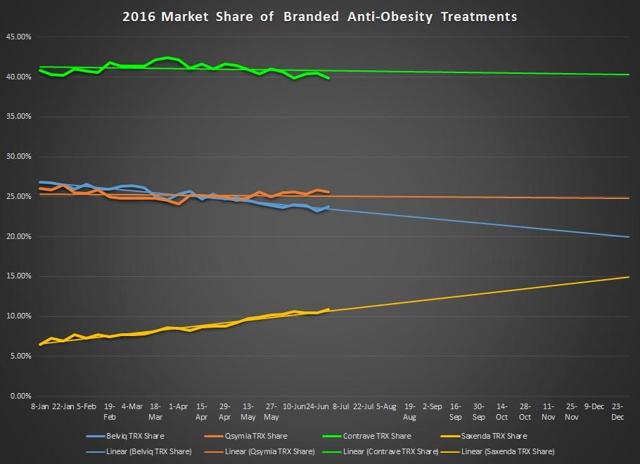 Chart Source - Spencer Osborne
The overall sector is not performing very well. Anti-obesity pills are down year over year, and if we include Saxenda in the mix, sales are only modestly higher that what was seen last year. By the end of the year, the anti-obesity sector will actually be smaller than it was in 2015.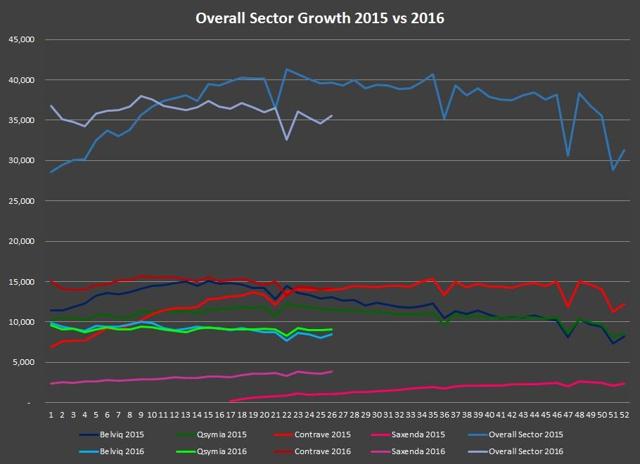 Chart Source - Spencer Osborne
Comparisons that I expect to see when the company announces Q2 2016 numbers:
I expect net revenue to be $12.3 to $12.5 million vs. $14 million in the year prior.
I expect net revenue per script (excluding freebies) to be about $124 vs $114 the year prior
I expect fully loaded net revenue per script to be $105 vs $92 the year prior
I expect sales and marketing costs to be between $7.5 million and $8.0 million vs. $15.3 million in Q2 of last year.
In essence, the cost cutting initiatives have been effective enough to make the math work, but the math is not high enough to generate excitement on the street. Simply stated, there is not much about Qsymia that will deliver equity appreciation. The actions of management point more toward a company sale than an effort to drive the equity higher through selling its products.
In my opinion Vivus remains a speculative play. I would not invest in this company based on Qsymia sales, but would consider a play based on the possibility that the company actually gets sold or taken private at a price above where it is today. If you are looking for a triple bagger, this is probably not your best play. If taking a flyer in hopes of a decent gain on a sale is your game, Vivus is likely a decent candidate for that to happen. Trading at a bit over a buck does not present the type of value that I would toss a lot of money at. If the stock were distressed and under a buck, I might be more tempted.
In my opinion the play on Vivus is only related to its ability to sell off the company. I carry little faith that Vivus can effectively sell either its anti-obesity drug or its erectile dysfunction drug. Stay Tuned!
Disclosure: I am/we are long ARNA, NVO.
I wrote this article myself, and it expresses my own opinions. I am not receiving compensation for it (other than from Seeking Alpha). I have no business relationship with any company whose stock is mentioned in this article.
Additional disclosure: I have no position in Orexigen or Vivus
Editor's Note: This article covers one or more stocks trading at less than $1 per share and/or with less than a $100 million market cap. Please be aware of the risks associated with these stocks.