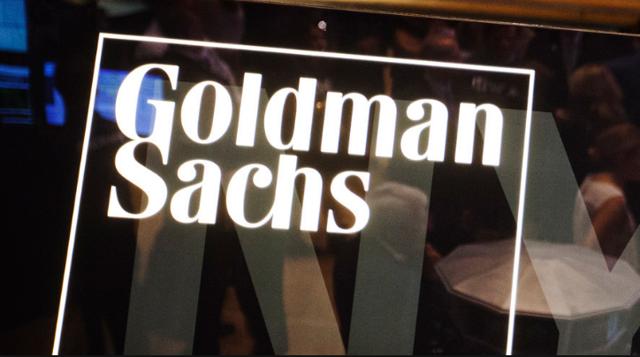 Goldman Sachs (NYSE:GS) has seen marked weakness in its share price along with the rest of the financials in recent quarters. I've been a fan of GS as it is the best of breed investment bank and stands to make a lot of money if we don't get a recession. In addition, shares are trading at multi-year lows so the valuation is very cheap, adding to its allure. Goldman doesn't release its capital return plans after each year's CCAR exercise - something I find tremendously annoying - but considering the results the company came through with this year, one can expect the returns will be strong. In addition, I think it opens up a fresh catalyst for next year and beyond for GS.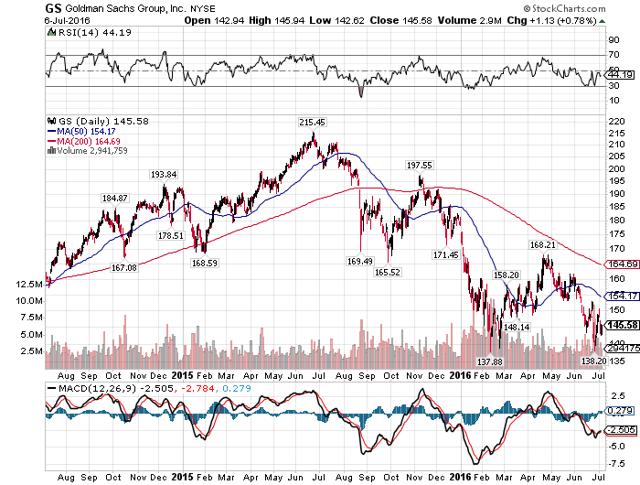 GS' current dividend is 65 cents per quarter so we know it will be better than that, and that number is a nickel better than what it was the year prior. It would be reasonable to infer that this year's hike is also probably a nickel and if that comes to fruition, GS would be yielding just under 2% at today's prices. GS has never been an income stock, although it has yielded nearly 2% before for a brief period. But this is a more tame GS that is acting more like a bank and as we can see, whatever the dividend increase ends up being, it will almost assuredly take the yield to an all-time high.

Source: Simply Wall St.
Still, GS isn't interested in becoming a dividend stock and as long as Blankfein is in charge, that's probably never going to change. And that's fine; not every financial needs to pay a huge dividend. But for now, GS has a yield that is roughly congruent to the market and that's good enough.
GS repurchased $1.6B in common stock in Q1 and that is somewhat higher than the level it has maintained for the past few quarters. We won't know how much GS can buy back until it is already done but if we assume another $1.2B per quarter, that would get us to almost $5B in repurchases this year. That, in turn, would be good for 7.5% of the float, a very strong number indeed. Most of the large financials have been in the 5% to 6% area but admittedly, many also have higher yields than GS. At any rate, that level of buybacks would certainly provide a meaningful boost to EPS and given GS' trough valuation, I hope the authorization was for more. GS is as cheap as it has been in years - literally, years - so hopefully management is out there buying with both hands.
Another bit of good news is that whatever GS was approved for, it wasn't enough to send its capital position into a range where it would be concerning. Under the severely adverse scenario, GS' CET1 would fall from 13.6% to 7.6%. That's a very long way down and I certainly do not want to see that, but 7.6% is actually quite good among GS' peers. It speaks to GS' current capital position - which is in the top tier - and the fact that its capital returns are more than sustainable even under horrible economic conditions. GS has the balance sheet to weather just about anything and continue to return roughly 10% of its market cap in combined capital distributions. That also means that GS is in a position to potentially ask for more next year and beyond assuming we don't get something akin to the severely adverse scenario. That's a potential catalyst for upside over the long term.
GS is currently going for just 8.5 times next year's earnings, a ludicrous number that speaks to just how bad things have gotten for the financials. There are lots of reasons why the financials - including Goldman - have been beaten down of late but GS is as cheap as it has been in years, and indeed, perhaps ever. This is a premium franchise that has proven the ability long term to make money in just about any environment and the fact that it is trading for under nine times next year's earnings is proof of just how hated the banks are right now. And while that's tough to endure, if you're working with a long time frame, buying GS at 8.5 times forward earnings is a good place to be because this will not last forever. At some point people will realize how cheap the banks are and while that may take a while, GS is better positioned than most for potential multiple expansion.
Goldman's CCAR showing was strong in my view as it has a high capital base now and would maintain that even in the face of economic malaise. And while I find it irritating that management won't just say what they've been approved for, we can guess and even with modest assumptions, GS is likely going to return close to 10% of its market cap this year between dividends and buybacks. And with the stock so cheap, the heavier weighting on buybacks for Goldman as opposed to the dividend is the right move to be sure. Being long financials is a tough business these days but GS is too cheap if you're a long term buyer and this year's CCAR reiterated that. With Q2 earnings due out in the next couple of weeks, now looks like a good time to own the stock.
Disclosure: I am/we are long GS.
I wrote this article myself, and it expresses my own opinions. I am not receiving compensation for it (other than from Seeking Alpha). I have no business relationship with any company whose stock is mentioned in this article.