Intuitive Surgical, Inc. (NASDAQ:ISRG) is the global leader in robotic-assisted minimally invasive surgery. The ISRG product line is designed to offer surgeons great precision, enhanced dexterity, better visualization and ergonomic comfort so they can operate with smaller and fewer incisions. Their flagship product is the da Vinci Surgical System.
ISRG is headquartered in Sunnyvale, California, and serves clients throughout the US and internationally. Clients operate in a variety of therapeutic areas, including: cardiac, thoracic, urology, gynecologic, colorectal, pediatric, as well as general surgery.
Intuitive caught my eye because not only is the company trading at all-time highs, but its products are fascinating. I like to examine companies that provide life-saving or live-improving technologies. Demand for these kinds of products tends to be non-cyclical. Plus, the stringent regulation, technological complexity and specialized niche should provide a strong competitive position.
Another really appealing aspect of this business is that it operates with a razor/razor blade model. ISRG installs the da Vinci Surgical System for new customers. And as the robots are used for surgery, the company generates recurring revenue as surgeons use instruments and accessory products. They also earn recurring revenue from training and support services. I'm always curious about companies that can generate ongoing income from customers.
To get a feel for whether the qualitative factors described above are warranted, I like to look at the historical financial trends. This helps illustrate what's driving performance over the long term. The other advantage of looking at results of a 10-year period (source) is because we can see performance during good economic times and bad. It will also help determine if the current share price is supported by fundamentals.
For your context, below is a long-term price chart of ISRG. See for yourself how shareholders have been rewarded.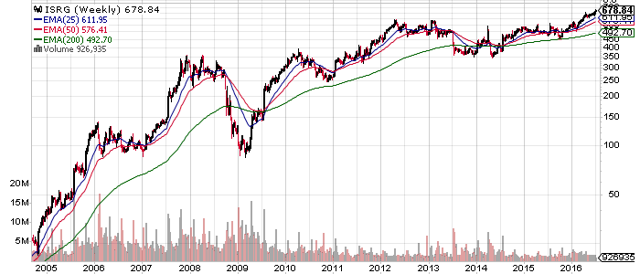 ISRG Operating History in Review:
I know that the past doesn't predict the future. But I'm always interested in looking for trends in financial statements. When I do find consistent performers, I'm more willing to give them the benefit of the doubt.
With that in mind, let's start with the top line growth. I think this gives an unobstructed view of demand for the products and services of ISRG. In this case, revenue is heading in exactly the right direction, as you can see: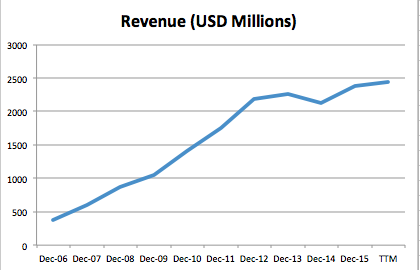 This kind of growth is a great first step. If nothing else, it screams that people are buying more and more of what ISRG is selling each year. If the razor and razor blade model is true, this makes sense. We would expect revenue to snowball as the install base grows and recurring revenue ramps up.
Digging into the recent annual report, this appears to be what's happening. ISRG's recurring revenue now makes up 70% of total revenue, and grew by $200M over the last year. Additionally, in the last reporting year ended December 31, 2015, ISRG had grown its install base by over 10% to 3,597 locations (source). Another appealing aspect of this install base is that no single customer makes up too large a portion of revenues.
But as shareholders, we obviously want to see growth that's profitable. And in the case of ISRG, this is exactly what's happening. Per the graph below, you can see sales dropping to the bottom line.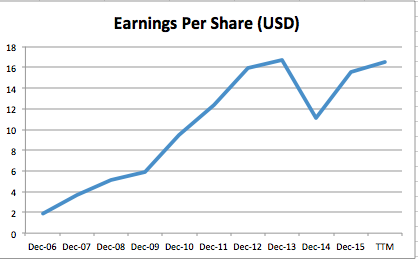 Given the business model of ISRG, this makes sense. The company has a highly specialized product selling into the very high end of the healthcare market. We should expect they don't have to compete on price to fuel growth. To reinforce this point, we can take a quick look at gross margins. Again, this indicates the company has a premium solution that doesn't suffer from cyclical demand: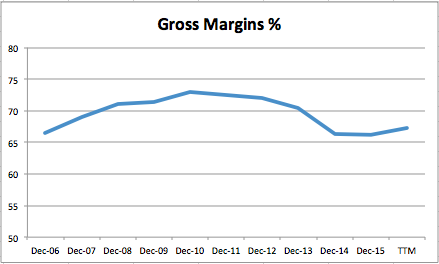 While recent earnings results are near all-time highs, the 2014 decline was notable. ISRG faced pressure due to a declining number or procedures done on their machines. However, the company has since bounced back, and the wide array of therapeutic applications have helped diversify their revenue source. It looks like this recurring revenue is slightly lower margin than the initial installs.
Finally, although ISRG doesn't pay a dividend, I think shareholders have been treated well. First of all, since the company generates so much cash from its high margin sales, it has been able to finance all growth internally. This means shareholders have not been diluted. It's also represented by the impeccable balance sheet and strong working capital position.
Another important way to express the value accrued to equity owners is to look at book value per share. As a long-term investor, I like to see this number consistently increasing over time. In the case of ISRG, this is one of the best graphs I've ever seen: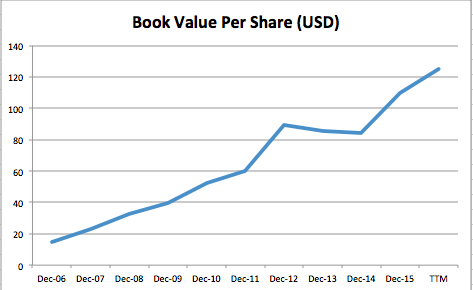 Now at this point, I think ISRG looks pretty good based on their historical financial results. But that doesn't mean this is an automatic buy either. Like every potential investment opportunity, this one too comes with some risk.
Potential Risks of Investing in ISRG:
On the whole, I think ISRG has a strong competitive position, reinforced by a trusted brand. But one potential concern is lawsuits and litigation. Although the company has done well so far, there's always the possibility (however unlikely) that something goes wrong with one or more of their pieces of equipment. If this harms anyone it could end up in a costly lawsuit and damaging bad press.
A different kind of risk facing ISRG is payer risk. Given the ever-shifting healthcare policy landscape, it's possible elected procedures may not be covered by reimbursement. This lack of payer support could lead to pressure on the number of procedures done, which would impact recurring revenue.
Another big red flag for ISRG is the valuation. Although it's certainly a growth stock, and consensus estimates expect more of the same (source), the price tag is a little high. At 30 times cash flow, a lot of good news is already priced in.
That said, as you can see in the table below, ISRG does seem to consistently command a premium price relative to the S&P 500. This might just be what it costs to own a high quality business. Are you ready to hold your nose and buy?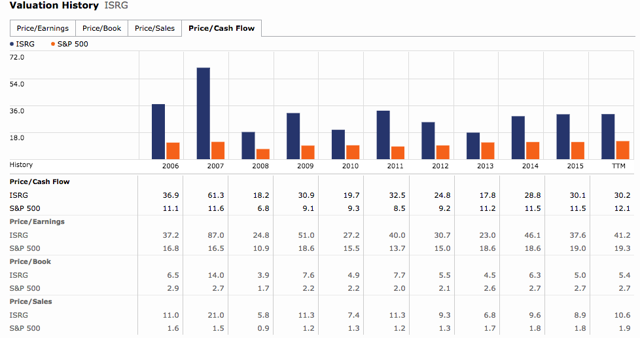 Conclusions: Investing in ISRG
After considering all the information above, I decided to purchase shares of ISRG. At the end of the day, it appears to be a non-cyclical, high quality business with consistent cash flow and book value growth on a per share basis. Although the company does not pay a dividend, I'm happy letting management reinvest earnings to finance future growth. Finally, I think the in-house brands of ISRG, which aren't accounted for on the balance sheet, increase intrinsic value and help mitigate the high price tag.
But that's just my impression of ISRG. What do you think? Do these shares present an enticing opportunity, or is the price tag too steep for you?
Disclosure: I am/we are long ISRG.
I wrote this article myself, and it expresses my own opinions. I am not receiving compensation for it (other than from Seeking Alpha). I have no business relationship with any company whose stock is mentioned in this article.