We may have passed the period of supply shocks for oil (NYSEARCA:USO) (NYSEARCA:OIL) (NYSEARCA:UWTI) and entered into a period of global weakness becoming the most important factor. We see negative stock market divergence as an early confirmation of a new oil downtrend. That said, we are going to continue to let weekly price dictate direction because we think oil is one commodity where price can define itself.
Oil Divergence From Stocks: First Time Since Oct '15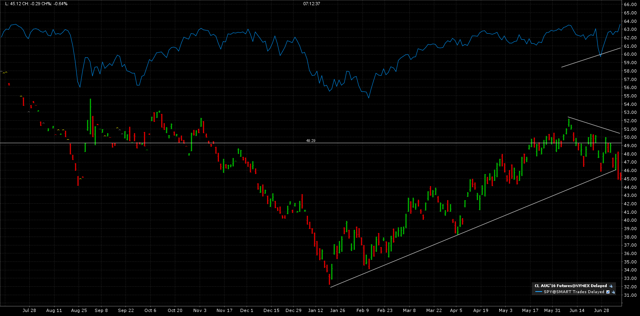 While oil outperformed this year, oil and stocks (NYSEARCA:SPY) (in blue) have been moving together. This is the first apparent divergence other than the month of October 2015.
While equity investors reacted positively to Friday's jobs report, oil sold off. We'd guess the reason is that the jobs report could mean a US rate hike which would lift the dollar and slow growth.
Dollar Is Confused Post-Brexit Yet Oil Has Turned Down
This is another sign of divergence.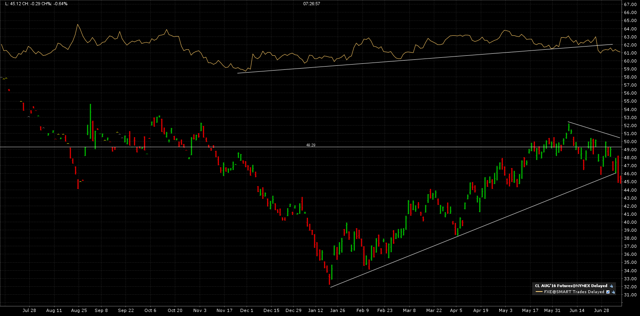 On the top of this chart we put the Euro ETF (NYSEARCA:FXE). While the dollar strengthened since Brexit oil sold off (a normal correlation).
Recently however the dollar is confused. Here's the chart.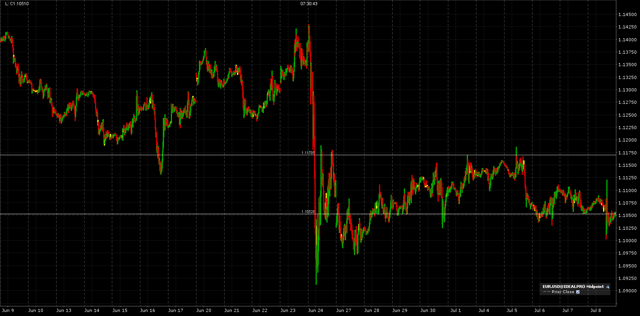 The dollar (NYSEARCA:UUP) has been confused since the big jump post-Brexit. Above is the euro versus the dollar. We don't see a trend here nor do we have a reference point.
While the dollar has gone sideways of late, oil has dropped. This could be an early telltale sign of a weak oil (going down anyway).
Longer term we see the dollar weakening though, which ultimately should be good for oil.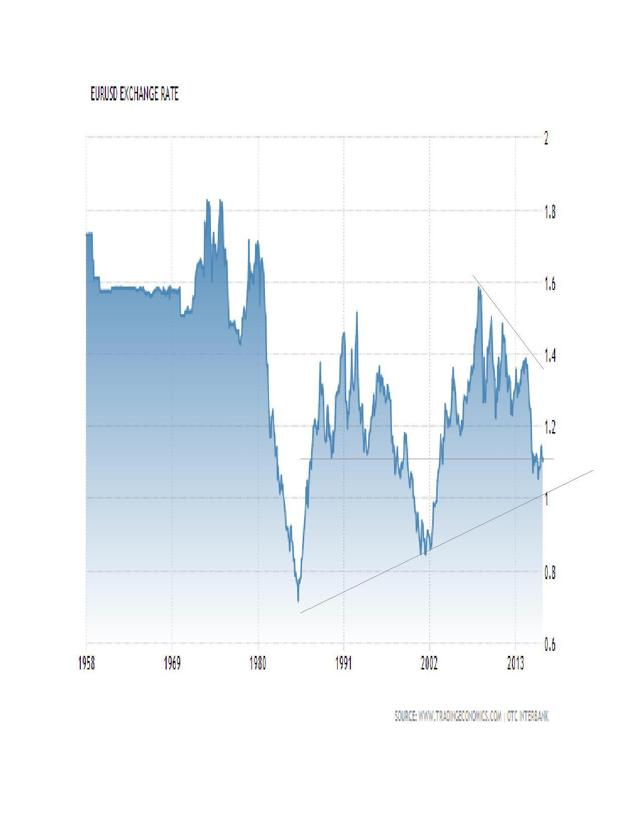 This is a longer term euro versus dollar chart. We'd expect the lower uptrend to catch the euro first to move it up which means a lower dollar.
That said, we have some time before the euro and the uptrend converge so in the meantime we are in a little bit of no-man's land.
The dollar right now makes a call on oil a little more difficult, frankly.
Because the dollar did not make up its mind it's a giant risk to a call in oil either way. When the dollar finally chooses a direction it can push oil opposite.
Stop Loss: HOLDING above 49.30
To be stopped out we'd need to hold above our level a couple of weeks ago of 49.30. That the market touched it at the close two Fridays ago spooked us out of a short. Since then the market developed a clearer downtrend.
If oil were to hold higher than 49.30 for several days it would prove to us to be a change in direction back up.
Oil Price Is It's Own Indicator With Huge Follow Through Moves
Over the last decade oil has moved in major trends. When you catch a trend in oil it can work until it shows itself to reverse. For this reason we were not afraid to switch gears and look to short oil as the trend appears to be turning down.
Here's the longer term trends.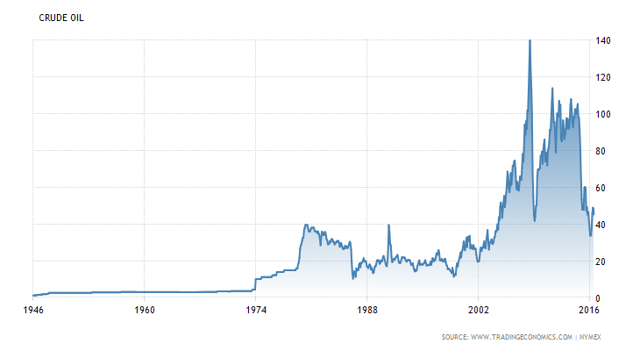 Since 2002 oil has traded in meaningful medium term trends. This gives us hope that catching a price trend can have follow through.
Risk To "Chop"
The risk with depending on price as a key tool for direction, of course, is if we entered a "chop" period. A "chop" means that price goes back and forth and fails breakouts and breakdowns.
Since we are in a period where there are strong fundamentals on both sides of the fence, "chop" is a major risk to trading oil right now.
We admittedly chopped last week. It takes some courage to get back on the short side. But letting the price dictate in commodities is usually a realistic decision.
Major Price Fundamentals May Have Changed For KSA Again
The Kingdom Of Saudi Arabia ("KSA") we feel holds the keys for oil price moves. It is among the top three oil producers in the world along with the US and Russia.
We reported two weeks ago that KSA announced an end to the price war with the US. They started that war in 2014 and recently announced its end.
KSA wanted to stall the budding US production potential with low oil prices to put them out of business. To do that KSA maxed production.
KSA announced a few weeks ago though that they won implying that they would drop production and thus be stronger on price.
Here's a chart how their announcement in 2014 coincided with the peak in oil.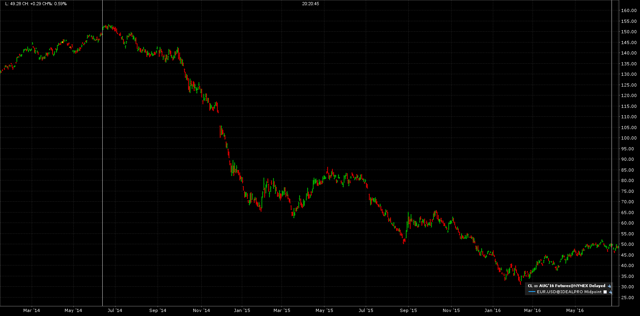 We were concerned that now that they announced the other way it could be a near term low for oil.
We reported July 4th that as many as 20% of all energy loans could be in delinquency (See report here). This has great implications for oil prices in the future which had us with the finger on the trigger to buy.
That said, recently KSA has been reported to go the other way and DROP prices to win China business from Russia. Last month they lowered prices to Europe to win business from Iran.
The issue with KSA is that their economy is struggling somewhat and have too many players trying to take share (US, Russia, and Iran).
We think ultimately KSA is the most powerful global player. They are a top 3 producer and in OPEC. They carry the most sway.
That said their weakest economy in 7 years has forced them to fall to game theory in the meantime and continue to compete on price. That allows production to flow which adds pricing pressure.
Major Catalyst In August: Russia and OPEC Meeting
With the above backdrop, there is an incredibly important meeting between Russia and OPEC coming in August. After the new head of OPEC takes his position, Russia plans to meet.
Russia is a wild-card to OPEC. If they can meet some common ground after KSA's desires to end the price war with the US, we could be facing a strong support for oil thereafter.
Next Major Catalyst Thereafter: OPEC Meeting
The next major OPEC meeting will follow late November. If OPEC and Russia can come to an understanding ahead of this meeting it may give more power for consensus.
Global Slowdown
Global supply disruptions have slowed while global growth fears have picked up post-Brexit. We really can't know the extent of the slowdown impact being only two weeks after the Brexit decision. The ECB, and the Fed have both said that they expect Brexit impacts to unwind and drag the economy over time.
This drag will of course slow oil demand.
US Rig Count Not the Main Story Right Now
While rig count ticked up recently we don't see this as the key near term. We see the US market being hit by credit (as we said above). This can continue especially if oil prices continue to drop.
Rig count is still down huge year-over-year.
We see the US as a reason for prices to go higher over the medium term. Low oil prices near term are really its own catalyst medium term for higher prices. Depressed oil prices lead to further bancruptcies, tight credit and delinquencies which all reduce supply.
Conclusion
This week we have two major changes that we see. One is the price itself seems to have confirmed a change in trend lower. Second, it appears that despite the KSA-US price war being called "over," another price war could hold up with KSA versus Iran and Russia.
That said, underlying we think there is a bullish medium term oil story developing in August and November as Russia and OPEC could plan together to agree on output.
KSA has said they intend to cut production but have not. If they can get a consensus with OPEC and Russia, we could be looking at a medium term up move.
In the short term though, we think the down-trend is the key metric and we want to respect it.
Good luck and be safe.
If you want Elazar's analysis on Seeking Alpha, scroll to the top of the article and hit "Follow." Elazar also writes real-time pieces as news is reported. If you want to be among the first updated check the box for "Real-time alerts on this author" under "Follow."
See more from Elazar Advisors, LLC on SA
Disclaimer: All investments have many risks and can lose principal in the short and long term. This article is for information purposes only. By reading this you agree, understand and accept that you take upon yourself all responsibility for all of your investment decisions and to do your own work and hold Chaim Siegel, Elazar Advisors, LLC, bestideas, their related parties, and its authors harmless.
Disclosure: I/we have no positions in any stocks mentioned, but may initiate a short position in OIL IN SOME CAPACITY over the next 72 hours.
I wrote this article myself, and it expresses my own opinions. I am not receiving compensation for it (other than from Seeking Alpha). I have no business relationship with any company whose stock is mentioned in this article.