Even though its fundamentals have worsened during the last few months, Schlumberger (NYSE:SLB) continues to climb higher (Figure 1). The stock is up almost 30% since its 52-week low in January, and trades at a forward P/E of 76.3. On a trailing earnings basis SLB is 3x pricier than its five-year average P/E of 20.4. But in recent months SLB's sales fell almost 40%, and earnings dropped approximately 30% as E&P customers continued to slash their budgets.
Figure 1: YTD Price Graph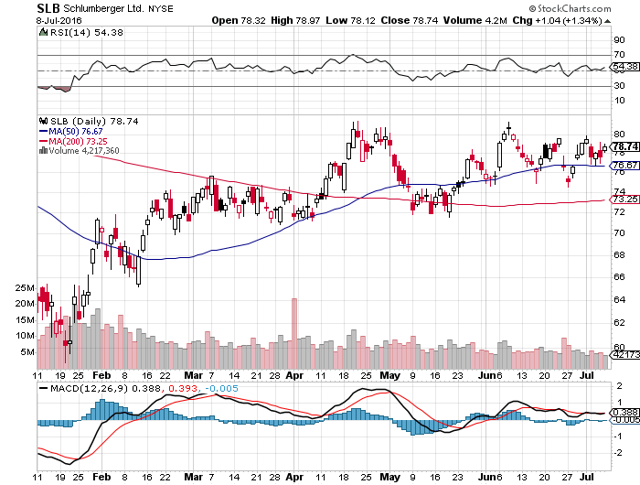 Source: stockcharts.com
Two factors explain the dichotomy between SLB's performance and valuation. First, management has taken advantage of low interest rates to expand its already sizeable share repurchase program: the company bought back $475 million worth of stock in the first quarter alone. Second, the recent recovery in oil prices has boosted investor sentiment, leading to more money flowing into oil and gas stocks.
SLB's stock price trends with the price of oil (correlation coefficient of 0.60). Historically this makes sense; as oil prices rise, firms up their E&P activity and demand more of SLB's equipment. But SLB's rising stock price in recent months does not reflect improved business fundamentals. On the contrary. Oil prices have been rising because of declining production levels. SLB serves the upstream market, and this sub-segment is responsible for the vast majority of the budget cuts in the energy space. In other words, the reason why oil prices have increased is because Schlumberger's customers are producing less.
In its first quarter earnings call, SLB announced that it expected conditions to worsen in the second quarter as customers continued to reduce activity: " This environment is expected to continue deteriorating over the coming quarter given the magnitude and erratic nature of the disruptions in activity". More recently, management suggested that production levels would bottom in Q2. While many investors have become more optimistic about the outlook for oil prices and the implications for SLB going forward, we think analysts are too focused on the supply side. The idea is that supply just has to fall far enough for oil prices to rise to levels that incentivize production again. The problem with this view is that it takes demand for granted, and ignores some major headwinds that we think will weigh on oil prices for at least another year. In order for oil prices to reach the levels that would allow SLB to start growing again, global demand will have to improve.
There are a number of headwinds weighing on demand, some of them secular. Governments around the world continue to limit oil consumption while mandating alternative energy use, and technological advances in electric vehicles have "ushered in a whole new wave of science bent on replacing oil as the world's transportation fuel", according to Chip Register of Forbes.
But the most immediate worry is widespread economic malaise and there are no signs that macro conditions are improving. Many analysts believe that global macro weakness is a product of low oil prices, and while this may be true for oil-dependent exporters such as Russia, it doesn't explain the slowdown in commodity net importers such as the US, Europe, Japan, and many emerging markets. As Stephen King, an economist explains,
"You have a situation where emerging markets in general are extremely weak, that in turn is causing commodity prices to decline rapidly, including oil prices, so rather than saying lower oil prices are a stimulus for the commodity consuming parts of the world, I think you should see lower oil prices as a symptom of weakness in global demand."
Growth in emerging markets has declined for six consecutive years according to the IMF, and the IMF expects it to remain sluggish. And because developing nations consume relatively larger portions of oil to power their economies compared to those in the West, oil prices are especially sensitive to conditions in these regions. OPEC recently cut its oil demand forecast by 50,000 bpd due to worries about weak growth in China and Latin America. If demand continues to slow, producers won't be able to push prices higher simply by lowering output, which seems to be the narrative surrounding SLB.
Schlumberger is a great company, and the firms innovative prowess will make it a key partner for customers going forward as they will demand more technologically advanced equipment. However, SLB is extremely expensive, and the high valuation is not supported by business fundamentals, which have deteriorated. Supply may be nearing a bottom, but oil demand is more likely to get worse before it improves. Thus, despite the recent capacity cuts, we don't think SLB's customers will begin ramping up production anytime soon.
Disclosure: I/we have no positions in any stocks mentioned, and no plans to initiate any positions within the next 72 hours.
I wrote this article myself, and it expresses my own opinions. I am not receiving compensation for it (other than from Seeking Alpha). I have no business relationship with any company whose stock is mentioned in this article.