The I-Shares Biotech ETF (NASDAQ:IBB) remains one of the most popular ways to invest in the biotech industry. An investment in the ETF offers broad exposure to the industry without single company risk. In the first part of a series, I will discuss the investment case for Regeneron Pharmaceuticals (NASDAQ:REGN).
IBB Holdings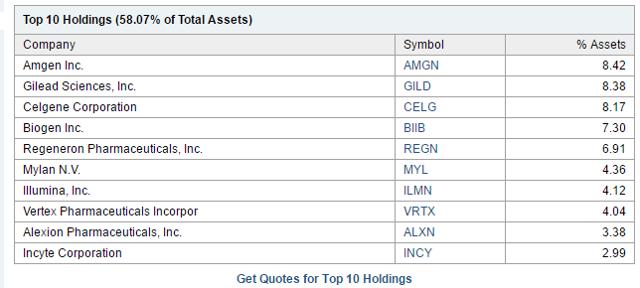 The above table illustrates the top ten holdings of the IBB. The focus of this series is the top five holdings as they will account for a significant portion of the move in the IBB.
Regeneron Pharmaceuticals
In my view, REGN remains the class of the industry with the most promising late-stage pipeline that will drive future growth. The strength of the pipeline is one of the key factors that needs to be evaluated when investing in the biotech space. The patent protection that confers monopoly-like margins remains in place for a short period, thus ensuring a windfall for the patent holder to bring about innovative products to treat the various ailments afflicting humans the world over. The health and progress of the pipeline require constant monitoring as a late stage failure will often torpedo the share price. A recent example is Clovis Oncology (NASDAQ:CLVS) drop from $100 per share to $14 as data from its lead product thoroughly underwhelmed.
Lead Product
REGN's lead marketed product is Eylea, a treatment for advanced wet age-related macular degeneration. Eylea continues to gain share as sales continue to ramp at a rapid pace. REGN retains control of US sales via its partnership with Bayer (OTCPK:BAYRY), and my analysis will focus on US sales only. US sales of Eylea continue to compound at an aggressive clip jumping from $1.7 billion in 2014 to $2.67 billion in 2015 with 2016 sales expected to exceed $3.5 billion. The stunning growth of Eylea allowed REGN to post non-GAAP earnings of $12 per share in 2015 on a fully diluted basis. REGN clearly falls into the camp of a high growth entity yet with real earnings unlike many of the growthier more speculative names in the biotech sector.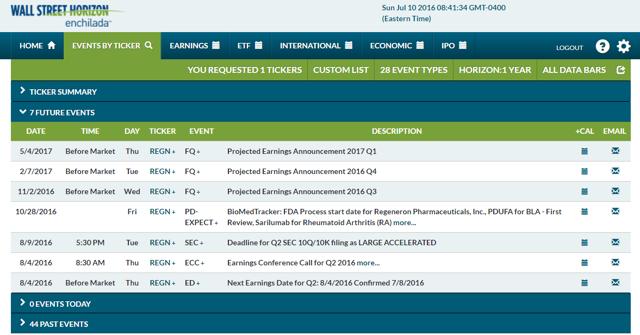 Chart courtesy of Wall Street Horizon, a fantastic app for tracking future corporate events or on Twitter @WallStreetHorizon
Pipeline
Sarilumab- REGN is entering into the crowded space to treat rheumatoid arthritis with Sarilumab. As shown in the chart above, Sarilumab is expected to be approved by the FDA with a PDUFA date set for 10/28/2016. REGN, in a similar move to its Eylea strategy, has partnered with a major pharma entity to promote the product. In this case, the partner is Sanofi (NYSE:SNY) a heavyweight in the industry with an extensive sales force. The use of SNY sales force is a masterstroke by the management team at REGN. The time and cost to build a team from scratch would have diverted funds and attention from finding additional innovative molecules. By partnering with SNY, the marketing will be aptly handled by their existing sales force with long-standing relationships with practitioners. These relationships do not form overnight; it takes time. REGN cut to the front of the line by splitting revenue with SNY.
REGN's executive team, knowing full well the field is crowded, needed to perform an outcomes trial to pit Sarilumab head to head with the industry standard Adalimumab - Abbvie's (NYSE:ABBV) lead pipeline product, marketed under the trade name of Humira. Sarilumab demonstrated statistically significant improvement over the results posted with Humira a key selling point that will be used to garner favorable formulary placement.
Do not underestimate the importance of these data. For the PBM industry - made up of names such as CVS Health Caremark division (NYSE:CVS), Express Scripts (NASDAQ:ESRX) and the Optum division of United Healthcare (NYSE:UNH) - the primary reason for existence is to control healthcare costs. One of the methods employed is through the restricted formulary where certain high dollar treatments are excluded from the formulary. Depending on the pricing and rebate model used by REGN/SNY a viable case can be made that they will attempt to steal market share aggressively from ABBV. The viable possibility of this scenario unfolding coupled with various patent challenges led to the sale of ABBV from my portfolio as detailed here.
Dupilumab- The crown jewel of REGN near term pipeline. Dupilumab is widely expected to be brought to market next year for the treatment of atopic dermatitis. Thus far, the data remain compelling with the recent Chronos trial (52 weeks) posting similar results with the shorter term SOLO trials. My key takeaway is discontinuation coming in at 15% for those treated with Dupilumab versus the control arms 35%. The main side effect noticed is conjunctivitis, a common ailment afflicting those with atopic dermatitis.
For the investor in shares of REGN, Dupilumab is a verifiable home run. REGN is nearing completion of a proven clinically effective product to treat an ailment with a dearth of clinical options. I expect Dupilumab to serve as the second pillar after Eylea that drives REGN share price higher as the decade progress.
REGN wisely chose to partner with SNY to market Dupilumab, as shown in the slide below taken from the recent general meeting held by SNY. The chart is courtesy of the Sentieo research platform.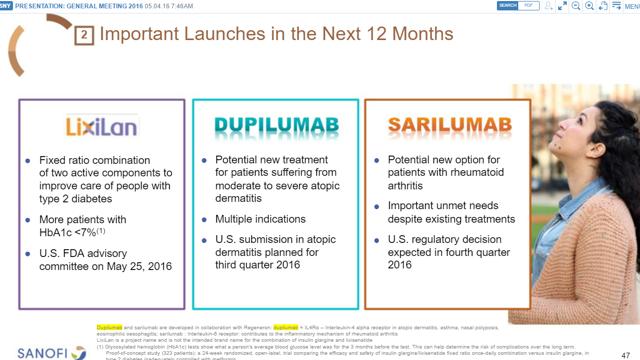 Praluent- Sales continue to underwhelm here as a lack of outcomes data severely impacts the total addressable market for Praluent and its chief competitor Repatha sold by Amgen (NASDAQ:AMGN). To complicate matters further, AMGN is seeking the removal of Praluent from the market claiming REGN/SNY infringed on one of its patents. While I am far from a legal expert, my opinion here is AMGN will be awarded a royalty with Praluent remaining on the market. My reason revolves around what is best for the overall healthcare market with the US government the largest payer of healthcare services. The annual price tag for the treatment exceeds 1k a month before discounts, a heavy burden for the healthcare system. With little to distinguish the two products as far as clinical efficiency, the marketplace would be best served with two viable competitors competing for their place on the national formularies.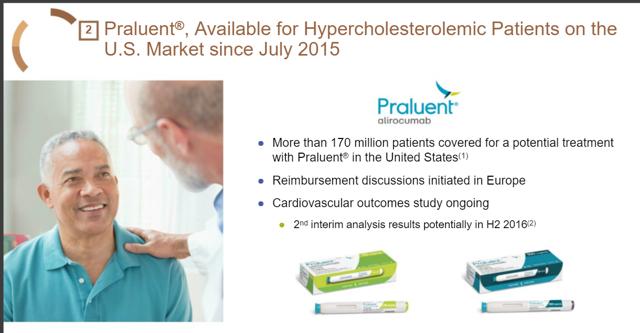 As shown in the slide above, hope springs eternal that the product class will gain traction. My suspicion is until the cardiovascular outcomes data are available and thoroughly vetted, the class will underwhelm sales expectations.
My Take
Of the top five holdings in the IBB, REGN offers the greatest potential for share price advance over the next two years. My price target for REGN is $637 as discussed in depth in a recent posting that can be seen here. I am long the shares of REGN with an entry price of $375 per share; the shares will be held for an extended period to allow the burgeoning pipeline to come to fruition. I would like to thank you for reading; I look forward to your comments.
Investors are always reminded that before making any investment, you should do your own proper due diligence on any name directly or indirectly mentioned in this article. Investors should also consider seeking advice from a broker or financial adviser before making any investment decisions. Any material in this article should be considered general information, and not relied on as a formal investment recommendation
Disclosure: I am/we are long REGN.
I wrote this article myself, and it expresses my own opinions. I am not receiving compensation for it (other than from Seeking Alpha). I have no business relationship with any company whose stock is mentioned in this article.
Editor's Note: This article discusses one or more securities that do not trade on a major U.S. exchange. Please be aware of the risks associated with these stocks.