Friday's jobs report showed upside to economic forecasts. That should be the type of report that sees investors toss out all safety hedges like gold (NYSEARCA:GLD). Gold went higher, yet again, no matter what. Gold gets the official, "No matter what" rating.
Let's start with a gold chart. Here's gold.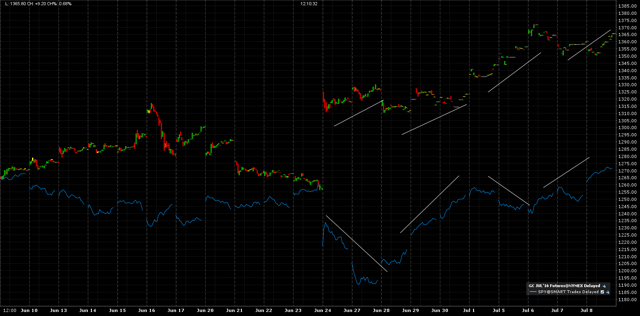 Gold is in red and green and the S&P 500 ETF (NYSEARCA:SPY) is in blue. Whether SPY went up or down gold continued to charge higher. We love this chart. We love how gold is acting. Love.
We went bullish on gold just ahead of Brexit (June 20th). On July 5th we wrote about it again because we were just so impressed with its "up in any market" action. It continues. That is something very special.
Friday's News Good For Gold? Not really, up anyway.
A good economic number should be good for gold but we would have expected it to sell off. We would have thought there would be imminent expectations for a rate hike.
The Wall Street Journal, known to be a spokesperson for the Fed said a rate hike was on the table for "September."
Higher Fed rates should be bad for inflation and gold.
Looking at the bond market reaction it tells you that a rate hike would stall growth which is why bond yields continue to plummet.
This is the 10 year bond yield dropping to fresh new multi-year lows. That deserves the official "wow" rating, wouldn't you agree?

This tells that bonds interpret the jobs number as, "Yeah right." Bonds don't think the economy is strong and, if anything think further rate hikes will hurt the economy.
If anything the bond market participants think the world is closer to the end than the beginning.
Here's the yield spread.

If you want to do some crazy Elazar yield math, the spread is dropping by about 10bp each month. It's currently around 80 bps. In 8 months your yield curve will be at zero.
That is a historic sign for a recession not rip roaring growth and inflation scenarios.
Nonetheless, to our point, gold twinkle toed higher anyway ("twinkle toed higher anyway rating.").
That is impressive.
So Friday recap, RIPROARING JOBS which should be good for gold. What do bonds say? No way this economy is strong, not good for gold. Bonds are talking recession in 8 months. But gold is up anyway.
If you can't already tell, we are falling head over heels in love with gold for two main reasons:
1) The gold price action, up in every market, yum
2) The underlying gold story, yum.
We talked about the gold action above.
Let's talk about the underlying gold story giving us multiple ways to win. Did I say Yum.
(You can tell we like gold because we NEVER said Yum ever before in a post unless it was about ticker (NYSE:YUM) ... no relation.)
1) Economic risk good for gold
2) Global inflation picking up good for gold
3) Brexit, Grexit, Spxit, Italexit, EUexit, Everyonexit citizens tucking away gold
4) Japanese citizens selling the strong yen and buying gold (insider yen selling)
5) Countries buying gold
6) Gold the only answer for long-term leadership post QE1,2,3,...
1+2+3+4+5+6) People are worried out there. It's just a murmur from writers and analysts that the world is one match away from going ablaze, but the citizens feel it too. Countries feel it too and are buying gold.
Let's try to take it one by one.
Economic risk good for gold
But before we start we want to ask a question. Why is gold going up in up and down markets lately? Please let's ask this question for each gold point.
No matter what people say the trajectory for GDP is slowing globally. Please tell us no.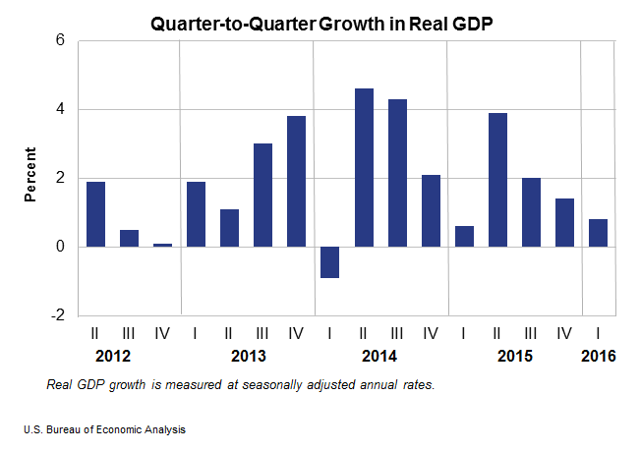 This is US GDP above.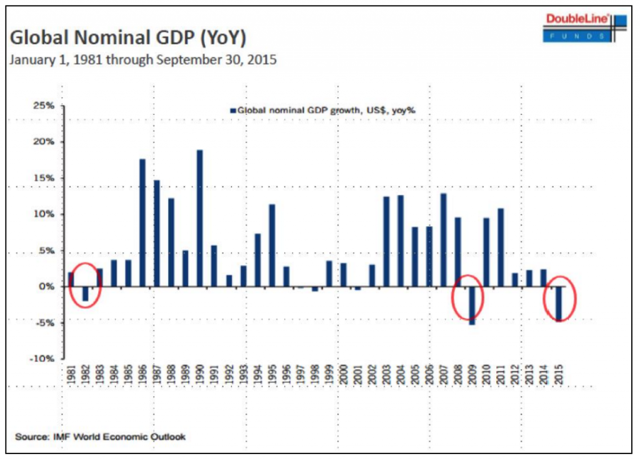 Citizens are feeling the pressure and reading the news. Worry about economic risk is building and reaching everyone.
Global inflation picking up good for gold
Why is gold going up in up and down markets lately?
The Fed blamed low productivity in their minutes for a key reason for slow economic growth. We think productivity is a function of the low labor participation rate which is a multi-year demographic issue.
Until core earners and spenders (50 year olds) start picking up as a percent of the population like they did in the '90s, productivity and investment are likely to fall.
Here's the birth chart.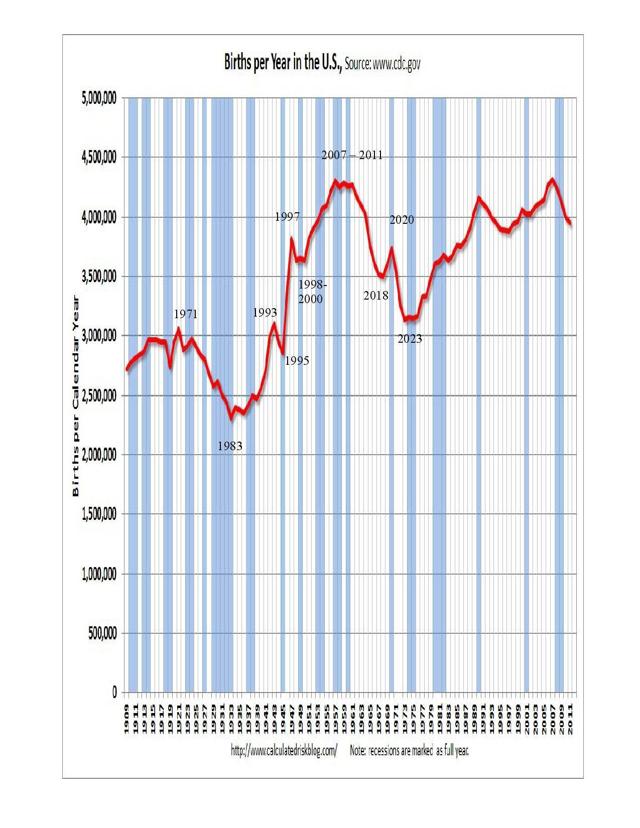 You can see that the '90s was a time of strong productivity. We think that 50 year olds (the numbers we added to the chart represent peaks and troughs of 50 year olds) were a key driver. But that's only if you buy into the uniquely complex Elazar theorem that people, get this, drive the economy.
That massive group of people have been declining since 2007 (hmm, what happened in 2008, hmm) and doesn't bottom until 2018 and again in 2023. (Stat guy commenters, here's your cue to tell us we don't know anything. We leave ourselves wide open.)
Why do we go through all this to talk about inflation?
Because of the Elazar formula we wrote about that Greenspan confirmed: Input + Productivity = Output.
Input we represent by the huge mounds of global QE spending sprees. Output is GDP which is slowing (charts above).
When productivity is negative or weak you see big I and low O, like today. What does it mean when you have to pay more input to get less output? Weak productivity OR, also called? INFLATION. That's right. Spending more for less is called low productivity but it's also called inflation. Imagine that.
The Fed talking about weak productivity is code-word for high inflation. Please donate a second to think about that one (again spend more get less = inflation).
We see a major multi-year cycle of inflation to come which is good for gold.
But Elazar everybody's talking about deflation aren't they?
We don't see it.
Here's some global charts showing global inflation. Tell me which way most major countries are going.
The US Inflation Picture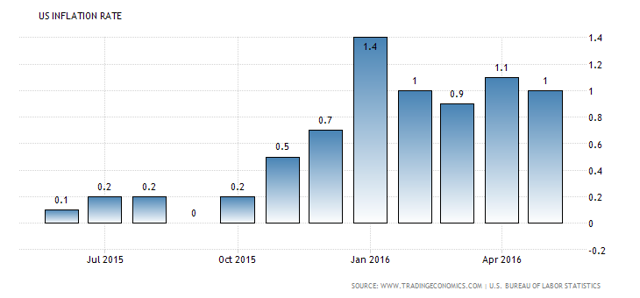 Hmmm. Inflation has picked up in recent months. The numbers above are annual. The numbers below show you the recent monthly upticks.
| | | | | | | | | | |
| --- | --- | --- | --- | --- | --- | --- | --- | --- | --- |
| | CPI | | | | | | | | |
| | Nov | Dec | Jan | Feb | Mar | Apr | May | 2 mo avg | Annualized |
| Topline | 0.1 | -0.1 | 0 | -0.2 | 0.1 | 0.4 | 0.2 | 0.3 | 3.6 |
| Core | 0.2 | 0.2 | 0.3 | 0.3 | 0.1 | 0.2 | 0.2 | 0.2 | 2.4 |
Europe Inflation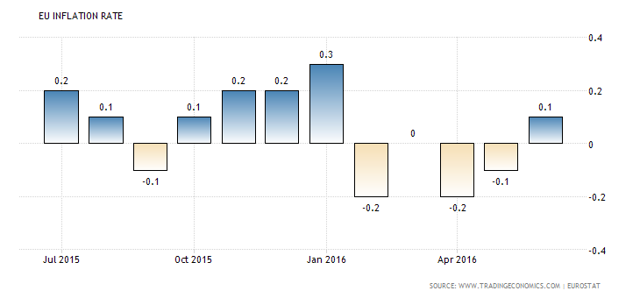 European inflation is in a short-term uptrend. We think the added easing pre- and post-Brexit will add to this.
China Inflation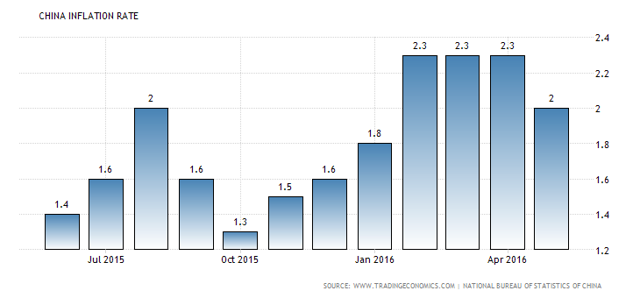 Inflation in China has also been in an uptrend this year versus last year. Wasn't there a big overcapacity story here? We don't see it in their inflation numbers.
Also, keep in mind that this inflation pick-up is in the face of slowing growth. We have a general theme that slowing growth means inflation (as we've written).
Japan, finally, someone with deflation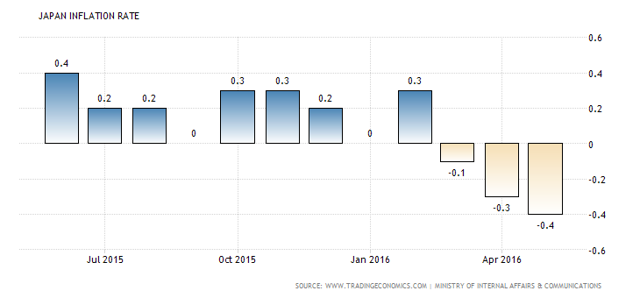 Japan deflation could get worse as imports get cheaper with their strong yen (NYSEARCA:FXY). Of all the countries we reviewed we saw deflation in Japan, Spain and Italy. The rest we see inflation.
Here's Germany's inflation picture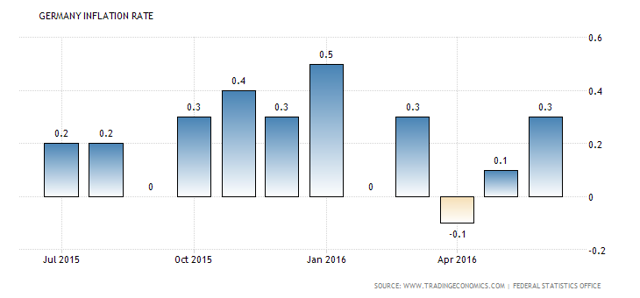 German inflation is picking up over the last two months. Let's see what happens next.
UK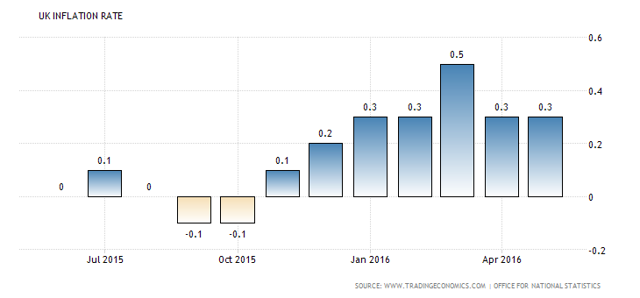 Deflation debunked?
Gold is a store of value in inflationary times. The price generally rises as investors exit their own currency expecting it to weaken.
Given the huge amounts of global liquidity we expect inflation to be strong, currencies to be weak and we think gold buyers, both professional or for safe-keeping, are correct.
Our TINA Rating (Must Read Short 1 Section Diatribe time)
There really is no alternative for inflation except gold.
By the way, we've heard this term TINA going around (T-here I-s N-o A-lternative so buy 1% 50 year bonds from Deutsche Bank. Tons of risk, but what the heck there's nothing else.)
We don't buy it. The only Tina we know is Tina Turner and our Tina Turner Rating says to buy.... what? everybody? G-O-L-D.
She knows gold, over 10 albums and songs that went WHAT?
GOLD! She loves GOLD!!!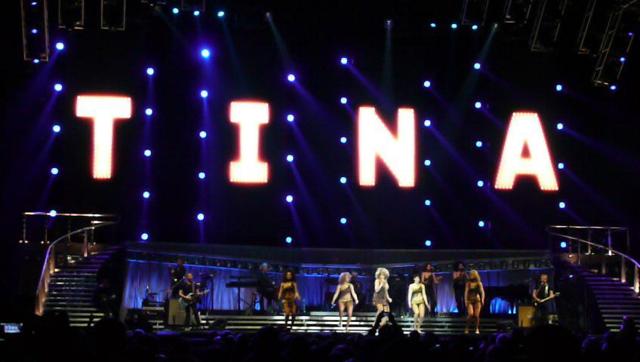 Here's the lyrics...
Private dancer, dancer for (money's not worth anything any more) Gold!
Do what you want me to do! Buy gold.
Now we can continue with the regularly scheduled report (sorry about that, echem echem).
Brexit, Grexit, Spxit, Italexit, ECBxit citizens tucking away gold
Why is gold going up in up and down markets lately?
This article showed that Google searches for gold were up 500 percent during the Brexit decision.
We think people are smart and want to protect what they have.
The IMF said Deutsche Bank is the riskiest bank in the world. It is the fourth largest bank in Europe according to statista.
Not only do we have the amazing theorem that people drive the economy (wow Elazar amazing) but we also have a theorem that people are generally smart.
There is a lot of confusion in the world and people are protecting themselves.
Japanese citizens selling the strong yen and buying gold (insider yen selling)
Why is gold going up in up and down markets lately?
What's been the strongest currency in the world? The yen, right? You would think Japanese insiders, their citizens would be leading the charge. Nope. They are selling yen to buy gold. (Simple transaction).
Amazing chart.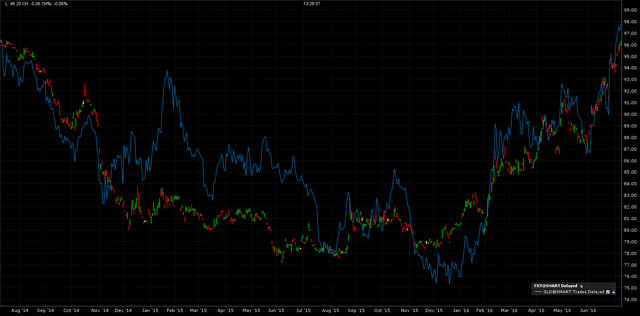 We love this chart. Red and green is yen versus the gold ETF. They are almost precisely trading in unison.
So the entire world is buying yen.
But what are yen "insiders" buying.
They are buying gold.
That is an incredible statement for gold.
Countries buying gold
Why is gold going up in up and down markets lately?
Major countries have been buying gold, specifically China of late. If you don't have oil, gold is good too.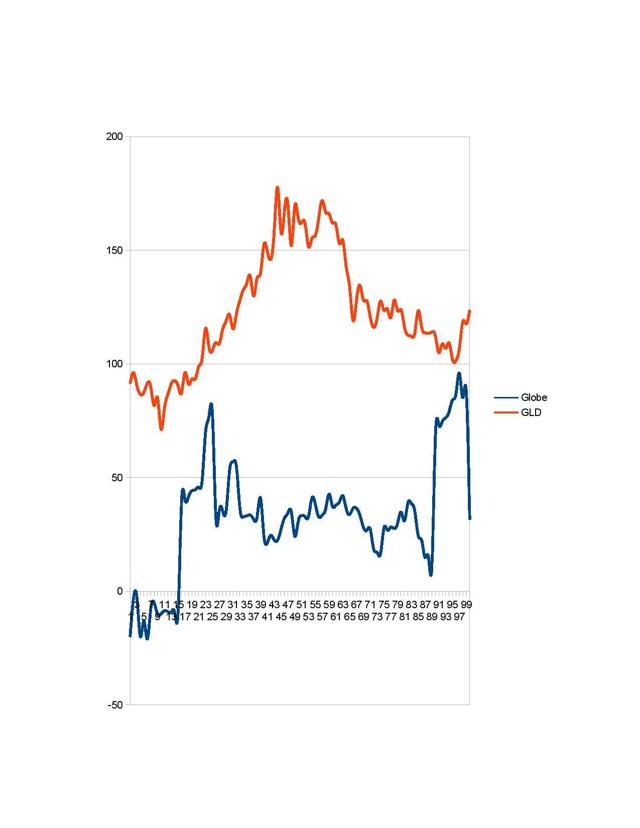 This chart (above) shows major countries buying gold (in blue). The first jump is the pickup in global gold buying led by China. Gold price followed through on a multi-year tear.
The recent jump was also China. We think it can drive another multi-year tear.
Gold the only answer for long term leadership post QE1,2,3,...
Why is gold going up in up and down markets lately?
We expect more countries have to buy gold (like China above) especially to compete longer term. Fiat currencies are a country's risk because they aren't backed by anything ("worth the paper they are printed on" rating).
We expect at some point countries figure it out.
While they can get away with it we expect them to print away and take a portion of that newly printed money to buy hard assets like gold. Novel concept but makes all the sense in the world. We expect countries to (maybe read this) and catch on.
Conclusion
We were impressed by gold's "up anyway" price action. We've fallen in love. We think there are multiple underlying drivers including inflation, citizen concern, risk, country buying, to name a few.
We think it can work as a good returning investment in good or bad markets.
Good luck and be safe.
If you want Elazar's analysis on Seeking Alpha, scroll to the top of the article and hit "Follow." Elazar also writes real-time pieces as news is reported. If you want to be among the first updated check the box for "Real-time alerts on this author" under "Follow."
See more from Elazar Advisors, LLC on SA
Disclaimer: All investments have many risks and can lose principal in the short and long term. This article is for information purposes only. By reading this you agree, understand and accept that you take upon yourself all responsibility for all of your investment decisions and to do your own work and hold Chaim Siegel, Elazar Advisors, LLC, bestideas, their related parties, and its authors harmless.
Disclosure: I/we have no positions in any stocks mentioned, but may initiate a short position in S&P 500 FUTURES over the next 72 hours.
I wrote this article myself, and it expresses my own opinions. I am not receiving compensation for it (other than from Seeking Alpha). I have no business relationship with any company whose stock is mentioned in this article.