On May 26th there was an article written by Bob Ciura titled "Now Is Not The Time To Buy Utility Stocks." The main premises of the article were that Consolidated Edison Inc. (ConEd) (NYSE:ED) is expensive and yields are set to go higher which would increase the cost of capital and make investors balk at its 3.7% dividend yield. Since that short time ConEd stock is up 10.5%. What happened to cause ConEd to skyrocket? Yields have plummeted lower with the U.S. 10-year bond yield hitting an all-time low.
Investing in utilities like ConEd is all about understanding the macro environment because they are stable businesses which are reliable. A rookie investor would think a consistent firm wouldn't be risky, but because of wild swings in the macro environment traders get in and out of these stocks causing them to be risky if you buy at the wrong time. Calling ConEd expensive is obviously true as its P/E is 20 and its earnings growth rate for 2016 is -1.45%. However, expensive stocks don't become cheap just because they are expensive. There has to be a catalyst which changes the dynamic of the investor's decision making process. If not, there will be no change.
In essence, ConEd is an equity version of long-term bonds. Unlike Bob Ciura, I am bullish on long-term bonds. It is simplistic and wrong to say that bond yields can't go lower because they are the lowest in recorded history. The argument that bond yields must go up, is great for the classroom, but a losing trade for those who do not have an endless time frame. If the ingredients for yields going lower remain in place, they will not go higher because they are expensive.
The scenario of low rates and a higher price for ConEd stock is one of easy central bank policies, combined with slow growth and a high amount of global uncertainty. It's a perfect situation for ConEd because we are in a weird time period where both long-term bonds and stocks are being bought which provides a dual tailwind for the stock. Usually they wouldn't work in tandem as yields and stocks usually go lower in a "risk off environment."
Easy Central Banks
The part about dovish central bank policies has to be the easiest call to make as all the central bankers are telling the world they will do "whatever it takes." With the weakness surrounding the Italian banking system, the ECB will pursue more easy policies. I will explain more about this in the uncertainties section of this article. Japan has been the leader of the pack with this policy as it has even started buying equities. Even with the yen rising and the Nikkei falling, the JCB is still going through with negative interest rates even though this is the exact opposite of what is supposed to happen. This proves the JCB is highly dedicated to this policy and will not change.
As you can see from the chart below, the Fed is not even expected to raise rates by June of 2017. This is after a payrolls number that was better than expected. There is an argument that the Fed should raise rates because there are unintended consequences such as misallocation of capital caused by these policies, but this doesn't matter to your decision-making. As long as these policies continue, you have to stick with what is working and own ConEd.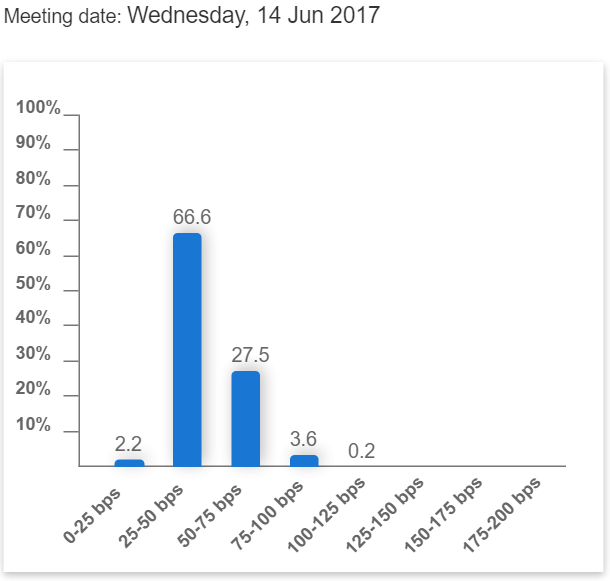 Slowing Growth
The second part of this lower yield and higher prices for utility stocks is slowing growth. As you can see, the emerging economies have been crashing and the developed economies have remained stagnant. There has been a trend towards lowering 2016 growth expectations, so this could be the worst year on the chart.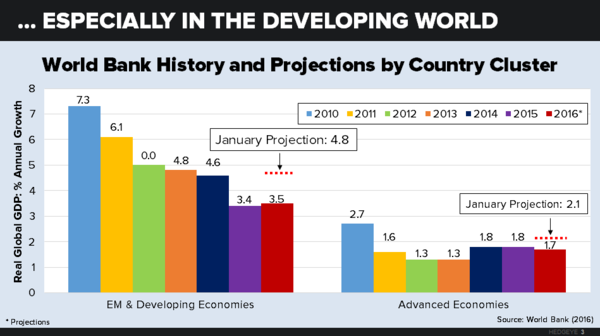 Looking at the American economy, the two major drivers of growth are credit and productivity. Credit creates the business cycle and allows for the economy to gyrate around its long-term growth rate which is the amount of productivity growth. According to the survey below the Federal Reserve Bank took in April, the commercial and industrial loan standards have been tightening somewhat which signals a recession is coming. This would mean our economy would grow less than what productivity is growing at.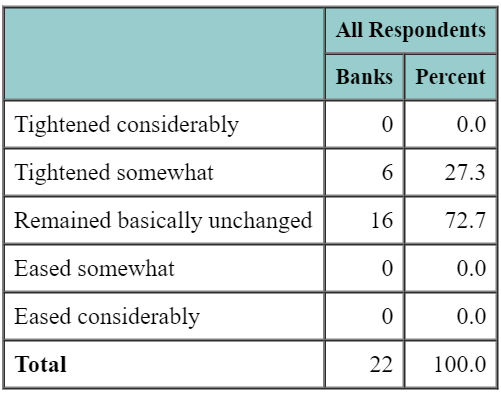 The chart below shows productivity growth crashing over the past 5 years which means our long-term growth potential is significantly lower than in years past. This means growth will likely not move higher than where it has been, even if the economy doesn't fall into a recession.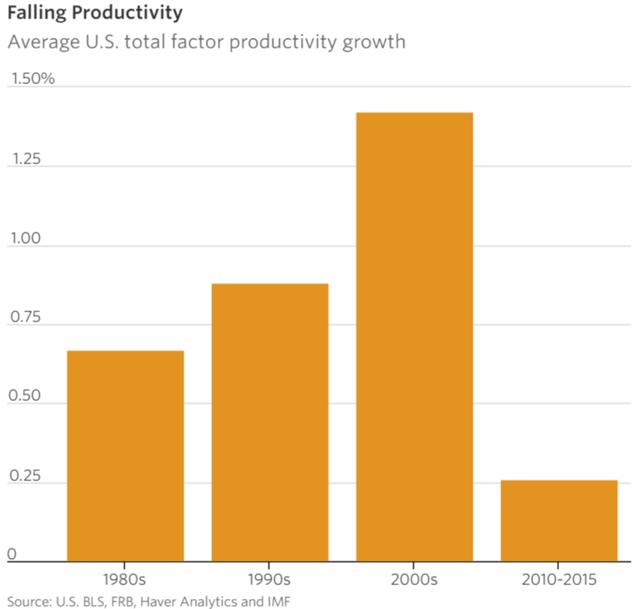 Uncertainty
The final portion is uncertainty. It is easy to see uncertainty throughout the global economy, but I'm most focused on Europe. Both Deutsche Bank (NYSE:DB) and Credit Suisse (NYSE:CS) stock are at all-time lows which signals a potential banking crisis. Deutsche Bank has $75 trillion in derivatives bets. They aren't even the worst of the bunch. The worst problem is the Italian banking system, as 17% of their loans have gone bad which is 3X worse than what American banks faced in the 2008 crisis. When this is combined with the rules forcing a bail-in over a bail-out, we have a problem because 30% of Italian banks' bonds are held by the Italian people. If they are forced to take a haircut, the Italian people will lose their savings. This could have a negative contagion effect on the already weak Deutsche Bank and Credit Suisse.
Conclusion
Projections for the demise of ConEd stock because of it being expensive ignore the macro economy. If you are looking to hold ConEd for 10 years, then its valuation may matter, but if you have a perspective of less than 2 years, you have to stick with the stock because all the ingredients still remain in place for it to go higher. We have low bond yields, a strong stock market, slow growth, high uncertainty and easy central banks which all are positives for ConEd stock.
The biggest risk to ConEd stock would be if the American economy falls into a recession or if the European uncertainties play out. These factors would cause the stock market to fall which would push ConEd down. Currently we are in a zombie economy as risk is high and growth is stagnating. This is perfect for ConEd. If the situation changes, then you have to change your position. I think there is a higher likelihood of the economy weakening than strengthening, which is why I named it the biggest risk to this thesis. Because ConEd is a safety stock, it would still do better than most stocks in this environment.
Disclosure: I/we have no positions in any stocks mentioned, and no plans to initiate any positions within the next 72 hours.
I wrote this article myself, and it expresses my own opinions. I am not receiving compensation for it. I have no business relationship with any company whose stock is mentioned in this article.