The June jobs report offered « good news » on the U.S. economy (+287,000 job creations, over 100,000 jobs more than expected by economists), which also proved to be « good news » for the equity markets. This good news/good news combination is worth noting, as good economic news has tended to be negative for both equities and bonds over the past few years. Investors have indeed been conditioned by the Federal Reserve to interpret bad economic news as "good news" for equities. Good news for equities because Fed-gaming investors of course welcome bad news as the "data dependent" Fed is increasingly unlikely to remove monetary policy stimulus until all macroeconomic data points turn consistently positive. In this context of monetary stimulus during an economic expansion, all asset classes have been rising in unison. Friday's session after the June jobs announcement highlighted this unusual phenomena: risk assets surged (S&P 500 up +1.5% ; West Texas up +0.60%, Emerging Market equities up + 2.16%) while safe-haven asset also advanced (U.S. long bond ETF, TLT, up +0.74% ; Gold up +0.44%).
The top chart below shows a weekly chart of the S&P 500 (NYSEARCA:SPY), while the bottom chart shows the weekly perpetual 30-year Treasury bond (NYSEARCA:TLT). Currently both assets are hitting historic highs together. And valuations for each asset class are equally unattractive, as we discussed in Equities Or Bonds? Where To Turn Now?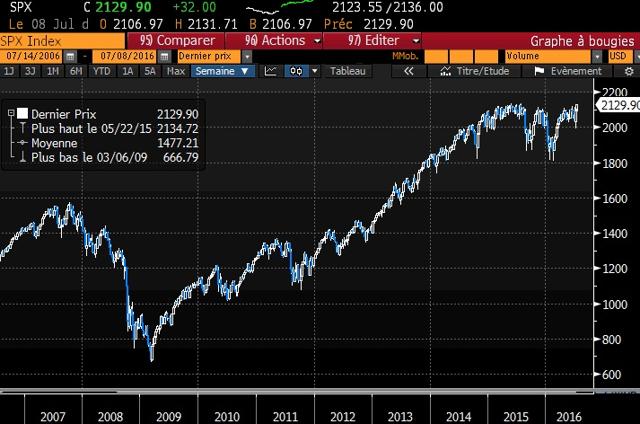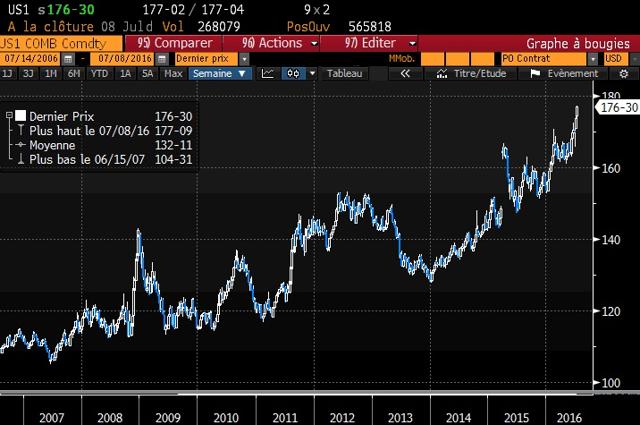 However, Treasuries have historically been negatively correlated to the S&P 500, and importantly, at major market inflexion points, the two assets have tended to been near polar opposites (one making a trough while the other makes a peak). We highlight the peaks and troughs on Treasury bonds and the S&P 500 since 1980 on the next three charts (the yellow lines show the 30-year T-bond, the white lines show the S&P 500).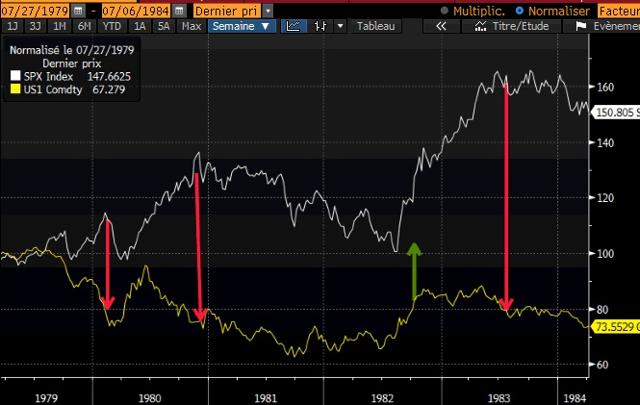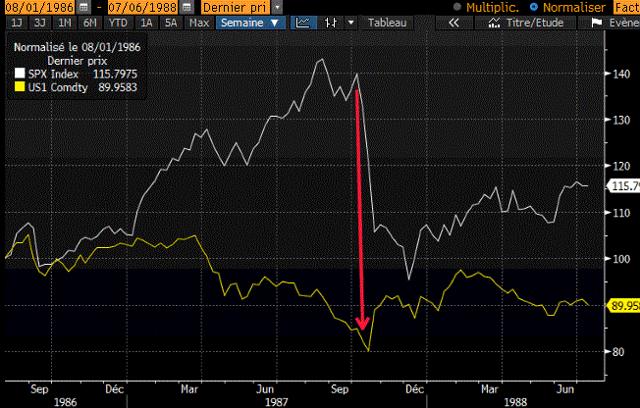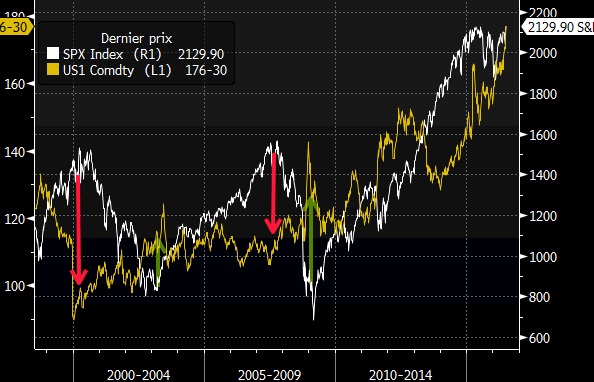 Today, the two assets are charging, together, to new highs. This is bothering (as least for us), because the two assets express opposite opinions of investors on the health of the economy and outlook for firm profits. Indeed, the bond market and equity market are sending mixed messages today. Of course we know that the screwy Fed policy is playing a large role in BOTH the interest rate market and the equity market, suppressing yields in the bond market and juicing the equity market with excess liquidity. The current behaviour of rate markets and equity markets does not reflect market forces, does not represent some "new normal", and is not sustainable. In the end, market forces will prevail, as always, even if the Federal Reserve attempts to maintain current market disequilibria indefinitely. Do not expect Treasuries and equities to continue to make new highs together much longer. At least one of these two assets is due to fall, and perhaps both assets will need to fall, as no one can predict the fallout from a never before seen eight years of zero interest rate policy (ZIRP) and four rounds of quantitative easing (QE). For both equity investors and bond investors, the level of risk on financial markets has rarely been higher. Either equity investors or bond investors are wrong today, and we expect this market anomaly to be resolved in a matter of weeks, not months. Caveat emptor !
Disclosure: I/we have no positions in any stocks mentioned, and no plans to initiate any positions within the next 72 hours.
I wrote this article myself, and it expresses my own opinions. I am not receiving compensation for it (other than from Seeking Alpha). I have no business relationship with any company whose stock is mentioned in this article.