When the future of a company looks bleak (eg. declining revenue, decreasing EPS), the "normal" market reaction is a prolonged decline in share price. This can be seen below share price chart of Michael Kors Holdings (NYSE: KORS).
Michael Kors Holdings 5-years stock price

Within 2 years, KORS has crashed through the PE 20 barrier, reaching the current PE of 10.72. That said, Michael Kors Holdings doesn't seem to be alone. Luxury goods providers, such as Ralph Lauren Corporation (NYSE: RL), Coach Inc. (NYSE: COH) and LVMH Moët Hennessy Louis Vuitton SE (EURONEXT: MC) have also seen a decline in stock price.
Ralph Lauren Corporation 5-years stock price

Coach Inc. 5-years stock price

LVMH Moët Hennessy Louis Vuitton SE 5-years stock price

Hermès International S.A (Euronext: RMS) is the only company that has not seen a decline in its stock price.
Hermès International S.A 5-year stock price

What's wrong with Michael Kors?
Among the various brands mentioned above, KORS is the only brand that has seen its stock price plunge below PE 15, which traditionally is an indication of an undervalued stock.
Bur is there something wrong with KORS? What went so badly for KORS to deserve such a huge drop?
In the luxury goods industry, there is no clear perimeter to gauge if a product from one company is better than the other. It is a cyclical industry that moves in an unclear cycle: the fashion trend.
The brand, and the ability to reduce costs, therefore becomes very important to luxury goods providers. The brands of the above-mentioned companies are unquestionable; they are all world-renowned luxury brands.
The chart below shows the operating income of KORS and its competitors, in millions of USD, for the past 3 years.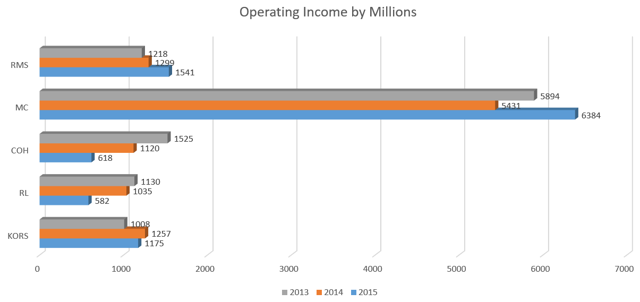 Looking at the operating income of all the companies, we can see that all 3 American luxury brands posted a decrease in operating income in the last year, with RL and COH's operating incomes decreasing by 43.7% and 44.8%, respectively. KORS's operating income decreased by 6.5% within a year. It is worth mentioning that, among the 3 American brands, KORS is the only one that increased its operating income in the year prior to that.
The chart below shows the latest gross margin and operating margin of KORS and competitors.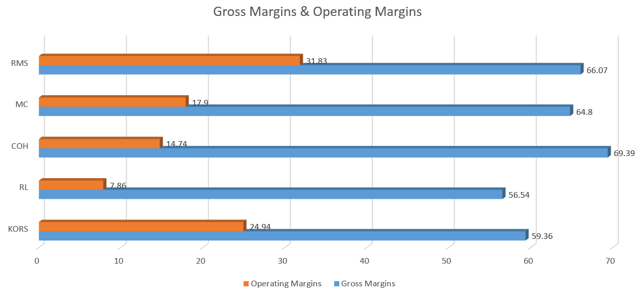 Looking at the high gross margins of all 5 companies, we can see that as individual brands, each is are strong enough to stand on its own, which justifies their prestige.
The next margin, operating margin, we can see that KORS's operating margin of 24.94% is the second highest, behind that of Hermes. This shows that, industry-wise, KORS is actually doing a good job in generating income.
Below shows the latest return on assets (ROA), return of equity (ROE) and return on invested capital of the 5 companies.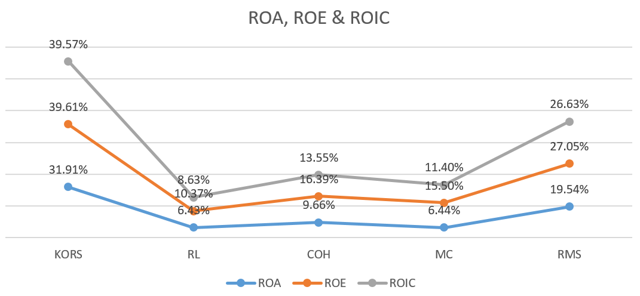 From the graphs above, we can see that within the 5 companies, KORS is a standout performer. The numbers show us 3 things:
A management that is good at utilising their assets to efficiently generate profits. A management that has shareholders' interest in mind and is efficiently returning capital to shareholders. A management that is wise and prudent in putting capital into use resulting in high returns in invested capital.
The debt to equity ratio of KORS stands at zero.
KORS has also been engaging in share repurchasing.
All of these factors points to a fundamentally sound company and they does not justify a prolong decline in stock price.
Mr. Market
I believe the "reason" for KORS's stock price plunging: The company has been visited by Mr. Market, who, like a carpenter, has taken a hammer and hammered down KORS's share price.
Will Mr. Market doom KORS?
I believe not, because KORS has a moat. Despite a visit from irrational Mr. Market, the moat will protect the company.
A Buy
Current ratios signify a buy with KORS shares trading at a trailing PE ratio of 10.72. EPS has increased by 68.18% over the last five years. Using Peter Lynch's PEG ratio, KORS's current PEG is 0.21.
Although I am unsure that KORS can expand by another 68.18% for the next 5 years, I believe that at current trading price, investors will be buying KORS shares with a huge margin of safety.
Conclusion
Michael Kors Holdings stock has been heavily bashed down over the past year. Dropping the most among industry peers, it makes me wonder what went wrong with this luxury brand. A look at their balance sheets shows me a financially healthy company that will be able to tide the seas of a recession. Management is efficient, digging out huge returns on assets, invested capital, and shareholders' equity.
There is little reason to blame a decrease in share prices on the company itself. Therefore, the drop could be due to market sentiment. Whatever the reason, current price shows a good business available for purchase at a great price.
Disclosure: I/we have no positions in any stocks mentioned, and no plans to initiate any positions within the next 72 hours.
I wrote this article myself, and it expresses my own opinions. I am not receiving compensation for it (other than from Seeking Alpha). I have no business relationship with any company whose stock is mentioned in this article.