American Airlines (NASDAQ:AAL) shares have fallen substantially from their March 2015 highs of over $56 per share, recently trading at an intraday low of $24.85 on June 27, 2016, with a corresponding price to earnings ratio ("P/E") of 2.28 (twelve months trailing "ttm"). That's a price drop of about 55% (including dividend adjustments). Although such shares have bounced higher since then, closing at $30.02 on July 8, 2016, and a corresponding P/E ratio of 2.69 ttm, are such valuations still very cheap and indicative of a buying opportunity?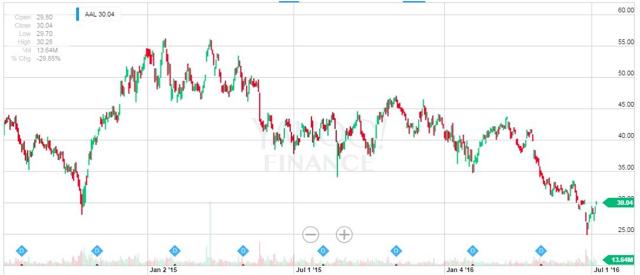 American Airlines 2-year stock price - Source: Yahoo Finance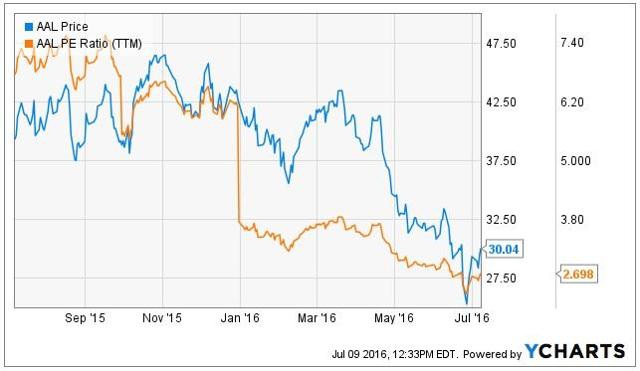 American Airlines 1-year stock price vs. P/E ratio (TTM) - Source: Y-Charts
Valuation
For the past 13 years, American Airlines shares have traded with a median P/E ratio ttm of about 6.46. With analysts' earnings estimates of $5.30 per share for both the years ending in 2016 and 2017, American Airlines shares are actually currently reflecting a forward P/E ratio of 5.67 for both years. However it should also be noted that during such period, American Airlines sustained several quarters of negative earnings, hence clouding the meaning of such results, as well as AMR Corp.'s bankruptcy (AMR was American Airlines' parent prior to 2011-13 bankruptcy) and subsequent merger with U.S. Airways to form today's AAL (AMR shareholders ended up receiving about 0.744 shares of AAL for every AMR share they owned).
Despite the 55% drop in the price of American Airlines shares, as well as a very low P/E ratio ttm, and a forward P/E ratio below the 13-year median, when examining American Airlines shares performance from a longer term perspective, current valuations are not as cheap as they look. As per below chart going back several decades, and assuming Y-Charts performed the proper conversions between AMR, U.S. Airways and AAL, it is evident that peak stock performance is often short lived.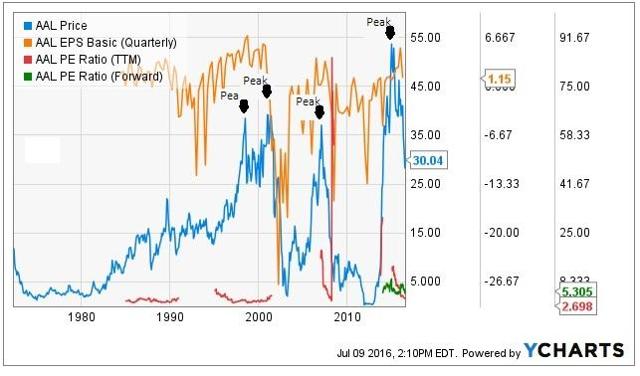 American Airlines long term stock price, earnings per share, P/E ttm and forward P/E - Source: Y-Charts
Fuel Costs
Naturally, there has been a major structural shift in the way airlines operate during the past several decades. Furthermore, industry consolidation has somewhat reduced competitive factors. Nevertheless, a major cost component continues to be fuel costs (which typically accounts for about 30% of an airline's costs). Traditionally, for an airline such as American Airlines, which does not engage in much hedging for its fuel costs, one would expect profitability to increase substantially during a sell-off in energy prices.
Although American Airlines has benefited from lower fuel prices, saving as much as $5 billion in fuel costs in 2015, such benefit has proven short lived for its stock price, and somewhat over-speculative in magnitude. Fuel savings were overshadowed as American Airlines witnessed a 5.4% drop in passenger revenue per available seat mile for 2015, and are expected to drop by 6% to 8% in Q2 2016.
As per below chart, although AAL shares appreciated during oil prices' initial decline going into March 2015, such appreciation in AAL shares stalled during the second half of 2015, and while oil prices continued moving lower thereafter, AAL stock depreciated in tandem with oil prices. Such depreciation in AAL shares accelerated most recently during first half of 2016, as oil prices stabilized and started moving higher again.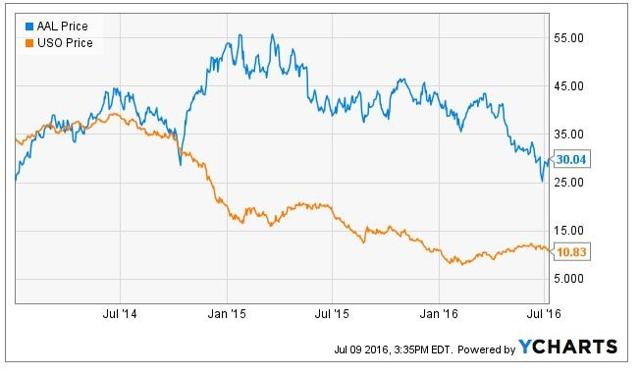 American Airlines stock price vs. United States Oil Fund "USO" - Source: Y-Charts
With analysts most recently expecting oil prices to rise again and possibly hit $80 per barrel in 2017 as oil demand and supply come into balance, American Airlines shares could drop further as costs appreciate further from current levels. In case Brexit related events restrict future oil price appreciation, then related slowing economic factors would curtail demand for American Airlines' services, hence further pressuring passenger revenue per available seat mile.
In a worst case scenario, American Airlines could face slowing demand, and increasing oil prices. From a macro perspective, we expect the US Dollar to continue appreciating due to Brexit jitters, hence further depreciating AAL's international revenues. The strong dollar has already been attributed to undermining AAL's international revenues and squeezing its margins during the last reported quarter.
Share buybacks
It is estimated that American Airlines has returned as much as $6.6 billion to shareholders through dividends and share buybacks from mid-2014 to Q1 2016. Despite doing so, as per chart at top of this article, AAL's stock price today is lower than it was in mid-2014. Hence, although AAL is expected to engage in another $2 billion share buyback through end of 2017, we do not expect such buybacks will provide much support. As a matter of a fact, such buybacks will be at slower pace than during the past two years... In case macro headwinds challenge AAL, along with a strong dollar and rising oil prices, we would not be surprised if such buybacks end up being curtailed in the future.
Conclusion
Despite American Airlines having a very low P/E ttm ratio of about 2.69, and a forward P/E ratio of about 5.67, the shares are hardly a screaming buy. On the contrary, we would favor selling American Airlines. Such outlook is driven by our expectations for a stronger dollar, macro headwinds which could stall demand, potential for higher oil prices, slowing share buybacks, and a recognition that from a long term historical perspective, American Airlines shares often experience severe pullback from price peaks (which as per chart at top of article, could still have substantially more room to the downside when compared to prior pullbacks).
Disclosure: I/we have no positions in any stocks mentioned, and no plans to initiate any positions within the next 72 hours.
I wrote this article myself, and it expresses my own opinions. I am not receiving compensation for it (other than from Seeking Alpha). I have no business relationship with any company whose stock is mentioned in this article.