Bankruptcy risk is becoming a national narrative; regardless of sector but especially in energy and even more so especially in oil and natural gas. It seems that with each new day yet another major financial publication is updating us with speculative commentary on "who's next", which company is seeing its balance sheet weaken most, which company is the market showing a disdain for. Bankruptcy has become this year's financial McCarthyism.
But is bankruptcy really all that predictable? Is bankruptcy really that easy to spot? Sure, there are traditional identifiers of bankruptcy risk - such as high levels of leverage, precipitously falling revenues and/or EBITDA, an equity price plumbing the lows (for those that prefer to track technical metrics). But is the single most sophisticated area of finance - stressed equity - really this easy to silo into identification columns? We don't think it is.
But, in saying that, we also don't think that bankruptcy risk and bankruptcy itself - over time, when using a wide and diverse data-set, and when something of familiar with the mechanism of bankruptcy (both the technical and human aspect of it; the latter being much too complicated to explain within this short note) - are completely unpredictable. In fact, we would argue that tracking credit/equity health-data is the single easiest, most accurate, and most actionable way to track overall default/failure/bankruptcy probability. And while this isn't a statement that hasn't been reiterated time and time again across the financial academia it is one that we'd like to underline.
It's in this effort to help provide something of a structured, repeatable, scalable process for identifying bankruptcy risk that we present a "Part 5" of sorts to our 12-Month Default Probability presentation. We believe that now more than ever having a defined process for risk managing bankruptcy risk is paramount to capital preservation. In that, we'll try to have increased frequency of updates and increased engagement.
While we refuse to engage in the above stated "financial McCarthyism" we will continue to "undress" stressed equities via investor presentations for those that choose to follow our continuing series. In fact, since we started this public facing series our data-sets and analysis have yielded predictive bankruptcy ultimatums for: PennVirginia (PVA), Halcon ( HK), Ultra Petroleum (NASDAQ:UPL), SandRidge Energy ( SD), Energy XXI (EXXI), Linn Energy (LINE) and many others. We believe our process will help investors identify candidates at high risk of bankruptcy - we've identified a new set of candidates within the screencast update below.
Capital preservation and loss management is arguably the single most important variable to control in portfolio management; at the very least we hope our data can assist in a small way with that strategic initiative. We reiterate our suggestion to consistently and frequently assess bankruptcy risk of both total-portfolio as well as individual names within a portfolio. We would advise on doing this with each meaningful change to the oil or natural gas pricing deck. Having a process with which to define and assess bankruptcy risk is priority number one for those heavily weighted towards energy; especially those with positions initiated at earlier points in the current credit cycle.
Good luck and enjoy.
Screencast Highlights:
3:45: Overall 12-Month Default Probability: Who And What Are The Riskiest Firms (In Our Coverage Universe)?
7:30: Chesapeake Energy (NYSE:CHK): One Is Not Like The Others
10:00: Commodity Tethering: Prices Are Higher; Which Enterprises Are Not Derisking?
11:30: 12-Month Default: 30-Day Change
14:30: Rex Energy (NASDAQ:REXX): Likely Heading To Zero
18:00: 12-Month Default: 90-Day Change
20:30: 12-Month Default: 180-Day Change
22:30: Keeping Risk in Context: Using Chesapeake As An Example
28:15: Bringing It All Together: Actionable Data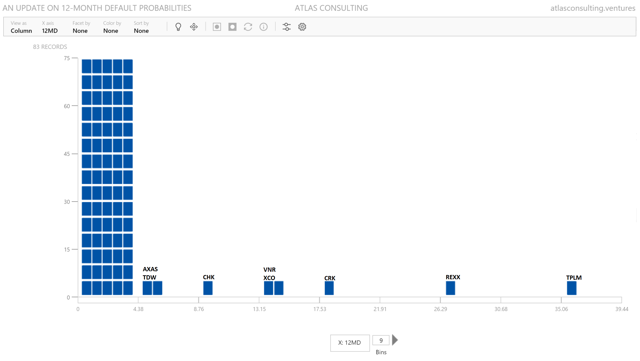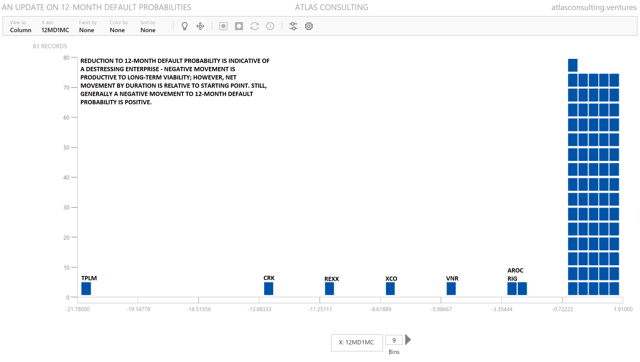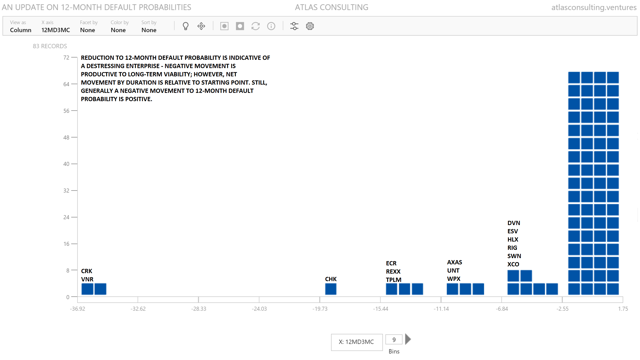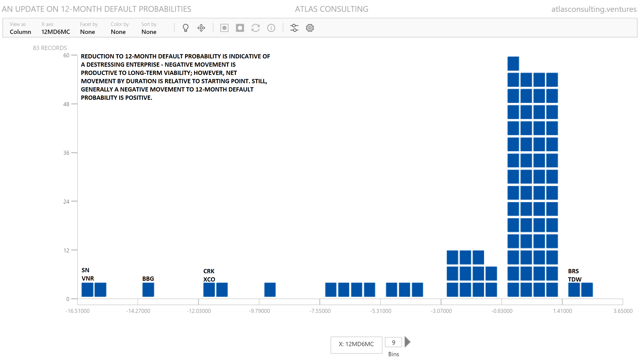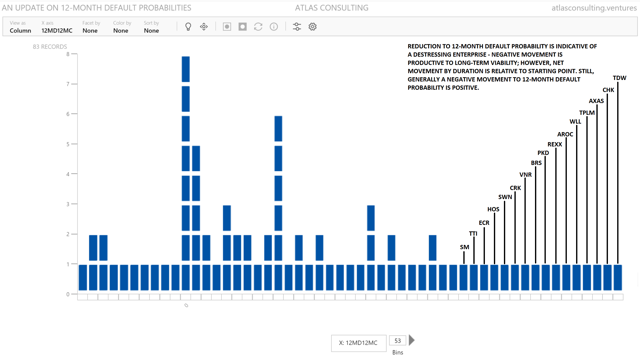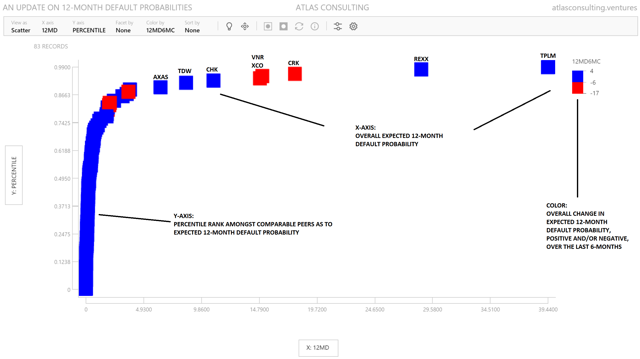 Disclosure: I am/we are short CHK.
I wrote this article myself, and it expresses my own opinions. I am not receiving compensation for it (other than from Seeking Alpha). I have no business relationship with any company whose stock is mentioned in this article.
Editor's Note: This article covers one or more stocks trading at less than $1 per share and/or with less than a $100 million market cap. Please be aware of the risks associated with these stocks.