Clean Energy Fuels (NASDAQ:CLNE) has been gaining traction on the stock market over the past three months as the natural gas pricing environment has improved. In fact, its shares have appreciated close to 20% over the past quarter, and I believe that the company is well-placed to sustain this momentum. There is one important reason why I believe that Clean Energy will be able to continue improving its financial performance going forward - higher natural gas prices.
What higher natural gas prices mean for Clean Energy
The good part is that Clean Energy Fuels has been able to improve its revenue, margins, and cash flow despite an indifferent natural gas pricing environment. This is shown in the chart below: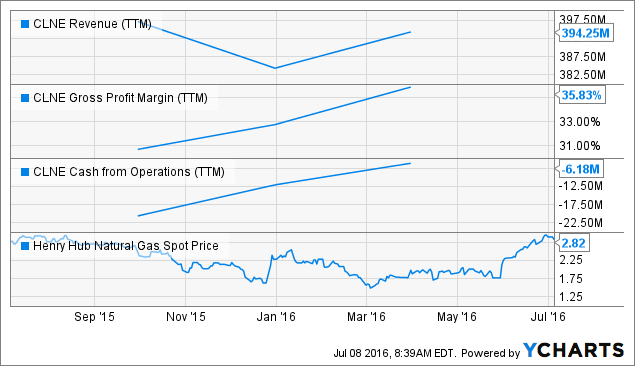 The reason why Clean Energy's revenue has picked up pace of late is because of an increase in volumes delivered by the company, while its focus on reducing costs has led to growth in the margin and cash flow. Now, as the chart above shows, natural gas pricing has picked up impressive pace of late and this will allow Clean Energy Fuels to further improve its performance.
In the last reported quarter, Clean Energy Fuels had witnessed a higher effective price for each gallon of natural gas. As a result, despite an increase of 8% in gallons delivered on an adjusted basis, its revenue growth was higher at 12%. Driven by this revenue increase, Clean Energy Fuels was able to bring its EBITDA into positive territory at $29.8 million as against an EBITDA loss of $5.6 million last year.
When natural gas prices had dipped from 2014 onward, Clean Energy's margin and cash flow had started taking a beating, though proceeds from excise tax credits for alternative fuels had cushioned its performance to some extent. This is seen below: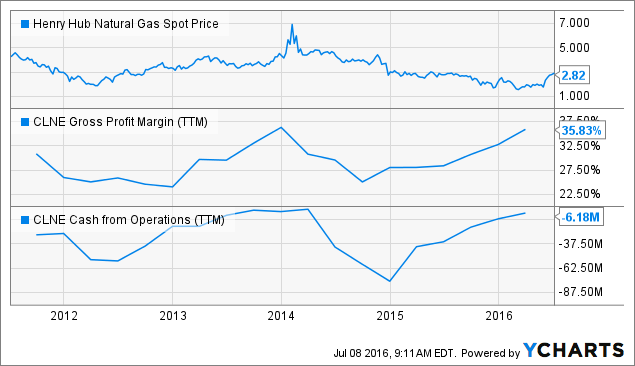 In comparison, strong natural gas pricing before 2014 had enabled Clean Energy to consistently improve its cash flow and gross margin. This shows why natural gas pricing is important to Clean Energy's prospects going forward, so we will take a closer look at where natural gas prices might be headed.
Better natural gas pricing lies ahead
This indicates how an improvement in natural gas pricing can bring about strong growth in Clean Energy's financials. More importantly, as the price of natural gas has picked up pace over the past month, Clean Energy should continue to see an increment in its revenue and margins. Additionally, it is likely that the strength in natural gas pricing will continue over the long run owing to the improving demand and lower supply conditions in the industry.
Natural gas demand in the U.S. this year is set to rise close to 2% this year, followed by growth of almost 3.3% next year as compared to 2015. This improvement in natural gas demand will be a result of an increase in gas-based electricity generation, industrial usage, and LNG exports from the U.S.
All in all, it is anticipated that natural gas demand in the U.S. will go up 27% by the end of the decade and will continue to rise until 2025. This is shown in the table given below: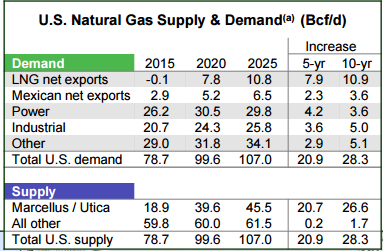 Source: Kinder Morgan
However, there might not be enough natural gas supply to meet this expected increase in demand. In fact, by 2020, it is estimated that there might be short supply of natural gas in the U.S. The shortage in natural gas supply will be a result of hurdles in developing pipeline infrastructure, and this could lead to a shortfall of 4.4 Bcf/day by 2021, according to BTU Analytics. As reported by Argus Media:
"Pipeline projects in the northeast are facing regulatory hurdles. The New York Department of Environmental Conservation's 22 April denial of a water quality permit for the Constitution pipeline last week was a major setback to the proposed 628mn cf/d capacity project. The 1 Bcf/d PennEast pipeline has been delayed by a year because of federal regulators scheduled a later approval date than originally expected.

The gas market has been lulled into thinking that new demand will be met by the thousands of uncompleted wells and new wells in what is considered less-attractive acreage in the Marcellus and Utica areas. "The northeast can't grow enough," Bradford said."
Thus, due to an increase in demand and supply constraints, the price of natural gas will pick up pace going forward. This is shown in the chart given below, which illustrates that the World Bank forecasts the price of natural gas to touch $3.90/MMBtu by 2020: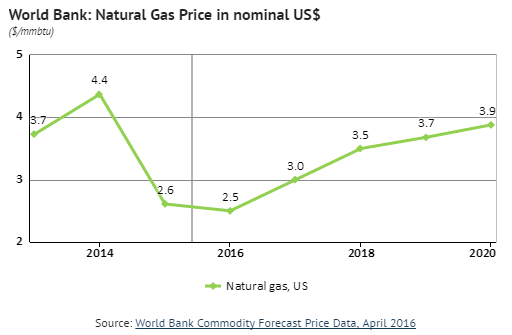 Conclusion
As discussed earlier in the article, the price of natural gas is key to the improvement in Clean Energy's financial performance. Due to higher demand and supply constraints, investors can expect natural gas pricing to get better going forward, and this will prove to be a tailwind for Clean Energy Fuels. So, in my opinion, investors should continue holding Clean Energy Fuels in their portfolio since it is capable of delivering more upside in the long run as the end-market prospects improve.
Disclosure: I/we have no positions in any stocks mentioned, and no plans to initiate any positions within the next 72 hours.
I wrote this article myself, and it expresses my own opinions. I am not receiving compensation for it (other than from Seeking Alpha). I have no business relationship with any company whose stock is mentioned in this article.