By Parke Shall
It looks as though merger and arbitrage specialists are betting on there to be a more impressive bid for WhiteWave Foods (NYSE:WWAV). Since it was announced last week that the company was going to be taking private by Dannone, the stock has traded above its offering price of $56.25 per share. It is clear that the market thinks that the valuations paid for WhiteWave are too low.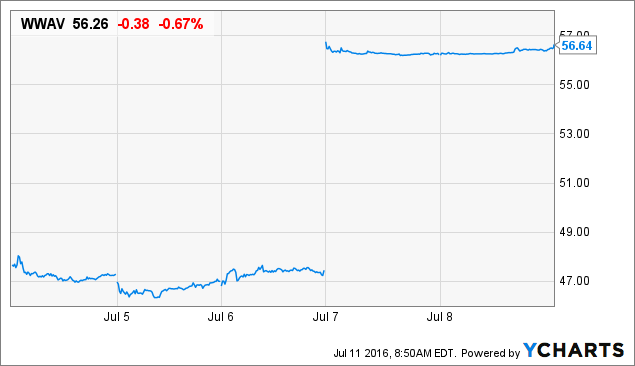 WWAV Price data by YCharts
At just a 17% percent premium to market when announced, while the valuations are high, current shareholders of WWAV may not feel like they are getting a fair deal. Whether or not a new bid happens in the days and weeks to come remains to be seen.
If you want a piece of this action, we think there is another, better, smarter way to play the WWAV arbitrage than actually owning WWAV.
Last week, we wrote an article explaining why Hain Celestial (NASDAQ:HAIN) could very easily be the next takeover target after WWAV. In it, we said,
It is obvious that HAIN is the closest peer to WWAV in the sector. Both companies have a portfolio of organic and all natural food names and both companies have been growing aggressively over the last few years. The millennial shift in taste to non-GMO organic food has driven these two companies to astronomical gains over the last five years.

[The WhiteWave buyout] gives companies like HAIN serious appeal. We would not be surprised to see HAIN taken private by a larger food company with a considerable reach into traditional food stores. This could help any number of staple food brands increase their portfolio and move into an area that is high growth, versus traditional food processing which has been a laggard over the last couple of years.
They are similar companies with similar portfolios, and HAIN is valued at about one third less then what WWAV was acquired at. We think there is a strong chance that HAIN is acquired on the heels of this acquisition of WWAC, and we think HAIN is actually a better way to potentially play a raised bid in WhiteWave.
From a P/E perspective, HAIN now looks significantly undervalued compared to what bidders thought WWAV was worth.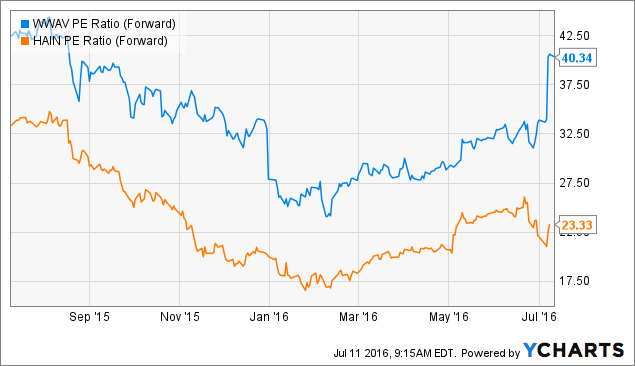 WWAV PE Ratio (Forward) data by YCharts
How could one play both WWAV and HAIN by owning just HAIN?
Right now, investors and potential acquirers have likely assigned a value to HAIN based on the value of WWAV's takeout. It is a very simple scenario. If WWAV gets taken out at a higher price, the chance for HAIN's multiples to expand further in the case of a buyout goes up and the stock likely gets bid up at the same time.
We still think HAIN is extremely cheap and a fantastic buy after its run over the last two weeks, as it has moved up nearly 10%. However, this is still well below the company's highs and does not give it a valuation that is anywhere near WWAV's valuation. And it certainly isn't near a valuation that would be placed on WWAV in the event of a raised bid. Here is the spreadsheet we made that comparison HAIN's current multiples to WWAV's takeout price, but also adds a potential raised bid scenario.

For these reasons, we remain long HAIN. We think a strategic investment or an acquisition makes sense here and we think the WWAV buyout makes it clear that there's unlocked value in HAIN stock that could come unlocked at any time.
Disclosure: I am/we are long HAIN.
I wrote this article myself, and it expresses my own opinions. I am not receiving compensation for it (other than from Seeking Alpha). I have no business relationship with any company whose stock is mentioned in this article.