Strong Brand Recognition Will Help Drive Growth
England-based Supergroup Plc (OTCPK:SEPGY) is likely to be a gem among the rubble that emerges from the Brexit-based sell-off in equities. I say this because the company has a premium brand with its SuperDry products. Supergroup designs, manufactures, and sells its SuperDry branded products through multiple expanding channels: wholesale, retail, and e-commerce. SuperDry products are selling well with increased strength as evident in the 11.3% in like-for-like sales and 24.5% increase in total retail revenue for FY16 as compared to the 4.8% increase that was achieved in FY15. Although it is not clear if Supergroup can maintain double-digit increases in like-for-like sales, the company would still show favorable results even with mid-single-digit increases going forward.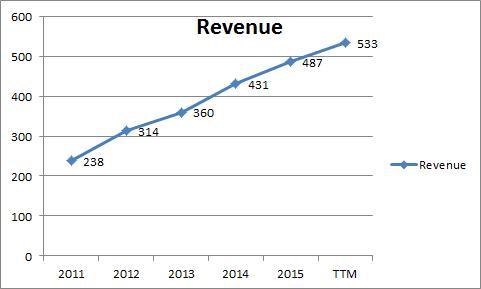 Data source: Morningstar.com (in GBP millions).
Since Supergroup is able to command high prices for its SuperDry branded products, the company is able to benefit from a high gross margin of 61% TTM (gross profit of £324 on revenue of £533). This is 33% better than Nike's (NYSE:NKE) GM of 46% and 39% better than the textile-apparel industry's gross margin of 44%. Abercrombie and Fitch (NYSE:ANF), who is closer in market-cap to Supergroup, has a high GM of 62%. ANF achieves this because the company also has a strong brand appeal and is able to command high prices for it products. However, Supergroup has superior growth in the form of double-digit revenue growth, while ANF is expected to suffer a revenue loss of 2% for FY17 and only achieve a gain of 1.5% for FY18 according to consensus estimates. Consensus estimates are calling for Supergroup to achieve a 12% to 13% revenue increase for FY17. Therefore, Supergroup is more likely to outperform ANF as the forecasted sales come to fruition.
Strong brand recognition tends to have staying power in the marketplace. This is evident with Nike as a brand leader in the textile industry. Nike experienced strong growth over decades as consumers embraced the company's styles over the years. Nike's success allowed the company to reach a market-cap of over $87 billion and sales of nearly $32 billion TTM.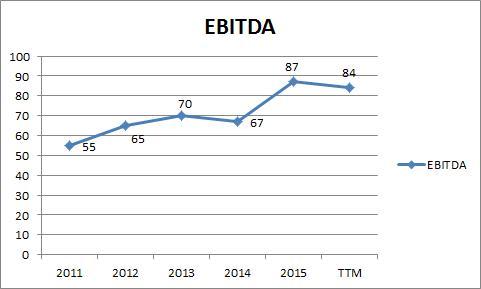 Data source: Morningstar.com (in GBP millions)
Although I am not expecting Supergroup to be as successful as Nike, I do see that the SuperDry branded clothing is considered an aspirational or premium brand. The SuperDry logo is boldly printed on the sleeves or chests of shirts/sweatshirts, on the backs of jackets and on pant legs. This shows that consumers are proud to show that they are wearing the SuperDry brand. This is similar to how consumers are proud to wear Nike's swoosh logo, Abercrombie's logos and V.F. Corporation's (NYSE:VFC) North Face branded products conspicuously. All told, SuperDry's status as a premium desirable brand will help with Supergroup's expansion into new markets and regions.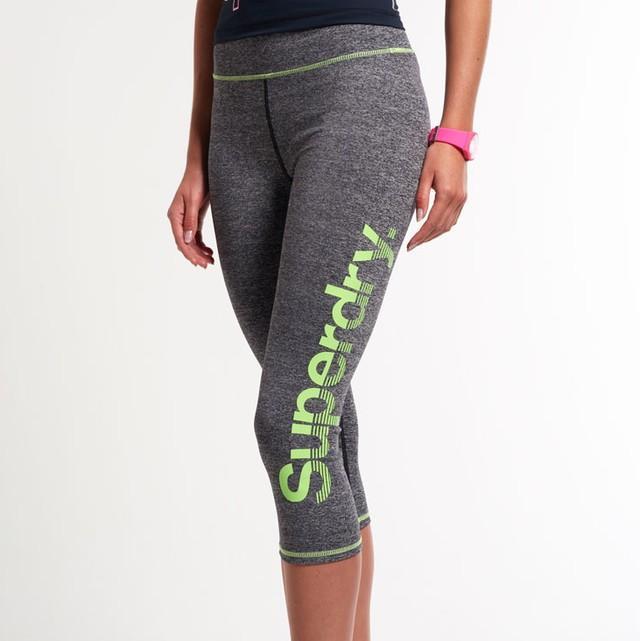 Image source: looklive.com
SuperDry's status as a premium brand has led to customer loyalty. Consumers are willing to pay a premium for SuperDry products because they like being a part of that premium status. Not everyone can afford to own a luxury vehicle for conspicuous consumption, but many consumers can pay extra to wear clothes that display a luxury brand. Therefore, Supergroup's strong sales have shown that consumers like the SuperDry brand and are willing to remain loyal to the company with repeat sales.
Expansion to Drive Growth
Supergroup is focused on expanding its product line through growth into new markets and expanding its online presence. The company's ultimate goal is to develop SuperDry into a global lifestyle brand. Supergroup currently sells its SuperDry line of clothing, footwear, accessories, and cosmetics through a network of franchise stores/company-owned stores, through its websites, and through its wholesale partners. The company currently operates 2 distribution centers (one in the UK and one in Belgium). Supergroup plans to build a 3rd distribution center in the United States, which will help serve this market, thus helping the company gain more efficiencies to lower costs. Operating within the U.S. will reduce shipping costs, thus contributing to the company's bottom line.
Another positive for Supergroup is that SuperDry products are sold on Amazon.com (NASDAQ:AMZN). This is positive due to Amazon's rapid distribution growth and improved customer service where customers can get merchandise delivered quickly (within 2 days in many areas if desired). I would expect Amazon to be a key partner for Supergroup going forward as Supergroup plans on expanding its product line and building. Supergroup currently sells through 25 international websites to over 169 countries.
Supergroup achieved strong growth since its beginning in 2003. Supergroup grew to 573 total stores with a physical presence in 45 countries. Free Cash Flow has been positive since about mid-2012, reaching £26 million TTM. This indicates that Supergroup can expand quickly while maintaining shareholder-friendly FCF. It is also impressive that the company has a total cash of £102 million and zero debt. Having a strong cash position and no long-term debt obligations will help the company grow going forward.
Supergroup's short-term growth plans include expansion within Europe. This makes sense since the SuperDry brand is already well received in the company's existing locations in Europe. Specifically, the areas of the company's expansion plan include: Germany, Austria, Italy, Spain, and Poland. This expansion is likely to drive new revenue growth for the company. If Supergroup executes effectively with this expansion, the company is likely to achieve the consensus estimates of 12% to 13% revenue growth for FY17 and continue with double-digit revenue annual growth in future years. Supergroup's high gross margin of over 60% and ROE of about 14% will help drive strong double-digit earnings growth for FY17. Consensus estimates of 15% earnings growth for FY17 look reasonable considering the double-digit revenue growth, high gross margin and other P&L items.
Valuation
As a result of the recent sell-off, Supergroup's valuation has improved from fair to slightly undervalued. Here's how the stock stacks up to the competition:
Supergroup

Nike

ANF

Textile -Apparel Industry

Textile - Footwear&

Accessories Industry

Forward PE

16

20.6

18

17.6

18

Price to Sales

1.9

2.9

0.40

1.9

2.1
Data Sources: Morningstar, Capital IQ, Finviz.com.
Supergroup is valued lower than Nike, ANF, and the Textile industry in terms of next year's expected earnings. However, ANF does have a lower valuation in terms of sales TTM. As I pointed out earlier, ANF is struggling to grow revenue, so the company is valued lower in terms of sales. Supergroup's growth outlook is much better, so the company's valuation is attractive given its growth. Supergroup is trading at an attractive level as compared to the entire textile industry in terms of future earnings. In terms of sales, Supergroup is fairly valued as compared to the industry. Overall, I think that Supergroup's valuation is attractive since it is trading below its peers in terms of future earnings.
Supergroup was trading at about 19X next year's expected earnings before the Brexit situation unfolded. That would be more in-line with Nike's valuation. So, Supergroup's stock does have some more room to rise back near that level if the company continues to meet/exceed expectations.
Supergroup is likely to perform well even with Brexit fears in the minds of consumers and investors. There will always be an aspirational brand for clothing and related items. Therefore, I think Supergroup's business will continue to thrive even amidst any negative implications from Brexit. I am not implying that the company would be entirely immune from the situation. However, everyone does need to wear clothing. Although they don't need to wear a premium brand such as SuperDry, wearing premium brands can make consumers feel good on a regular basis by the way they look and fit. There will always be consumers who desire and are able to afford to buy premium brands to showcase the SuperDry logo. Therefore, I think that SuperDry products will sell well even if the economy in England/Europe hits a few road bumps.
The Risks
I could be wrong that the SuperDry brand will continue to sell well during negative economic periods. The brand could lose its appeal or go out of style. This could happen even during good economic times. Consumers could get tired of the SuperDry brand and seek out alternative brands.
Supergroup is committed to innovating its products, so I think the company will work diligently to remain relevant and avoid becoming perceived as stale or out of style. If consumers get tired of wearing clothing with the large SuperDry logo, the company could adapt and provide consumers with what they are looking for. Now that SuperDry is established as a premium desirable brand, I think Supergroup is more likely to appeal to consumers going forward. Getting to the level of being perceived as a premium brand is the more difficult achievement. Maintaining that status does take work, but is likely to be easier to maintain that status than achieving the positive perception associated with its premium brand in the first place.
Competition is another risk for Supergroup. Ultimately, the company competes with all other clothing manufacturers/sellers in each physical market that its products are sold and online. Therefore, Supergroup will need to remain on the cutting edge of product innovation to increase market share. The risk for Supergroup is that the SuperDry brand could get lost among all of the competition out there. There are other premium brands in the market that have proven to be desirable to consumers. Some examples include: Nike, North Face, Under Armour (NYSE:UA), ANF, etc. The good news for Supergroup is that the SuperDry brand is selling well. Therefore, the company has momentum to gain market share as it expands its reach in Europe and elsewhere.
Conclusion
I think that Supergroup's stock will perform well due to its strong double-digit revenue and earnings growth. The company has momentum with double-digit like-for-like sales growth. I would expect the stock to perform well as the company continues to expand, while achieving strong top and bottom line growth.
Revenue growth has been consistent, but I would like to see more consistent increases in EBITDA and EPS growth. Gaining efficiencies by operating a new distribution center in the U.S. will help lower operating expenses which is likely to lead to more consistent gains in EBITDA.
Supergroup has a strong balance sheet with no debt, which will help the company expand, while maintaining shareholder-friendly free cash flow to be used for share repurchases and possible dividend payments.
The recent sell-off in the stock has improved the valuation from a forward PE of approximately 19 down to 16. I think the market has unjustifiably discounted the stock by overreacting to the Brexit fears. Although I think some Brexit fear will remain reflected in the stock price, I expect some multiple expansion as sales continue to be strong. Therefore, I think it would be reasonable for the stock to trade at 18X next year's earnings. This would bring the stock in-line with the Textile-Apparel industry's valuation. This means that the stock could rise about 9% in the near term (within a few months). When looking one-year ahead, I expect the stock to gain about 15% to 24% based on earnings growth plus multiple expansion.
Disclosure: I/we have no positions in any stocks mentioned, and no plans to initiate any positions within the next 72 hours.
I wrote this article myself, and it expresses my own opinions. I am not receiving compensation for it (other than from Seeking Alpha). I have no business relationship with any company whose stock is mentioned in this article.
Additional disclosure: If you like my analysis, click on FOLLOW at the top of the article. That will allow my articles to appear on my homepage. I am employed by TJX Companies. TJX may sell merchandise from any company mentioned in this article. This article is for entertainment/informational purposes. Investors should do their own research to determine what investments are appropriate for them.
Editor's Note: This article discusses one or more securities that do not trade on a major U.S. exchange. Please be aware of the risks associated with these stocks.