Huntington Ingalls Industries Inc (NYSE:HII) is America's largest shipbuilding company. It also provides engineering and technical services to the nuclear, oil and gas industries. Headquartered in Virginia, HII powers the US Navy and employs over 35,000 people around the world.
I've previously written about the strength in defense stocks. And I'm excited to take another look at the space by examining HII. I'm attracted to the company due to the highly specialized nature of what they do. I think they could be in a unique competitive position, and I'd like to examine it closely.
If HII is in fact a high quality business earning a premium for its expertise, then this should show up in the financial statements. I also suspect it will be a relatively consistent business and I'm going to be looking for signs of that too. Unfortunately, HII doesn't have too much operating history.
Ideally, I like to look at companies with at least 10 years of historical data. This gives me more confidence in the long term operating trends, as they show up in financial statements. While this is a bit of a warning sign, I'm still curious to take a closer look at HII. It's also worth nothing this lack of data is slightly mitigated since HII was spun-off by Northrop Grumman (NYSE:NOC), which itself is a stable and successful company.
Plus, HII stock is trading at all-time highs, and I'm always curious to see how this price performance shows up in the financial data. But before we get into that, here's a price chart of HII since inception so you can see what it would have been like owning this stock, and the total return opportunity it presents: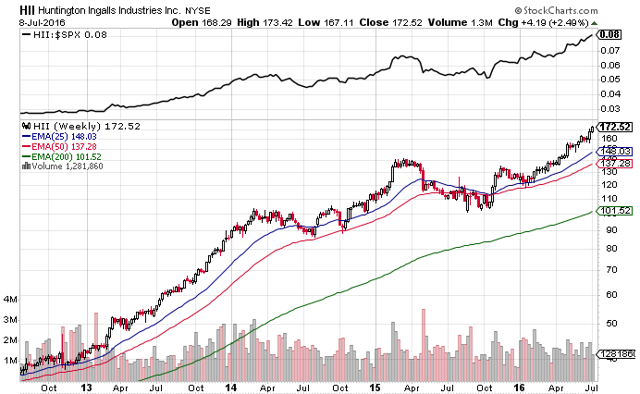 With this picture in mind, let's take a look at the operating results as they show up in financial metrics (source).
HII By The Numbers:
When looking at a company's financial results, I always like to start with the top line. If the graph is up and to the top right, then I feel like the company has the wind at its back. This gives them more leeway, and in the case of HII, the numbers check out: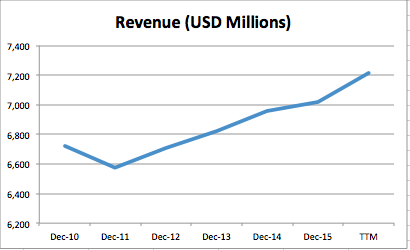 Although revenue growth isn't by any means explosive, it's steady and consistent. For me, this is an important characteristic because it makes forecasting financial trends more reliable. While nobody can know the future, these consistent business results provide a degree of confidence.
The above revenue number is generated by two segments, Newport News (nuclear) and Ingalls (non-nuclear) shipbuilding. You can see the nuclear segment has provided the bulk of revenue, although non-nuclear contributes over 30% (source).

As long as the US Navy needs to maintain its fleet, demand like this should continue to keep up. However, while the top line looks good, one concern I have about HII is margins. I don't know much about the shipbuilding business, personally. So I'm curious to see how capital intensive the business is, and to what degree operations are profitable. While HII has a specialized business with technical expertise that should command a premium, they also aren't a highly scalable tech company. So has revenue growth been profitable?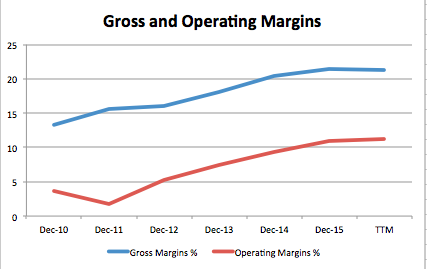 As you can see in the graph above, margins aren't exactly sky high. But to my eye, the trend looks good. Most importantly, margins have been consistent, and improving. To me, this says the company is hitting their stride. The operating margin growth in particular indicates the business as a whole is being run with increasing efficiency.
I also think these stable results speak to the qualitative nature of the business. Presumably, the United States will need to maintain a global naval presence, and as HII is gains experience operating independently they become better at what they do. I'm curious to see if this trend can continue. It certainly would be a promising sign of high quality business.
So now that we've reviewed the increasing revenue and improving margins, we should expect growing earnings as well. Per the graph below, the bottom line on both an earnings and cash flow basis looks quite healthy. And going forward, consensus estimates call for just over 10% growth (source). The future could contain more of the same.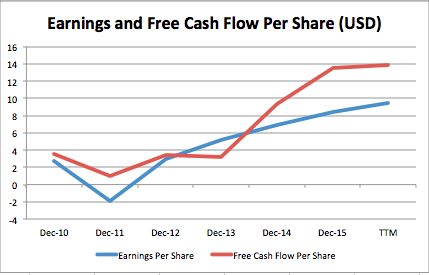 To my eye, this trend looks quite impressive. I'm also impressed by the free cash flow numbers because they indicate HII has been able to grow profits without increasing capital expenses. After all, the company has multiplied earnings over the last few years.
Now as shareholders, it's important to understand what the company is doing with the profits they generate. In the case of HII, I must say that I'm content with their two-pronged approach to capital return. So how does it break down?
Currently, HII pays out 19% of earnings via dividend. And although there's only four years of dividend history, the distributions have gown 170% over that period. As a dividend growth investor, that's hard to be angry about. Given the low payout ratio, stable business model and consistent earnings growth, I think it's likely the dividend growth can continue.
In addition to dividends, the company has also retained earnings to grow book value (while keeping share count consistent). This is another benefit because as an equity owner, your ownership stake is growing each year.
All that said, no investment opportunity is without risks. And in the case of HII there are some concerns to review before you decide whether you want to set sail with shares of this shipbuilder.
Risks to Investing in HII:
There are a number of strong qualities that make HII appealing. But it's important to try and see both sides of the coin. For me, there are a couple of unique risks to this business that I'd like to touch on.
First of all, the company is facing a bit of a double-edged sword. While they have a captive customer, they also have a highly concentrated revenue base. Substantially all of their revenue comes from the US government. While this is good work if you can get it, the company is at risk with only one client. Buying this stock ahead of a presidential election might present an additional layer of risk in the short term.
Another form of risk worth thinking about is the downside that comes with debt. As you can see, although HII has been paying down its liabilities, there is still a high debt/equity ratio.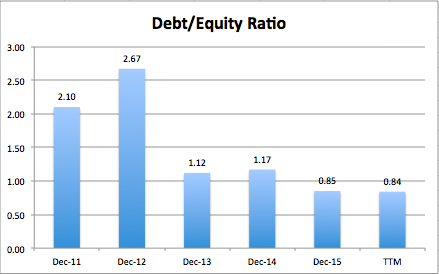 For context, interest expense is about 16% of operating income, and for me this is a little bit on the high side. At most, I'd like to see it come down to 10%. On the other hand, if the company can bring this number down it could provide additional margin expansion.
So how do we balance out all these pros and cons?
Conclusion: HII is Worth The Price
I ended up buying shares of HII because I thought it had the characteristics of a stable business that seems to be hitting its stride. I am also confident that dividend distributions have potential to continue to grow. Overall, I think shares of HII are fairly priced and represent an interesting total return opportunity for the long-term investor interested in dollar cost averaging.
But that's just my take. Do you think shares of HII are investable? Or is the yield too low to be worth your time?
Disclosure: I am/we are long HII.
I wrote this article myself, and it expresses my own opinions. I am not receiving compensation for it (other than from Seeking Alpha). I have no business relationship with any company whose stock is mentioned in this article.