Subscribers to "Resolving Retirement" had an advance look at this material.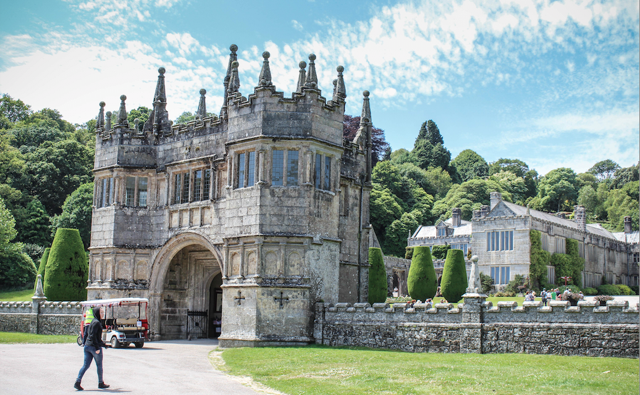 Americans entering retirement have more than two-thirds of their assets in home equity. Sooner or later, retirees will have to tap into that equity, and the result could be a huge number of homes going on the market somewhat simultaneously.
This is likely to happen without a commensurate number of buyers stepping into the market at the same time - or at least stepping into the exact same markets at the exact same time.
One of the housing market's realistic possible future outcomes is a sustained period of severe oversupply and a long bear market.
For the large number of Americans relying on their homes' value to fund their retirement, this is a very serious issue.
Timing is Everything
Right now, housing prices are around all-time highs, finally equaling pre-crisis levels.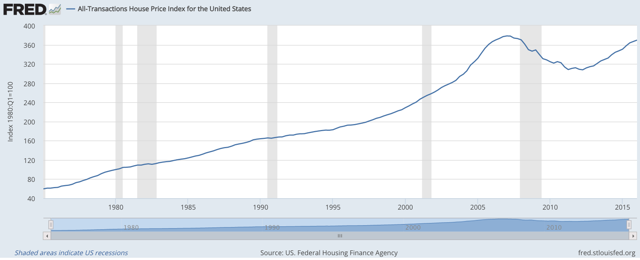 So this is a pretty good time for Americans to lock in home values.
But with the baby boom generation roughly spanning the 52-70-year-old gamut, a future rush to the exits may not come for years, if at all. The market could continue to climb for years.
What to do?
For many Americans, the right answer may be to sell their homes twice - once now, and once when they vacate in the future. Choose the better price, and pay premiums along the way for the right to do this. This is essentially what the Federal Housing Administration's Home Equity Conversion Mortgage program is. This is also known as a "reverse mortgage."
One of the Worst Financial Products Out There
If you cringed when you saw "reverse mortgage" it may be because the mortgage program is often misunderstood and criticized.
Reverse mortgages are for people aged 62 or older who have paid off all or much of their homes. The homeowners effectively sell their homes to the bank for cash at an assessed price, but the homeowners retain the right to live there until the last remaining spouse vacates. The homeowners have technically borrowed the money from the bank, but there are no ongoing repayments. The home is eventually vacated and sold. The bank keeps the amount it paid out to the original homeowners, plus interest, and premiums for being in the program are also paid to the FHA. Remaining funds go to the original homeowners or their estate. If the home is sold for an amount that does not make the bank whole, the FHA makes up the difference.
This last part is what is most often misunderstood - neither the original homeowners nor their estates are on the hook for any shortfall.
Seven time national best seller and National Radio Hall of Fame inductee Dave Ramsey has one of the largest followings in retirement planning. He has railed against reverse mortgages, calling them "one of the worst financial products out there." His vitriol is likely related to his view that:
If your loan exceeds the value of your home, you or your heirs will have to make up the difference
This is not the case, as reverse mortgages are non-recourse loans. From the Financial Industry Regulatory Authority:
But since reverse mortgages are non-recourse loans, the worst that will happen is that you or your heirs will receive nothing from the sale of your house. The lenders cannot go after any other assets that you or your heirs own.
This is something of an enviable "heads I win, tails the FHA loses" situation.
So the question may not be "should I consider selling my home to beat the rush to the exits?" but rather "should I consider selling my home to beat the rush to the exits, and also selling again later?"
Rates, Limits, Fees, Equity, Age and Details
How much cash a homeowner can get depends upon how much equity is in the house, the homeowner's age and interest rates, with a limit of $625,500.
Homeowners also have to pay a 1.25% annual mortgage insurance premium, which is added to the interest rate and paid when the house is sold. There are also upfront lender fees and closing costs. Homeowners will also continue to be responsible for taxes and upkeep.
Low Rates, High Prices and Concentrated Investors
With mortgage rates at record lows, housing prices around record highs, and with so many Americans having their assets concentrated in their homes instead of diversified across asset classes, reverse mortgages look very attractive here for the right person.
Investors can take the equity out of their homes and put it in CDs and stocks for fixed income and returns. If their home values fall, they are no worse off. If their home values surge, all the better.
Really?
1.25% on top of record low rates looks pretty palatable in exchange for cash and some upside participation. But is it really responsible for people to be borrowing against their home equity as a retirement strategy?
According to the Bipartisan Policy Center's Commission on Retirement Security and Personal Savings, it is a strategy that should be encouraged.
The commission came out with its annual Report of the Commission on Retirement Security and Personal Savings last month, and one of its six recommendations was to "Facilitate the Use of Home Equity for Retirement Consumption" - including reverse mortgages:
a reverse mortgage can be a prudent option for some retirees, especially for those who wish to remain in their homes and who have high levels of home wealth but lack sufficient retirement savings and income. In addition, these products can protect against longevity risk..Ultimately, many homeowners could benefit from a reverse mortgage in retirement, but have not considered the possibility or are unaware that advice is available from FHA-sponsored independent counselors.
Where to Invest
We think most retirees would be best served with a CD ladder and portfolio of equities. Passive investors can click the link for the passive ETF investments we think are best. More active investors may want to consider:
For investors that are comfortable owning smaller stocks, read our Resolving Retirement letter. Investing in smaller stocks can give you an edge, and we're digging to find opportunities that could help outperform the big names above.
Conclusion
The retiring baby boom generation is quite reliant on the housing market for their retirement. If a large portion of an entire generation tries to sell its homes at the same time, housing could be in for a long and deep bear market.
Reverse mortgages give investors the chance to lock in values near all-time highs, take advantage of all-time low interest rates, and diversify their home equity into fixed income and stocks, all while still living in their homes and participating in upside price appreciation. This much misunderstood and criticized program could end up being a life saver for many retirees.
Disclosure: I am/we are long WEC, VZ.
I wrote this article myself, and it expresses my own opinions. I am not receiving compensation for it (other than from Seeking Alpha). I have no business relationship with any company whose stock is mentioned in this article.