Seabridge Gold (NYSE: SA) is a gold exploration and development company. The company's products include gold, copper, silver and molybdenum.

The assets of the company include Courageous Lake, KSM (Kerr- Sulphurets-Mitchell), Castle Black Rock, Grassy Mountain, Quartz Mountain, Red Mountain and other Nevada projects.
Its major gold projects include Courageous Lake located 240 kilometers northeast of Yellowknife, Northwest Territories and KSM is located 65 km northwest of Stewart, British Columbia.
The following companies are the major competitors of Seabridge Gold:
Barrick Gold Corporation (NYSE: ABX)
Kinross Gold Corporation (NYSE: KGC)
Newmont Mining Corporation (NYSE: NEM)
Seabridge Gold SWOT Analysis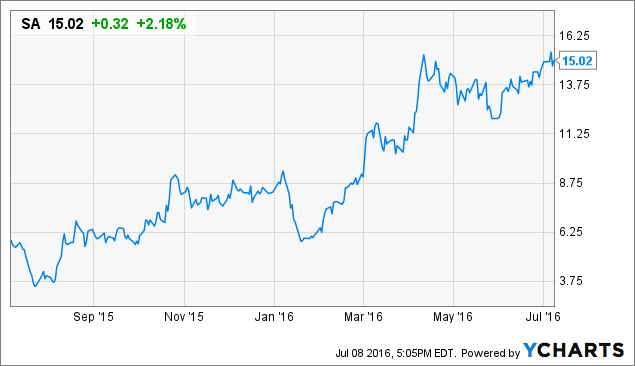 Strengths - Growing Asset Base
The company's assets are strategically located in North America, which has potentiality to enhance its business operations. The company's wholly-owned two core assets are Kerr-Sulphurets-Mitchell (KSM) in British Columbia, Canada and Courageous Lake, Northwest Territories, Canada. The company's remaining non-core projects include Grassy Mountain, Quartz Mountain and Red Mountain. According to its updated KSM Preliminary Feasibility Study (PFS) substantially improved estimated proven and probable reserves and increased the expected project life from 37 years to 55 years. KSM owns 38.2 million ounces of proven and probable gold reserves, which is the largest undeveloped gold project in North America and one of the top five in the world. The KSM project provides an extraordinary opportunity in the current economic environment. As of December 31, 2014, the company's total measured proven and probable reserves base consisted of 49 million ounces of gold, 12.7 billion pounds of copper, 261.3 million ounces of silver and 30.3 million pounds of molybdenum. The company estimated 6.5 million ounces of its first proven and probable reserves at Courageous Lake to the existing reserve base. A growing asset base enables the company increases its prospects to achieve higher production.
Strengths - Strong Liquidity Position
Seabridge's current ratio was 3.4 at the end of 2015, significantly higher than its competitors Barrick Gold Corporation (current ratio of 2.4 with Market Cap of 26 Bln), Kinross Gold (current ratio of 3.3 with Market Cap of 6.917 Bln) and lower than Newmont Mining (with current ratio of 3.5 and Market Cap 21.8 Bln). A higher current ratio than the main competitors indicates that the company is in a relatively strong liquidity position. At the end of the review year, the company had total current liabilities stood at CAD 4.7 million, a decline of 44.1% over the previous year. A strong cash and liquidity position puts the company at an advantage when attempting to fund any potential market opportunities.
Strengths - Strong Market Position
Seabridge's strong market position has built its brand equity and helped the company to establish itself as a leading gold producer in Canada. Seabridge is the seventh largest gold mining company with reserves of 45 million ounces and ranked first in gold reserves per common share with 0.89 ounces per share. The company's leading market position helps it to attract a larger customer base and improve its top-line performance.
Weaknesses - Lack of Revenue Generation
Seabridge is a development stage company and has generated no revenues to date. The development of the company's projects to achieve production will require substantial financial resources, which may affect its business. The company's business operations include acquiring North American deposits; expand them through exploration; improved them to reserves through engineering; and sell or joint venture them to established producers for mine construction and operation. The company made no significant performance to generate revenue, which are still in process and hasn't met business objective yet.
Opportunities - Strategic Growth Initiatives
Seabridge is taking various strategic initiatives to drive its business growth. In June 2014, the company entered in to a agreement with IDM Mining on the Red Mountain Project to spend CAD7.5 million in next three years. In August 2014, the company acquired 4.4% interest in Calico Resources (Calico), and now owns and controls 21.2% of Calico's shares. In February 2014, the company received an approval from the Canadian Environmental Assessment Agency for its Kerr-Sulphurets-Mitchell project. Such strategic initiatives are expected to align the company's business operations in line with the industry and generate higher returns.
Opportunities - Increasing Global Demand for Gold
Increasing global demand for gold may lead to a potential increase in demand for company's products. According to in-house research, global demand for gold is expected to be fueled by countries such as China, India and the U.S. China is the largest consumer of gold and its gold consumption is expected to increase from 47.8 million ounces in 2015 to 61.5 million ounces in 2020. India's gold consumption is expected to increase from 40.6 million ounces in 2015 to 54.6 million ounces in 2020. In the medium-term, the rise in demand for refined gold from Asian countries is mainly expected from its jewelry sector, with factors such as wealthy citizens and a supportive government playing major roles. Seabridge is involved in the exploration and mining of gold and hence may benefit from this growing demand by gaining new projects or increased business activities and enhance its revenues.
Opportunities - Rising Demand for Silver
The positive outlook for silver may help the company to enhance its business operations. According to in-house research, global demand for silver is expected to be driven by demand in the U.S., followed by China and Japan. Silver consumption in the U.S. is expected to increase from 263 million ounces in 2015 to 349.8 million ounces in 2020. China's silver consumption is expected to increase from 211.6 million ounces in 2015 to 300.4 million ounces in 2020. Japan is expected to consume 108.5 million ounces of silver in 2020 compared to 91.4 million ounces in 2015. Demand is expected to be fueled by increasing consumption of jewelry, electronic equipment and industrial and medical equipment. Therefore, Seabridge mining may benefit from this growing demand and enhance its revenues.
Threats - Price Volatility
The changes in market prices of gold, silver and copper could lead to significant variations in fair value or future cash flows of financial instruments of the company. Several factors affecting commodity prices include interest rates, exchange rates, inflation or deflation, and global and regional supply and demand. It is also affected by sale or purchase of gold and silver by various central banks and financial institutions, fluctuations in value of U.S. dollar and foreign currencies, and political and economic conditions of major metal producing countries worldwide. Thus, the company's results could be affected due to any severe fluctuation in metal prices.
Threats - Stringent Government Regulations
The mining and exploration operations of the company are subject to various government regulations including regulations pertaining to environmental protection and land acquisition. Further, the company also requires government approvals and permits to maintain mining and exploration activities. If the company fails to comply with these regulations, it may have to pay hefty fines and penalties, which could have a material impact on the profitability of the company. The company may also be denied new projects, which might hamper its business prospects. Moreover, depending upon the type and extent of the exploration activities, the company may be required to post reclamation bonds and/or assurances.
Threats - Labor Shortage in Canada
The company's operations may suffer as a result of labor shortage in Canada. According to the Canadian Chamber of Commerce, one of the biggest challenges to be faced by the Canadian economy, once the global recession eases, will be shortage of labor. The problem of shortage of labor is going to become more severe in the long-run, with birth rates declining and the population aging. According to The Conference Board of Canada, the country will witness a labor shortage of more than one million people by 2020. Quebec will face a shortage of 292,000 workers by 2025, which may increase to 363,000 by 2030. Alberta and Ontario may witness a shortage of 332,000 and 360,000 respectively by 2025. As a result of which, Canada is expected to face severe labor demand-supply imbalance in the coming years, and the government needs to take action to address this problem. Since the company operates in construction sector, which is highly labor intensive, it's operations may face disruptions in operations as a result of labor shortage in the country.
Risks
The typical risks associated with any mining investment include commodity and exchange rate risk, and permitting, technical (development/operating) and financing risk. In particular, investors considering an investment in Seabridge Gold should consider the risks associated with permitting and partnership for its KSM project.
While the tailings design for KSM has been designed specifically to avoid the risks that have now been exposed at Mount Polly, the recent tailing breach at Mount Polly has increased the risk associated with Federal permit approval. The proposed tailings management facility at KSM has been designed to discharge water into the environment after extensive treatment to ensure no significant adverse effects. Continuous treatment is a much more expensive option but it ensures that there is no buildup of water pressure behind the dam, which is particularly important in areas of high precipitation and seasonal run-off. The design of the KSM tailings facility and the project's water management systems were prepared by world-leading consultants and the risk mitigation built into the design is state-of-the-art.
Final
Seabridge announced a positive update to the Deep Kerr underground resource, a more recent higher grade discovery and part of the KSM Project in northwestern British Columbia. The Deep Kerr resource increased 29% from 782Mt to 1.01Bt and remains open for further expansion at depth and along strike. Deep Kerr inferred copper grades were largely unchanged at 0.53% while gold grades increased modestly from 0.33g/t to 0.35g/t, for an overall copper equivalent grade of 0.77%. On a gold equivalent basis the Deep Kerr resource grade is 32% above the KSM project average (0.55g/t Au and 0.21% Cu or 0.85g/t Au equivalent reserve).
Disclosure: I/we have no positions in any stocks mentioned, and no plans to initiate any positions within the next 72 hours.
I wrote this article myself, and it expresses my own opinions. I am not receiving compensation for it (other than from Seeking Alpha). I have no business relationship with any company whose stock is mentioned in this article.