We have received several inquiries regarding the merits of buying gold in the current environment. It is likely that this is a function of gold's recent performance, which has spurred a heavy dosage of attention from the financial media. In this paper, we will delve into each of the most common arguments for owning gold. While we attempt to debunk these notions, we understand that there are varying opinions on its merits, and this is merely our interpretation of the data.
It is especially important to note that the environment for gold has changed dramatically throughout time due to exogenous factors. For instance, it would not be prudent (or accurate) to compare the correlation of gold and inflation during the days of the gold standard versus today's environment of fiat currencies and electronic trading. Therefore, our analysis focuses primarily on the time period since the breakdown of the Bretton-Woods system during the Nixon administration.
Potential Investment Rationale:
Valuations- The value of any financial asset is the present value of its expected future cash flows. Given that gold has no earnings and has no yield, determining its value is somewhat abstract. There is one method of valuing gold which holds some merit, which is simply its inflation adjusted value.
Strategic Holding- Gold has shown little to no merit as a longer term/strategic investment, especially when viewed in real terms. For example, if you had purchased gold at its spot price near the peak during the late 1970s, it would have taken approximately thirty years just to break even on an inflation adjusted basis. The following chart plots the spot price in white and the inflation adjusted price in yellow.
Figure 1: Gold Price Adjusted for Inflation

Source: Bloomberg
Note that gold has shown a strong tendency to mean revert to its average inflation adjusted value of
$822.05. When this occurs, it tends to happen swiftly. On a nominal basis, the annual returns in 1981 and 2013 were -33% and -28%, respectively.
Thus, when gold is at the rich end of the valuation range, its returns during the following decade are quite poor. Conversely, when it is at the cheap end of the valuation range, its returns during the following decade are quite good.
Tactical Holding- If you want to buy gold as a tactical trade, how are you going to determine the appropriate time to enter the trade or the appropriate time to exit the trade? What is your pain threshold before you stop out if you are wrong?
Inflation Hedge:
Is it possible that gold is already pricing in a massive spike in inflation? This seems plausible when one looks at Figure 1, given that the inflation adjusted levels of gold peaked near their all-time highs in 2011.
Historically, equities have been the best asset class to own in an inflationary environment. Below is a chart that plots equities, bonds, gold and the dollar on an inflation adjusted basis since 1973, with an initial investment of $100 in each.
Figure 2: Equities, Bonds, Gold and USD Adjusted for Inflation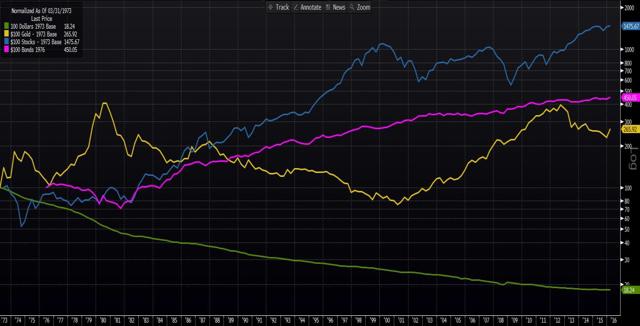 Source: Bloomberg
A few key takeaways from this chart:
Due to inflation, $100 in 1973 has just $18.24 of purchasing power today.
It is important to note that this is in a logarithmic scale, so the differences between each asset is more pronounced than it may seem at first glance. Over this time period, bonds have offered nearly 70% more purchasing power than an investment in gold. Equities were significantly better, providing over 500% in excess purchasing power relative to an investment in gold.
$100 invested in stocks would be worth $1,475
$100 invested in bonds would be worth $450
$100 invested in gold would be worth $265.
If you do not want to increase your equity exposure, but are still worried about inflation, a basket of commodities, or a fund that has a CPI + mandate would make more sense in an inflationary period. Is there an inflation level you will use to determine your entry/purchase level for gold? Is there an inflation level you will use to determine your exit/sales level for gold? Will you have stop out levels if you are wrong?
"Apocalypse" Hedge:
Let's assume that gold holds merit in this scenario. There are two major challenges with making it work for you:
All clearing houses/systems will be off- line, which immediately disqualifies owning "paper gold" through ETFs, mutual funds or futures contracts as sound logic. This means you must own physical gold in this scenario.
Even if you have the foresight to own physical gold, you will certainly need to transport and protect your holdings, which would be very difficult to do. The theoretical costs of doing so would more than likely outweigh any benefits.
Conclusion:
We recognize that it is easy to get caught up in the bombast of the financial press. We understand the concerns about inflation, a weaker USD, and we understand the fear of an end-of-the-world scenario. Our job is to try to step back and not let emotions dictate our investment decisions. In this paper we tried to enumerate the reasons one may want to own gold and then sought to debunk the logic. Since it is impossible to predict the future, our suggestions are as follows:
For the money that "matters" (i.e. your retirement savings), you should own a well-diversified portfolio that has risk/return characteristics that are not tied to a particular scenario coming to fruition.
We believe owning gold on a standalone basis is speculative in nature and it does not belong in a portfolio either as a long- term strategic holding, an "inflation hedge" or an "Apocalypse hedge." If you want to speculate on gold, then you must size it appropriately, in the same way you would approach other forms of gambling.
Gold may hold a spot in a well-diversified portfolio, but our preference is that this holding results from a broad exposure to commodities, or as an underlying holding of a diversified, professional fund manager with deep expertise in multiple asset classes.
Disclosure: I/we have no positions in any stocks mentioned, and no plans to initiate any positions within the next 72 hours.
I wrote this article myself, and it expresses my own opinions. I am not receiving compensation for it. I have no business relationship with any company whose stock is mentioned in this article.