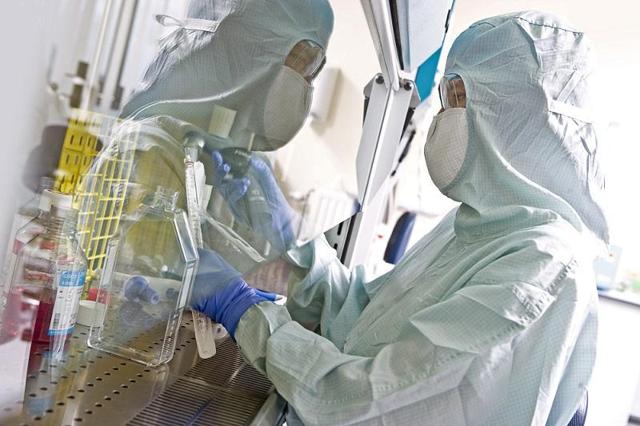 TiGenix (OTC:TGXSF) - currently listed on Euronext Brussels under ticker 'TIG' - is a leading European stem cell company. About one year ago, the small-cap biotech announced that its adipose-derived stem cell treatment, Cx601, met its primary endpoint in a large Phase 3 trial - the first ever late-stage success for an allogeneic "off-the-shelf" stem cell therapy. After confirming this success with solid 52-week follow-up results, Cx601 is now heading for the market in Europe with first sales expected by the end of 2017. A major clinical achievement in an orphan indication lacking effective therapeutic solutions, TiGenix's stem cell therapy is aimed at highly refractory Crohn's fistula patients. In Phase 3, Cx601 was able to cure over 50% of patients after a single injection procedure, showing significant superiority over all other current treatment options including anti-TNF-alpha biologics.
Building upon this string of very good news, TiGenix announced last week that it had signed a $400+ million commercialization deal with Japan-based big pharma Takeda (OTCPK:TKPYY) (OTCPK:TKPHF) over ex-U.S. rights of Cx601. After Ocata's $379 million buyout by Astella (OTCPK:ALPMY) and Athersys' (NASDAQ:ATHX) licensing deal with Healios, TiGenix becomes the third stem cell biotech in a row to close a deal with a pharma company from Japan - a country that has adopted in the last years very favorable regulations on pioneering cell therapies.
I have already extensively written about TiGenix and the tremendous opportunity presented by this under-the-radar, little-known pioneering biotech with great ambitions - see a full investment thesis here and my focus articles on the biotech's most advanced assets, Cx601 and AlloCSC-01. As stated before, with a current market cap of ~$250 million, I believe that TiGenix's undervaluation is now all the more obvious after signing this significant deal - one just has to let numbers speak for themselves.
Details of the Takeda deal
Details of the licensing deal were extensively disclosed in TiGenix's F-1 update as part of the biotech's ongoing NASDAQ IPO launch process (see this article for details). According to the terms of the license, Takeda will be fully responsible for development, production and distribution of Cx601 in all territories outside of the U.S. While the next logical step is EMA approval, expected in H2-2017 following formal submission of the Market Authorization Application by TiGenix earlier this year, Takeda is widely expected to expand the scope of the agreement beyond Europe. As part of the deal, TiGenix will receive an upfront cash payment of $27.5 million and additional regulatory and sales milestone payments for up to a potential total of $392 million, on top of double digit royalties on net sales by Takeda. The next short-term milestone is a $16.5 million payment upon obtaining the Marketing Authorization of Cx601 in Europe. In addition to this, Takeda will make an equity investment of $11 million in the share capital of TiGenix within the next 12 months.
In terms of market expansion, Takeda could potentially seek approval for Cx601 in two other significant countries outside of Europe, namely Canada and Japan - the big pharma company has until the end of 2016 to notify TiGenix of its intention to do so. Should Takeda choose otherwise, rights will be reverted for free to TiGenix, which could then develop Cx601 on its own or with other partners in both countries. Upon regulatory approval obtained by Takeda on those markets, TiGenix would be entitled to receive an additional $3.3 million milestone payment.
Additional short-term regulatory milestones could also include up to $2.2 million per European country in which Cx601 will be distributed, depending on reimbursement prices obtained - e.g. if Cx601's reimbursed price reaches $33k, this could translate into a total of $11 million just for the 5 main European countries making up most of the EU market (EU5 or France, Germany, Spain, Italy & the UK).
Sales milestones will be granted upon aggregate sales reaching a certain threshold in each given fiscal year. Payments will be made once after first occurrence and could bring up to $360 million to TiGenix upon reaching $1 billion of net sales in one year. As an intermediate and more likely example, reaching total net sales of $250 million in one year could already bring $44 million to TiGenix in addition to royalty payments.
Royalty payments will be based on a double digit percentage of net sales, tiered according to reimbursement prices obtained in each country, with a maximum royalty rate of 18% if Cx601's reimbursed price reaches $33k and a minimum of 10% if Cx601 is to be sold for $22k - however, several elements in the agreement suggest that Cx601's selling price is widely expected to be above $24k per procedure. Besides, in the event of aggregate sales reaching $500 million in any given year, royalty rates will be increased by 2% for this year, thus potentially reaching 20% in the best case scenario.
Finally, in terms of synergies, TiGenix's management believes that Takeda's big pharma power and its growing presence in the gastrointestinal (GI) space are strong arguments favoring Cx601's success (see slide below).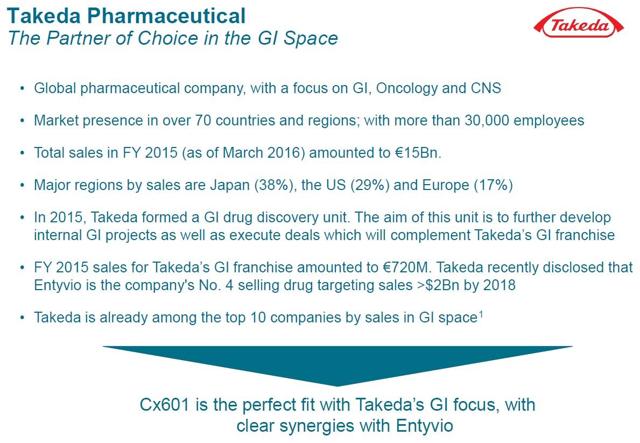 (Source: TiGenix's Corporate Presentation, July 2016)
Updating the valuation model
Broadcasting so many details from a business deal is quite uncommon for biotechs - one has to assume that TiGenix's management was confident enough in its achievement and was eager to show U.S. investors some tangible numbers, backed by Takeda's credentials, to support its IPO prospects. But whatever the reason, this is obviously a great source of information regarding the biotech's valuation model. Hence, here is an updated projection based on actual numbers from the licensing deal.
In terms of timing to market, Cx601 is expected to be approved in Europe in 2017 and first sales in the U.S. are expected to start by 2020 upon successful completion of a U.S. Phase 3 trial and FDA approval - an agreement (SPA) was reached with the FDA to conduct a single registration trial with similar endpoints and a less stringent statistical threshold (p=0.05 vs. p=0.025) than its successful European Phase 3 trial. Besides, TiGenix will be seeking Fast Track designation in the U.S. to speed up the registration process. In terms of IP protection, Cx601 has been granted Orphan Drug designation in Europe and has patent protection in the U.S. until 2030 - in both cases, this translates into a 10-year market exclusivity.
Assuming peak sales projections (in 2025) of around 10,000 patients treated with Cx601 worldwide, at a $30k pricing, aggregate sales could then reach $300 million. Applying current European mean royalty rate of 16% on all territories (including the U.S., which is a conservative approach), those sales numbers would represent $48 million in recurring revenue for TiGenix, excluding sales milestones which would bring up to an additional $44 million in non-recurring revenue.
TiGenix currently has ~202 million shares in issue. By 2025, there could be up to a total of ~300 million issued shares, after the NASDAQ IPO and potential dilution from other ongoing commitments (e.g. Grifols' (NASDAQ:GRFS) 2018 convertible bonds, milestone payments to Coretherapix's ex-shareholders upon clinical success of AlloCSC-01, Takeda's $11 million equity investment…), which means that Cx601 alone could represent over $0.20 in revenue per share. So, even if only half of that amount actually translates into net income (EPS), that would still make TiGenix a $600 million company (with a P/E ratio of 20 but not assigning any value at all to the rest of the pipeline - that is, once again, a very conservative approach). Assuming an annual discount rate of 10%, one arrives precisely at TiGenix's current market cap of $250 million.
Besides, in terms of short to mid-term financing needs, the biotech's position appears to be quite comfortable: at the end of 2015, TiGenix's had ~$20 million in cash and it raised an additional ~$26.5 million in March 2016. Now, with Takeda's $27.5 million upfront and its commitment to an additional $11 million equity investment, that should bring TiGenix's cash reserve to over $85 million, minus H1-2016 cash burn but not yet taking into account other short-term revenues such as Takeda's $16.5 million payment upon European approval of Cx601. Since operating cash burn was under $30 million in the last three years, there should not be too much pressure to find new sources of financing in the next years.
So, what do these projections mean regarding TiGenix's valuation? In brief, it shows that, at current market cap, TiGenix seems to be valued based entirely on very conservative assumptions about Cx601's sales, thus effectively discounting all value assigned to the biotech's know-how or its other products in clinical development. However, in terms of pipeline (see below), besides Cx601, TiGenix's does have several promising mid-stage stem cell product candidates targeting huge markets such as heart disease (AlloCSC-01, Phase 2 full results in Q1-2017) and severe sepsis (Cx611, Phase 2 starting in H2-2016) - with a proven track record of clinical successes and short-term revenue prospects, this clearly makes TiGenix a rare opportunity in the biotech sector.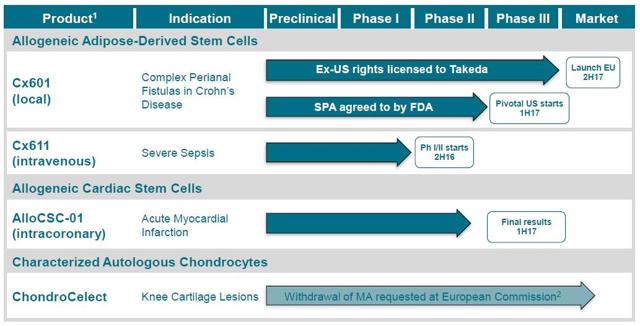 (Source: TiGenix's Corporate Presentation, July 2016)
In other terms, TiGenix's investment case right now could be summarized as follows: "Buy one mostly de-risked asset with tangible short-term revenue prospects (Cx601) and get the pipeline and know-how of a pioneering stem cell biotech for free!"
Disclosure: I am/we are long TGXSF.
I wrote this article myself, and it expresses my own opinions. I am not receiving compensation for it (other than from Seeking Alpha). I have no business relationship with any company whose stock is mentioned in this article.
Editor's Note: This article discusses one or more securities that do not trade on a major U.S. exchange. Please be aware of the risks associated with these stocks.