You may (or may not) know that the companies that comprise the Standard and Poor's 500 are classified into ten major sectors using the Global Industry Classification Standard (GICS). GICS is the leading global listed equity classification system and is maintained by S&P Dow Jones Indices and MSCI Inc.
Last November S&P Dow Jones Indices and MSCI Inc. announced that they would move listed equity REITs and other real estate companies from the Financials Sector into a new Real Estate Sector within the Global Industry Classification Standard. This is the very first time that a new sector has been added to the classification system.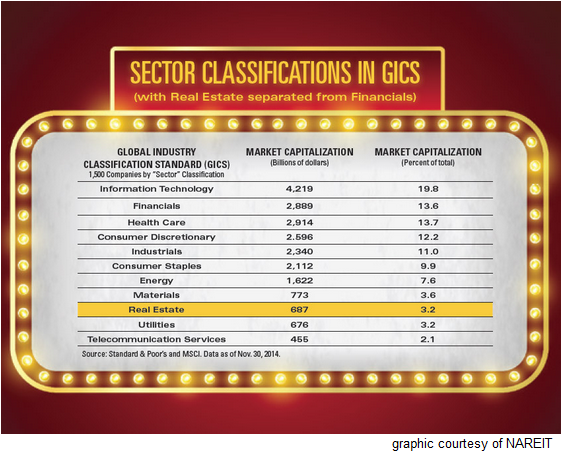 REITs are unique in that they are required to distribute at least 90% of taxable income to investors to comply with IRS rules. Most REITs pay out 100% (or more) of GAAP taxable income to investors. This unique requirement ensures that REIT investors fully participate in the profits of the company.
There is a wide variety of the type of real estate and the characteristics of the assets that different REITs hold. Some, like high quality triple-net REITs, are the landlord for major American corporations which put investors at a nice, secure, high position in the economic food chain. REITs can invest in a wide variety of real property including infrastructure like cell towers or data centers utilized by the largest corporations. While the REITs were buried in the huge Financials sector the distinctions were known only to those analysts who followed the REIT sub-sector. The new REIT sector in the S&P 500 will result in heightened awareness of the unique benefits that equity REITs offer investors, and decouple this sector from the swings of the large collection of non-REIT financial stocks. Investment managers will be making adjustments to ensure they have proper allocation to the new sector. Over time, awareness will spread as to the unique characteristics of the subsectors in the REIT area, increasing demand for those issues as well.
What To Expect
I expect that the largest and bluest blue chip REITs will be the first to be affected by the increased demand as the managers of the largest actively managed funds move big money to establish significant positions in the best offerings for the new sector. Actively managed fund managers like to acquire the REITs that are most likely to make them look smart. I expect that midcap and small cap REITs will also be bid up as fund managers respond to increased interest in the sector by investors.
The new REIT sector has already had an effect on some of the largest and best REITs. There are twenty-three REITs included in the S&P 500 index. As large cap REIT valuations have risen, the average yield for the REITs in the S&P 500 index has fallen to 3.3%. I think this is a proxy for how the REIT sector will be valued going forward. Most of these REITs are primarily invested in assets located in the United States, which provides a level of separation from whatever problems occur in the European Union in the next few years.
Investors who have followed REITs for a while will find the current valuations to be relatively unattractive and difficult to rationalize. I believe that REIT investors should consider that the higher valuation is a result of a permanent change to the economic environment for equity REITs which may be the new normal. In light of the increased exposure in the S&P 500, the bluest blue chip REITs will be viewed as nice reliable cash flow engines and be valued similar to the most reliable United States utility companies.
REITs to Buy Now
Here are a few suggestions for investors to consider adding to their portfolio.

Lexington Realty Trust (NYSE:LXP)
Lexington Realty Trust is a developing story. LXP was founded in 1973 and went public in 1993. Over the years it had acquired a diversified portfolio that included single and multi-tenant properties in Office, Industrial, Retail, Land and specialty. Over the last few years Lexington management has taken steps to transform the company's portfolio to focus more on single tenant and reduce dependence on office and to improve the financials, with good results. The company does have some challenges remaining but I believe the management has demonstrated the ability to overcome adversity and transform the company to a higher quality traditional triple net equity REIT. As of Q1 2016, the company reported FFO of $0.30 per share and offered conservative guidance for the rest of 2016 to an expected range of $1.03-$1.08 per share, in consideration of the impact of planned transactions. Clearly the management is focused on improving investor returns; during Q1 the company repurchased 1.2 million common shares at an average price of $7.56. The company declared a Q1 dividend of $0.17 per share. I expect the company will increase the dividend slightly in 2016 with a larger increase in 2017 after some projects are completed. LXP is a timely opportunity with little downside risk at the current price of $10.23 and a generous yield of 6.8% that is easily covered.
Omega Healthcare Investors, Inc (NYSE:OHI)
OHI is a healthcare industry triple-net REIT with a focus on skilled nursing facilities, owning over 900 properties located in the United States with some exposure to the UK. OHI has been a very reliable operator with increasing dividends for 15 consecutive quarters. However, the stock has been depressed by news of problems in the skilled nursing long-term care business, particularly with respect to an ongoing investigation of a large competitor, as well as concern over its dependence on government funding (Medicare 53%, Medicaid 37%) and how changes to those programs could affect the company. Nevertheless, for Q1 OHI posted strong results with FFO of $0.77 per share, an increase of 30% over Q1 2015. Adjusted FFO was $165.4 million or $0.83 per common share compared to $0.71. The company had 64 million additional weighted-average shares outstanding for the three months ended March 31, 2016, compared to the same period in 2015. The company affirmed its 2016 annual FAD to be between $2.95 and $3.00 per diluted share and its 2016 annual Adjusted FFO to be between $3.25 and $3.30 per diluted share. Subsequently the company raised the Q2 dividend to $0.58 per share. OHI investors will enjoy a 6.81% yield as they wait for the market to shrug off the headlines about the competitor.
Realty Income (NYSE:O)
Before you say "He's not really going to recommend O at this price, is he?" please give me just a moment to give you something to think about.
Realty Income is the bluest of the blue chip REITs. With the GICS effect taking hold and other factors increasing investors' interest in safety, O has run up 36% this year (from $51 to $69) pushing the yield down from 4.7% to 3.4%. If you think this is a top merely because it is more expensive than it used to be, you are probably mistaken.
Realty Income is the premier triple-net lease REIT. It is the landlord for a large portfolio of top quality single tenant properties (Walgreens, Dollar stores, LA Fitness, convenience stores, theatres, and restaurants) located throughout the United States. Through careful selection of solid tenants, long-term leases with built-in annual rent escalations, triple-net terms that shift all operating costs to the tenant and superb management, Realty Income has paid 551 consecutive monthly dividends with 75 consecutive quarterly dividend increases, and provided investors with a staggering 18.2% compound annual total return since 1994. This company is hitting on all cylinders. And because it is a REIT, investors are guaranteed to share in the results.
In the economic food chain, the landlord is right up there with the electric company. If you are Walgreens, for example, you will find a way to pay your monthly power bill and your rent no matter what challenges you face each month. In the current economic environment, investors have bid share prices for the most reliable utility companies up to the point that dividend yields have fallen to 2.0-2.5%. However, Realty Income provides investors with a benefit that even the best utility cannot offer - guaranteed rate increases. It is therefore quite conceivable that as knowledge of REITs spreads, investors will recognize the precious gem that is Realty Income and value it accordingly.
In preparation for and after the new REIT sector is added to the S&P 500, portfolio managers will need to establish positions in the best large REITs and Realty Income is the best of the best. I expect O to continue to be bid up until the yield falls into the 2.5% range. Based on this, my 2017 price target for O is $96, and I recommend that investors buy this shares in this incredible company, even at the current price of $69.
All Aboard!
Disclosure: I am/we are long O, LXP, OHI. I wrote this article myself, and it expresses my own opinions. I am not receiving compensation for it (other than from Seeking Alpha). I have no business relationship with any company whose stock is mentioned in this article.