Strategy Examined:
Long Sibanye Gold Limited (NYSE:SBGL)
Short the

SPDR Gold Trust ETF (

GLD)
RPI James Fund Faculty Advisor: Thomas Shohfi, CFA, Ph.D.
Recommendation
Long SBGL with optional short GLD to hedge gold exposure within SBGL if gold exposure is not desired.
The World is Gold Crazy, But There's Value in Platinum
Given the stress in the global economy and rising social unrest, gold is a natural safe haven for investors. Infamous investors like Stanley Druckenmiller and George Soros have large allocations to gold driven by "overly-dovish" monetary policy. Google requests on gold have continued to grow while other precious metals (silver, platinum, and palladium, etc.) have remained flat.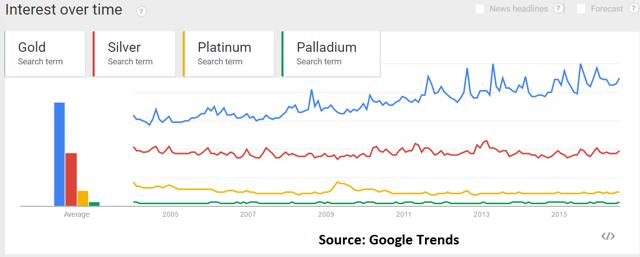 So far this year, the gold bugs have been right. While gold has underperformed silver by 15%, it has outperformed on a risk-adjusted basis, and both have handily beaten platinum, palladium, and the S&P 500 index.
Silver, platinum, and palladium certainly don't have the socioeconomic history that gold does, but, if the goal is to own assets with fixed supply (or at least fixed production), then there is reason to own any of these precious metals. Consider, however, 2015 global production and reserve estimates from the USGS. Less than one ounce of platinum is mined for every 15 ounces of gold. Proven reserves for platinum group metals (PMG: this includes platinum, palladium, rhodium, ruthenium, iridium and osmium) are higher and annual recycling is similar. So, for the pure supply-driven economists, the argument for platinum is strong.
Of course, relative valuation is important. Over the past 25 years, relationship between precious metal prices has fluctuated. The ratio of gold to platinum hit a high of 1.3572 on June 27th, 2016, and, as of July 8th, is 92% of this maximum value. This suggests platinum is inexpensive relative to gold. Compare this to the ratios for silver and palladium that are near historical averages. The chart below plots the time series of these ratios along with a fifth-order polynomial trend curve:

Limited Platinum Equity and ETF Market Positions
The problem with platinum (and other PMG metals) is liquidity relative to other precious metals. In the ETF world, gold has GLD and silver has SLV. These are highly liquid, low expense, low tracking error vehicles for investors and traders who don't want to use the futures or spot markets. Platinum ETFs, however, have limited volume, higher spreads, and higher expense ratios. For an excellent overview of the platinum ETF/ETN choices (PPLT, PTM, PGM and SPPP), see FX Metric, LLC's "Not All Platinum ETFs are Created Equal."
What about platinum stocks? There aren't many good options to choose from. The largest producer, Anglo American Platinum Limited (OTCPK:AGPPY), has limited ADR volume (18,825 shares daily). Even on the South African exchange, the firm trades less than 400,000 shares per day. Stillwater Mining Company (SWC) would be viable option. It's certainly liquid enough, but trades at a relatively high TEV/EBITDA of 20.6. Additionally, Stillwater's 2015 annual report notes that 80% of its reserves are palladium, not platinum.
Then, there's Sibanye Gold Limited. But wait, it's a gold company, right? Historically, yes, but according to the Financial Times, Sibanye's management believes "it is a good time to buy platinum assets given commodity prices have been depressed and some mining companies are keen to offload assets to cut their large debt loads." Note that management has emphasized platinum investment, not PGM generally. With EBITDA/interest expense over 16, Sibanye has room for additional leverage to acquire platinum assets at potentially attractive prices. For long-term income investors, a dividend yield of 1.8% is certainly more attractive than the current 1.37% yield on a 10-year treasury note.
Interestingly, on Friday, in after hours trading, SBGL plunged 20.36% after recording a 5.14% gain during regular trading hours on the New York Stock Exchange. This after hours drop occurred to the best of my knowledge, on no news. On further investigation at NASDAQ.com, the price fell from $15.45 to $12.54 on volume of just 100 shares (average daily volume is over 3 million shares). Experienced investors know reduced liquidity in pre/after hours trading can result in strange price movements (see Charles Schwab's "Should After-Hours Trading Be Part of Your Stock Market Strategy?").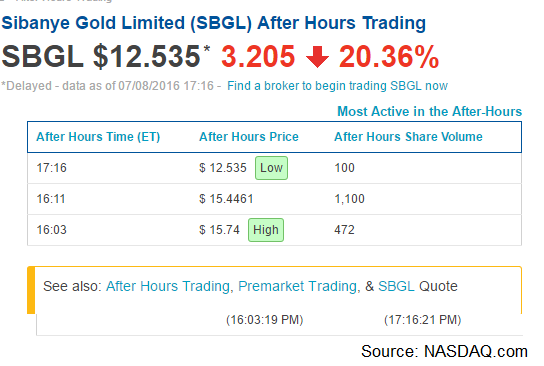 What if an investor doesn't want the gold component of Sibanye? Coincidentally, regressing daily SBGL returns on GLD returns results in a coefficient of 1.005267. This implies that a dollar short GLD for each dollar of long SBGL should result in a decent hedge if an investor does not want the exposure to gold (of course, these correlations are based on prior data and can change with the markets). Because Sibanye is based in South Africa, currency effects in the cost structure of the firm can also be present. I am not aware of an ETF tracking the South African rand, but, even without this hedge, the coefficient of SBGL returns to changes in the rand is only -0.00796.
Risks
As with all stocks, there are individual idiosyncratic operational risks relating to legal liabilities, labor costs/strikes, and other potential issues. Specific to rare metals, breakdowns in correlation can be a major risk. See, for example, the rolling 50-day return correlation between gold and the other three precious metals. Short-term correlations can change quite rapidly. For both platinum and silver, fifth-order polynomials fittings are strictly positive across the 25-year period. This is not the case with palladium, which drops close to zero near 1999.

Longer term 200-day return correlations are far more stable, but still exhibit substantial variation. Again, platinum and silver exhibit predominantly positive correlation while palladium is more volatile. Even if the gold/palladium ratio were near an all-time high (as is the current case with gold/platinum), the historic instability in the relationship with the "iconic" precious metal suggests more risk. While silver has similar correlation volatility and tremendous recent price momentum, valuation is not as compelling as the gold/silver ratio is only 68% of its 1990 maximum.

Disclosure: As of 7/10/2016, the RPI James Fund does not hold positions in any of the ETFs or equities listed in this article. As of 7/10/2016, the RPI James Fund faculty advisor does not hold personal or advisory positions in any of the ETFs or equities listed in this article.
Disclaimer: This article provides opinions and information, but does not contain recommendations or personal investment advice to any specific person for any particular purpose. Do your own research or obtain suitable personal advice. You are responsible for your own investment decisions.
Disclosure: I/we have no positions in any stocks mentioned, and no plans to initiate any positions within the next 72 hours.
I wrote this article myself, and it expresses my own opinions. I am not receiving compensation for it (other than from Seeking Alpha). I have no business relationship with any company whose stock is mentioned in this article.
Additional disclosure: The primary ticker for this article should be SBGL.
Editor's Note: This article discusses one or more securities that do not trade on a major U.S. exchange. Please be aware of the risks associated with these stocks.