JPM looks strong despite 'Brexit'
While the market has been volatile following Brexit, JP Morgan Chase (NYSE: JPM) has a strong balance sheet and is trading well below its value. The company will announce its second-quarter earnings on July 14 before the bell. Like the other large U.S. banks, JPM recently passed the federal stress test and was approved to complete a $10.6 billion buyback. The bank has dividend yields of 3.3 percent and buyback yields of 4.9 percent for a total yield of 8.2 percent. Along with other large banks, JPM is trading at about 10 percent of its estimated earnings for 2016, and its price per earning is about 60 percent of the S&P 500's P/E, which is well below the historical average of 75 percent.
JPM expanding in India
While most foreign banks that are operating in India have scaled back their presence, closing branches and withdrawing because of regulatory concerns, JPM has instead chosen to expand in the country. Recently, the Reserve Bank of India gave its approval for JPM's expansion in the country, and the bank is opening three new branches in Bengaluru, Chennai and New Delhi. The three branches, which will include one in each city, should be fully open and operational within a few months.
Other foreign banks, such as HSBC, have drastically scaled back their presence in the country. HSBC has announced plans to close 50 percent of its branches in India and instead rely on digital banking to provide services to its customer base. J.P. Morgan stands to benefit from the lack of competition in India from major foreign banks. Even with the regulatory pressures in India, JPM has experienced no cuts into its profits for its Indian banking. The cities where the new branches will be located were chosen strategically to aid in JPM's expansion and profit margins. New Dehli is the capital of India, Chennai is a hub for manufacturing and Bengaluru is a hub for information technology.
Recent earnings highlights and comparison with peers
In the past four quarters, JPM's earnings have beaten the analysts' estimates by 14 cents (NYSE:AVG). The 2016 estimated earnings per share for JPM is 5.67, while it closed at $61.83 on July 8, 2016. It has a market value of $227.2 billion.
Its peers in the financial sector, including Wells Fargo (NYSE: WFC), Morgan Stanley (NYSE: MS), Goldman Sachs (NYSE: GS) and CitiGroup (NYSE: C), all appear to be trading well below their expected values as well. The banks have strong balance sheets, and investors seem to be more worried about the effect of Brexit than analysts believe they should.
Conclusion: Buying opportunity
JP Morgan Chase appears to be trading well below its value. It has a strong balance sheet, has consistently beaten earnings estimates and is taking advantage of the lack of competition in India through expansion. With its passing of the stress test and the approval to engage in a $10.6 billion buyback, the bank appears healthy and able to weather economic downturns. The total yield of 8.2 percent provides an attractive return for investors. We recommend that investors consider buying shares of JPM at this time. A particularly strong rally on July 8th on the heels of the latest US jobs report adds additional support.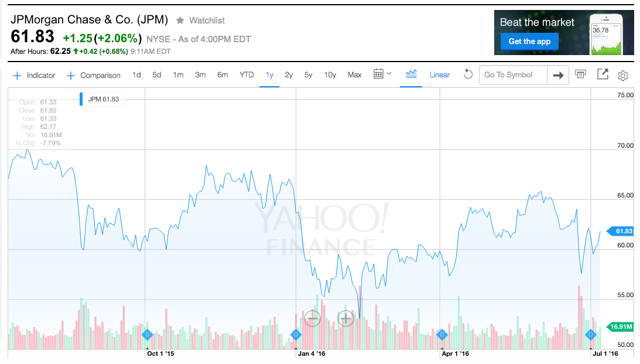 (Yahoo! Finance)
Disclosure: I/we have no positions in any stocks mentioned, and no plans to initiate any positions within the next 72 hours.
I wrote this article myself, and it expresses my own opinions. I am not receiving compensation for it (other than from Seeking Alpha). I have no business relationship with any company whose stock is mentioned in this article.