Background
Monster Digital (MSDI) was founded in 2007 originally to sell electronic storage and peripheral devices such as memory cards, external memory drives and Wi-Fi hotspot devices.

Prior to 2012, the company's customers were original equipment manufacturers and distributors. In 2012, the company licensed the brand Monster Digital and changed its focus to selling to consumers.
In January, 2016, the company launched what it called its "first in a new line of feature packed and versatile action sports cameras", similar in style to those sold by GoPro (NASDAQ:GPRO) and others.
So the company is building on its experience in memory and electronic accessories to create lower cost alternatives to high-end sports cameras, likely also positioning itself to take advantage of burgeoning drone and robotics industries.
Technology
Monster has sold a variety of electronic memory solutions, including solid-state hard drives, external memory drives for Apple iOS devices and a host of other memory-related devices.
The devices and other accessories tend to be priced at the value end of the market and are sold either direct or through electronic retailers such as Fry's Electronics, MicroCenter, B&H Photo and NewEgg, along with Amazon (NASDAQ:AMZN).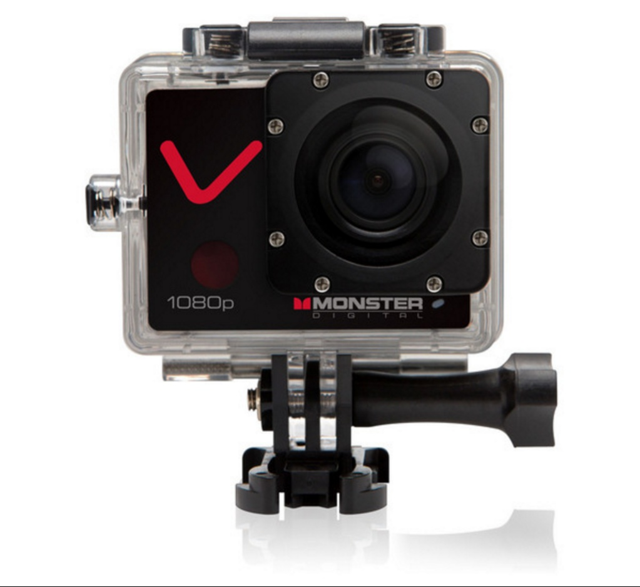 The first camera, called "Villain", has a current retail price of $129.99, features 1080p video at 30 fps, waterproof housing and a wide-angle lens, and undercuts GoPro's lowest price camera which is currently priced at $199.99 and has inferior specifications in some respects.
Market
The latest market research report from Technavio forecasts the global action camera market to grow to $6 billion by 2020. They expect the average price of an action camera to decline to $226.
Notably, they forecast much of the growth in demand to come from developing countries as a result of a "rise in disposable income, rapid increase in adventure sport tourism, and growing interest in social networking."
A cursory look at a large electronics retailer, B&H Photo, showed more than 35 different brands of sports action cameras, so there is tremendous competition across the price spectrum, from established camera companies to little known upstarts.
Financials
In 2015, the company turned to invoice factoring to finance its operations, accruing a 22.5% loan origination fee and a steep 15% rate for a $4 million credit facility.
Sales dropped 61% in Q1 2016 vs. the same quarter in 2015 and was attributed by management to a "reduction in sales for our top three customers." The company has decreased all other expenses in response to this drop.
However, in 2015, gross profit margin increased from 2.1% in 2014 to 5.2%
Net cash flow in 2015 was $22,000 vs. $96,000 in 2014. As of March 31, 2016, the company had cash of $42,000.
IPO Details and Discussion
On Friday, July 8, 2016, Monster raised $11.25 million in gross proceeds from the sale of 2.5 million shares at $4.50 each, with each share also including a warrant to purchase an additional share at a later date.
The warrant exercise price was listed as $5.9375 per share in the company's F-1 filing, but that assumed a $4.75 IPO price rather than the actual $4.50, so the warrant price is likely to be slightly lower.
As of March 31, 2016, Monster Digital owed $4.2 million in Notes Payable due upon IPO closing and a $375,000 trademark licensing payment. So of the approximately $11 million IPO gross proceeds, the company will retain roughly $6.4 million, subject to closing adjustments and over-allocations, if any.
Monster says it expects to "incur net losses for the foreseeable future", and "will need to raise substantial additional financing in the future to fund our operations."
Although the company is shifting its focus to what it calls "higher margin specialty products", I don't see the differentiating factor with their first choice - the sports action camera.
When there are 35 other brands to choose from, many of which are far more recognizable and/or lower cost that Monster's initial offering, I'm skeptical of this company's ability to compete in an increasingly cutthroat marketplace for very long.
Additionally, if research firm Technavio is correct and much of the sports action camera market growth in the future is going to come from developing countries, that will require the ability to successfully market in numerous countries, something for which the company seems to have scant capacity to accomplish.
The company is thinly capitalized and its auditors have expressed doubt about its ability to continue as a going concern.
Its strategy involves expanding into a crowded, price-conscious market that includes industry heavyweights who can cut prices at will to knock out weaker competitors when the time is right.
Therefore, at this time I do not see a compelling business reason to acquire the stock and related warrant.
Avoid the stock until the company shows some initial success with its new focus on consumer electronics.
Disclosure: I/we have no positions in any stocks mentioned, and no plans to initiate any positions within the next 72 hours.
I wrote this article myself, and it expresses my own opinions. I am not receiving compensation for it (other than from Seeking Alpha). I have no business relationship with any company whose stock is mentioned in this article.