Stock Top Gainers: BVN +8.5%, BRFS +8.0%, PAM +6.1%, CPL +6.1% and IBA 5.2%
Stock top losers: ICA -13.6%, BAK -5.7%, GOL -4.9%, SCCO -4.5% and FBR -4.1%.
ADRs - or at least the most traded ones. We also included country ETFs. We will provide you with a weekly update and some basic analysis on what is happening in our all-LatAm sample. Comments are based on closing prices for the previous week (i.e., Friday, July, 8, 2016).
Mixed weekly performance across LatAm
Markets were mixed following Brexit rally, oil retreat and better-than-expected US jobs data. The Mexican ETF (NYSEARCA:EWW) led weekly loses falling 1.4% followed by Colombia´s GXG (NYSEARCA:GXG) down 0.7%. The Brazilian fund, iShares MSCI Brazil Capped ETF (NYSEARCA:EWZ) ended the week up 0.7% and the Peruvian ETF (NYSEARCA:EPU) led weekly gains increasing 3.9%. The iShares Latin America 40 ETF (NYSEARCA:ILF) ended the week 0.2% higher, bellow the SPY´s (NYSEARCA:SPY) weekly gain of 1.5%.

Brazil edges up 0.7% as macro outlook improves
Brazil´s EWZ closed 0.7% up as analysts expect higher growth and lower inflation. BRF (NYSE:BRFS) posted the largest gain up 8.0% followed by Pampa (NYSE:PAM) and CPFL (NYSE:CPL) both 6.1% up. On the flip side Braskem (NYSE:BAK), Gol (NYSE:GOL) and Fibria (NYSE:FBR) led loses decreasing 5.7%, 4.9% and 4.1% respectively. The EWZ maintains the second best 6-month performance across our country sample, the ETF is up 58.4% in that period.
Petrobras (NYSE:PBR) ended the week 4.3% on positive developments. PBR announced it began the process to sell exploration, development and production rights over a series of shallow water assets located in Ceara and Sergipe states. In addition the company also said it intends to issue bonds maturing in 2021 and 2026 and paying a coupon of 8.375 and 8.75%, respectively.
Gol decreased 4.9% on poor results of the private exchange offer for bondholders. Only bondholders representing 22.4% of the total offer accepted the new terms, accounting to a reduction of $101.2 million of total debt. This happened even though the exchange offer´s deadline was postponed four times.
Lower inflation and better GDP growth estimates. The latest CB survey showed that the private sector lowered its 2016 inflation forecast for the first time in six weeks to 7.27%, down from the previous 7.29%. As for the GDP estimate they improved their 2016 forecast by 9 bps to -3.35%, and left the 2017 growth forecast unchanged from the previous week at 1.'%.
Program of concessions and privatizations will bring between R$20 and R$30 billion to the treasury's coffers, according to finance minister. So far in the pipeline there is the sale of Caixa Seguridade, IRB, and Infraero's stake in highways, ports, and airport concessions in the pipeline.
The government also sees an extra R$10 billion in 2017 with the auction of several hydroelectric power plants. The concession of the hydroelectric plants, all owned by Cemig (NYSE:CIG), could give a breather to a government expecting another hefty fiscal deficit for next year.
BRAZIL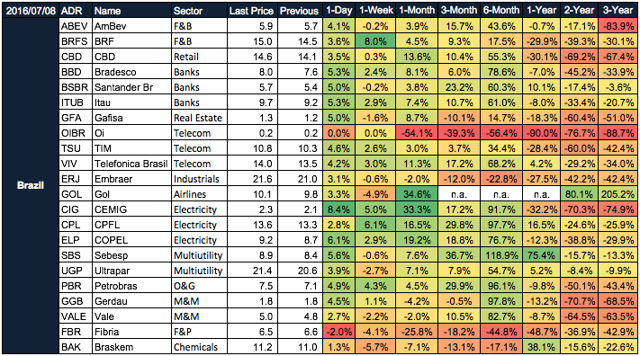 Mexico´s EWW leads loses
The EWW led weekly loses decreasing 1.4%, the Mexican ETF is still up 7.9% in a 6-month period. ICA (NYSE:ICA), ASUR (NYSE:ASR) and KOF (NYSE:KOF) led weekly loses declining 13.6%, 3.9% and 3.5% respectively. Bachoco (NYSE:IBA) increased the most, up 5.2% followed by Santanteder México (NYSE:BSMX) up 2.5% and Cemex (NYSE:CX) up 1.5%.
Televisa (NYSE:TV) closed the week down 1.2% as earnings did not impress. The company reported "OK" 2Q16 results (+10% in earnings) which failed to impress the market leading to a 3.3% decline on earnings day.
Santander México ended the week 2.5% up despite weak portfolio expansion. The bank delivered slower-than-expected and below banking system´s average loan portfolio expansion in May at 10.2% YoY. The bank was affected by weak commercial and corporate portfolio performance.
Femsa (NYSE:FMX) ended 2.8% lower as it announced that own brand OXXO GAS opened its first petrol and diesel vending station. FEMSA plans to transform 50 more stations in a year.
ICA closed 13.6% lower as ADRs will stop trading soon. During the week the company announced that it will participate in upcoming Mexico City airport tenders. According ICA's CEO, although ICA's current liquidity problems, the company expects to be a part of the winning consortium to build the landing strips and terminal of the new Mexico City airport.
Auto production numbers by AMIA showed an increase of 4.1% YoY in June, however first semester of 2016´s figures still showed reductions.
Electricity tariffs to increase in July After falling for 18 consecutive months tariffs for industry and commerce will increase between 2.0% to 5.0% YoY and 5.0 to 7.0% YoY, respectively, the rate for high-consumption households will increase 6.8% YoY. Tariffs for low-consumption families will remain unchanged.

Chile ETF up despite weak economic outlook
ECH closed 1.0% higher with SQM (NYSE:SQM) and Concha y Toro (NYSE:VCO) leading gains of 3.3% and 3.0% respectively.
Soc Química y Minera de Chile increased 3.3% as Chinese group Shanshan Resources wants to buy a stake in the company. The group met with the Chilean Economic Development Agency, CORFO, to understand the position of the agency on the change in control that SQM could face with the sale of its 23% stake.
Rate increase ahead likely. Monetary minutes showed that although the slow economic growth led policymakers to keep unchanged the overnight interest rate at 3.5% in June's meeting, the Central Bank recognized that in the most likely scenario, there would still be a need for additional increases in rates for convergence of inflation with target.
Chilean pension funds' returns down 1.4% MoM in June (real terms). Only the second most conservative fund recorded a gain of 1.0% MoM. Moreover, only the most conservative funds, D and E, have yielded a positive return so far this year of 0.8% and 2.6%, respectively, with the riskier ones, A, B, and C, yielding -5.1%, -3.2%, and -0.9%.
Mining exploration investment fell 13.1% in 2015. According to COCHILCO, the decline was due to the diminishing returns of finding new deposits. Still, the Chilean average was below the worldwide fall of 18.3% in exploration investment for 2015.
The Chilean Construction Chamber expects investment in the construction industry to grow between -1.9 and +2.1% in 2016 (with an average of +0.1%). Slight growth in real estate investment will not be able to offset a fall in infrastructure spending (which weighs 2/3 of the total investment). Moreover, the entity forecasts 10.5% unemployment for the next two years.

Argentina´s ETF posts mild weekly gains
ARGT posted a 1.3% weekly gain with only 5 out of 16 stocks in our sample closing lower. Pampa posted the greatest weekly gain of 6.1%, followed by Cresud (NASDAQ:CRESY) up 4.5% and BrasilAgro (NYSE:LND) up 2.8%. Tenaris (NYSE:TS) and EDENOR (NYSE:EDN) led loses, both down 2.6%.
Federal Judge ordered the impound of all the assets of former President Cristina Fernandez, this as part of the investigation on her involvement in illegal sales of currency futures by the Central Bank. The Judge's move comes after Fernandez rejected the preventive bail of ARS$15 million set by the Judge at the beginning of the process.
Tax revenue rose 24% YoY in June to 174.59 billion pesos ($11.64 billion). The increase was largely explained by consumer price increases, calculated by the government at about 40% in May before starting to ease in June.

Andean markets mixed performance
Colombia´s GXG ended 0.7% down as oil price headed to 45 USD/bbl. Ecopetrol (NYSE:EC) and Avianca (NYSE:AVH) led loses declining 3.3% and 2.6% respectively.
The Peru fund, the iShares MSCI All Peru Capped ETF (NYSEARCA:EPU), closed the week 3.9% higher, with Buenaventura (BVN) leading gains up 8.5% and accumulating a 17.6% 1-month return.

Disclosure: I/we have no positions in any stocks mentioned, and no plans to initiate any positions within the next 72 hours.
I wrote this article myself, and it expresses my own opinions. I am not receiving compensation for it (other than from Seeking Alpha). I have no business relationship with any company whose stock is mentioned in this article.
Editor's Note: This article covers one or more stocks trading at less than $1 per share and/or with less than a $100 million market cap. Please be aware of the risks associated with these stocks.