Action: Initiate Position
Mobileye (NYSE:MBLY) was originally added to the Lean Short-Term Growth Portfolio at $35.99/share. This position was sold recently for a realized gain of 22.5 percent at $44.55/share. The recent announcement including BMW and Intel Corporation (NASDAQ:INTC) partnering with Mobileye to develop a fully autonomous vehicle by 2021 helped drive the stock price up to the $48/share level.
After the gain was realized, the funds were transferred to the Lean Long-Term Growth Portfolio to be used for defensive purposes. Expectations are for continued volatility throughout the remainder of 2016 based upon slowing global growth and Brexit event-driven news.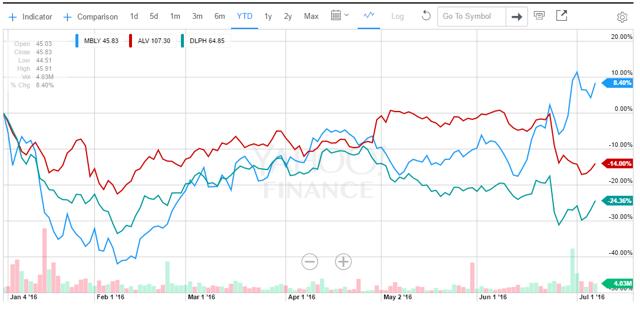 Yahoo! Finance
As an example, Brexit clearly impacted Autoliv (NYSE:ALV) and Delphi Automotive (NYSE:DLPH) more than it did Mobileye. Autoliv also in late June was included in Toyota Motor Corporation's (NYSE:TM) voluntary recall of nearly 1.4 million vehicles of the Toyota Prius and Lexus CT200h. Combined with July 5th's down market day, Autoliv's stock price dropped from the $125/share level down to $103.50/share, nearly 17 percent in a matter of weeks. The stock price has since recovered to $107.30/share, or by about 3.7 percent.
The decline in Autoliv's stock price has peaked interest in performing a second take at the autonomous driving potential from an investment perspective. What has been realized is that Autoliv's exposure to both passive and active safety provides a diversified investment opportunity versus a more speculative stance such as with owning Mobileye, a pure technology play with an out of balance risk/reward proposition.
Autoliv's most recent first quarter report also provided strong performance for the company's active safety product segment which generated over $190 million, a 51 percent increase from last year with nearly 40 percent being organic and the remainder split between acquisitions and currency effects. This segment will be a key factor for autonomous driving as it includes radar and vision systems, seat belt and brake systems and other integration.
The company's passive safety products including electronics increased by double digits. The fact that Autoliv is a Tier 1 original equipment manufacturer raises an interesting point. Autoliv is both a customer and competitor with Mobileye, a customer as they are able to integrate Mobileye's technology into a system, and a competitor as they continue to develop their own software for systems integration with radar and cameras and automotive braking via the majority interest joint venture with Nissin Kogyo forming Autoliv-Nissin Brake Systems.
There also are other systems integrators including Continental Automotive Systems, Magna International, DENSO, as well as other companies including Toyota, BOSCH, Delphi Automotive and many others that are entrenched in developing autonomous driving systems.
The key to finding investing opportunities is based upon valuation and growth potential. This brings us back to risk/reward. For Mobileye, a position was entered at $35.99/share with an enterprise value of $8 billion. By no stretch was this a discount with an adjusted earnings ratio, P/E of 65 times, EV/EBITDA (earnings before interest, taxes and depreciation and amortization) of 95 times and a free cash flow yield of just over 1 percent. These multiples have greatly increased further now that the stock is at $45.83/share, most notably the EV is now at $10.4 billion.
Autoliv's current EV stands at $9.8 billion. Autoliv's active safety product segment generated $610 million during 2015 versus Mobileye's $241 million. Overall, Autoliv generated $9.2 billion in total product revenue during 2015. Mobileye is estimated to grow revenue over 40 percent during 2016 and 45 percent during 2017, while Autoliv grew its active safety product revenue by over 50 percent during the first quarter of 2016. Mobileye's revenue grew by 65 percent during the first quarter to 2.5 times less than Autoliv.
Autoliv currently has a P/E of 17 times earnings, EV/EBITDA of 7.9 times and a free cash flow yield of over 6 percent. Autoliv as a leading automotive safety OEM arguably is better positioned to benefit from continued passive safety product performance as well as the transition to active safety products leading to autonomous driving than a technology pure play.
Mobileye may very well become a leader in technology, but this upside is heavily priced in at today's current levels. A big unknown question is whether system integrators will continue to remain customers of technology companies or whether technology will become an in-house development. Additionally, major automotive manufacturers also may develop technologies further in the future. Systems integrators will continue to remain as part of the automotive supply chain for cost efficiencies and chipmakers will remain to produce central processing units. The question is software and algorithm technologies. Taking a risk in Mobileye is placing all chips into this one facet of the overall system for autonomous driving, albeit an important part.
Today, Mobileye is priced richly. It is unlikely to be acquired until it proves it has a defensible autonomous driving product. The recent decline in Autoliv's stock price has created a good buying opportunity. Average price targets over the next year are at $114.20/share, with today's price offering a mundane 6.4 percent discount. Including the 2.2 percent dividend yield, a total return of around 8.6 percent could be possible.
Competitive factors are at play for Autoliv, but the company is diversified with its leading safety product portfolio. The company has the ability to build greater safety features through internal research and development, acquisitions and joint ventures. The company has not been shy about speaking to acquiring technology, but has stated that there are limited companies of interest with negotiations ongoing.
First quarter active safety performance was strong and further acquisitions or joint ventures specifically tied to autonomous driving should serve as a catalyst for stock price appreciation. The current P/E of 17 times earnings is worth $120/share if Autoliv meets 2016 annual earnings estimates of $7.06/share, 12 percent higher than the current price. Looking to 2017, 17 times earnings is worth $132/share if Autoliv meets annual earnings estimates of $7.76/share, 23 percent higher than the current price. Factoring in a current 2.2 percent dividend would add another 3.3 percent or so from over the next year and a half.
The near-term play is that Autoliv is able to maintain the current 17 P/E multiple. The long-term play is that the company is able to compete toward successful development of an autonomous vehicle through its research, acquisitions and joint ventures. Passive safety products including airbags, seatbelt and electronics will provide continued cash flow as the autonomous vehicle transition will not occur over night.
For these reasons, an initial position will be considered to be added in Autoliv this week. The new position will be considered within the LLGP. Investors should note that the next quarterly dividend of $0.58/share will be payable on September 1st to Autoliv shareholders of record on the close of business on August 18th. The ex-date will be August 16th for holders of the common stock listed on the New York Stock Exchange.
Disclosure: I/we have no positions in any stocks mentioned, but may initiate a long position in ALV over the next 72 hours.
I wrote this article myself, and it expresses my own opinions. I am not receiving compensation for it (other than from Seeking Alpha). I have no business relationship with any company whose stock is mentioned in this article.